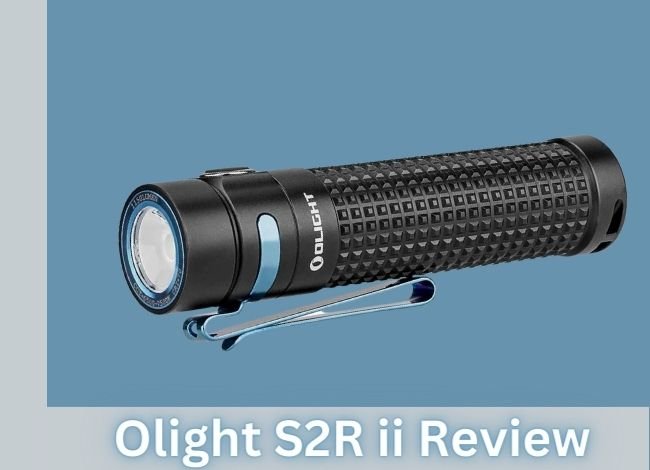 Is it possible with your survival flashlight to get a magnetic charging tail cap, 3200mAh 3.6v rechargeable battery, and excellent running time at a fair cost? All of the features are included in the Olight s2r 2 tactical flashlight. Moreover,  you can get a waterproof characteristic with this small and smart gadget. So let's check some unique features of the flashlight through our Olight s2r ii review article.
Besides extraordinary brightness quality, the light provides four fundamental modes and a particular way of illumination named moonlight mode. When you are involved in an emergency or first response job, this Olight s2r 2 tactical flashlight can be a unique and ideal product for you. This light is such a product that you can carry with your pocket or wallet in any situation because the light is so smooth to move due to a lightweight gesture.
Differences: Olight S1R Baton II vs. Olight S2R Baton II vs. Baton 3
Compare features:
| | | | |
| --- | --- | --- | --- |
| Features | S1R Baton II | S2R Baton II | Baton III |
| Max Brightness: | 1000 Lumens | 1150 Lumens | 1200 Lumens |
| Max Run-Time: | 8 Days | 60 days | 20 Days |
| Charger Type: | Magnetic | Magnetic | Type-C USB |
| Battery: | 16340 Lithium | 18650 Lithium-Ion | 16340 Lithium |
| Weapon Light: | No | Yes | No |
| Weight: | 51 g | 98.5 g | 54 g |
Compare Brightness Levels and Run-Time:
Compare
S1R Baton II
S2R Baton II
Baton III
Modes:

Moon – 0.5 lumens
Low – 12 lumens
Medium – 60 lumens
High – 600 lumens
Turbo – 1000 lumens

Moon – 0.5 lumens
Medium – 120 lumens
High – 400 lumens
Turbo – 1150 lumens

Moon – 0.5 lumens
Low– 12 lumens
Medium– 60 lumens
High– 300 lumens

Run-time:

Turbo – 37 minutes
High – 45 minutes
Medium – 3 hours 40 min
Low – 20 hours
Moon – 8 days

Moon – 60 days
Medium – 14 hours
High – 4 hours
Turbo – 3.8 hours

Moon – 20 days
Low– 33 hours
Medium– 7.5 hours
High– 95m
Rechargeable

1150 Lumen Flashlight-

Olight S2R ii Review
When you want to buy any flashlight, it is crucial to consider the essential characteristics of that product. You have to keep in mind what you want to get from the light and what factors the tool has. By synthesizing your demand and the actual characteristics of the product, you have to make a wise decision.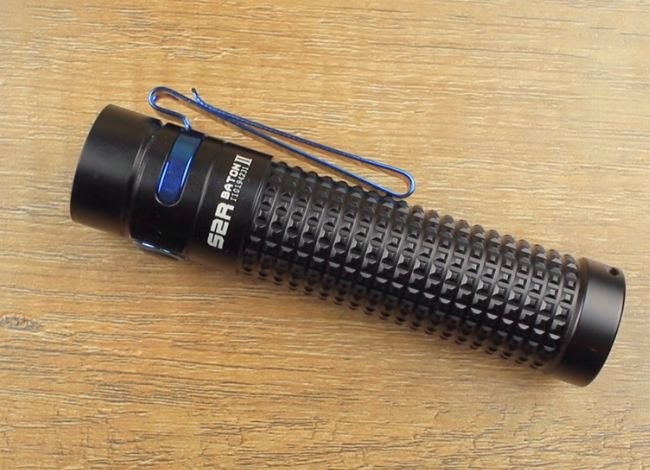 Portable and Fast Magnetic Charger
S2R 2 has the capability of having a portable and an MCC II magnetic charger with a magnetic tail cap by which you can charge the device swiftly. The MCC II is considered the second generation of MCC with ~0.83A charging.
It allows you to use all brightness options while charging, but to know whether the charge is running, you may choose the low or moonlight modes. Furthermore, you can understand whether the order is in progress or completed with two color indicators. The red color shows the charging process is running, while the green color appears for a full account. 
Compact Design 
A sign of an elegant flashlight is that it is movable in any challenging situation. If you feel any difficulty carrying the torchlight, the light will not be a perfect product for you. This is one of the critical features for a tactical light to be light-weighted.
From the S2R, the S2R II is five percent more light and small, with 3.4 ounces and 3.9 inches. So confidently, you can carry the compact light anywhere. 
Power Indicators
It will be beneficial if the light shows the color indicators to help you understand the remaining power level. With the help of three colored indicators, this Olight s2r Baton 2 informs you about this matter. 
When power is more significant than seventy percent, between fifteen to seventy percent, and less than fifteen percent, the light informs these conditions via green, yellow, and red colors, respectively. So you can be alert about the power. This characteristic is very significant because you can know the battery's condition well and decide to charge it if the indicator turns red or yellow.
Olight s2r ii is Waterproof
A tactical light is a light that always stays with you in any dangerous situation. So it is very crucial to have a waterproof feature on it. This characteristic allows you to bring it underwater.
Like the Olight seeker 2 Pro, the light features IP Rating IPX8. The device is two meters waterproof. So you are welcome to carry it underwater. 
Easy to Carry Everyday
The device is effortless to handle with a lanyard, pouch, LumenTac battery organizer, and black and blue pocket clips made from stainless steel. The underhand, as well as overhand holding method is so straightforward. This pocket-friendly gadget is very grippy because it includes knurling.
Beam Style
One of the chief characteristics of a great flashlight is having a wide beam. A perfect beam distance can make a light marvelous because it can expand your sight ability. In this flashlight, you can get a flood and throw beams to identify the item at close range. S2R II serves a beam distance of 135 meters, a peak beam distance of 147 yards, and a peak beam intensity of 4600 cd, ensuring perfect and efficient quality. 
With the camera settings of  TURBO: 1/6sec, F3.5, ISO100, 5000K WB, HIGH: 1/4sec, F3.5, ISO100, 5000K WB, MID: 1/2sec, F3.5, LOW: 1.3sec, F3.5, ISO100, 5000K WB, and MOONLIGHT: 2.5sec, F3.5, ISO100, 5000K WB the beam shots are taken below.
Lumen Output
You can experience super brightness with a maximum of 1150 lumen output. The Olight S2R Baton II provides a Total Internal Reflection lens throw that delivers a balanced beam up to 147 yards. With this Olight s2r 2, brightness modes of moonlight, medium, high, and the turbo runs 0.5 lumens at 1 minute for 60 days, 120 lumens at 14 hours for 15 meters, 400 lumens at 4 hours for 80 meters, and 1150 lumens at 230 minutes for  135 meters, respectively.
3200mAh lithium Battery 
With a rechargeable lithium battery of 3200mAh 18650, you can charge it magnetically via a tail cap charging cable. Since this EDC flashlight offers a rechargeable battery, it may be cost-effective for you. The entire procedure of the mechanism of the flashlight is very efficient and quality-full.
Let's check some advantages and disadvantages of this Olight s2r 2 tactical flashlight.
Before buying anything, you must consider the product's possible feedback. You can calculate the upcoming feedback upon the merits and demerits of that device.
Short features review of Olight s2r ii tactical flashlight
This product has an IP rating of IPX8. So it is a waterproof device.

The tactical flashlight is very easy to move with lightweight gestures.

s2r 2 has a longer beam distance of

135 meters.

It serves apparent and quality-full brightness with a maximum of 1150 lumens. 

You can get five different brightness modes with this tool.

The torchlight provides a power indicator.
Cons
Our Final Thought
This excellent flashlight can give you maximum satisfaction. You can easily carry this small and smart torchlight anywhere. For any emergency purpose, this light can provide you with reliability. If you face any challenging situation, even underwater, this gadget will assist you. Moreover, you can get this brilliant thing at a lower price. So do not delay in grabbing this one cause the s2r 2 will protect you with its efficient and quality-full performance in the dark. 
FAQs
Is it okay to turn it on while charging?
Obviously, you can do it. It is allowed for this device to turn the light on. But for your kind information, you have to keep the brightness low if you want to see the charging level on this light.
Can I hook it on my hat?
Yes, you can hook it on your hat. But you may suffer a problem too. The light can hit your forehead. So be careful to apply this method.