Klarus was established only 7 years ago. But, now it is one of the most popular flashlight brands on the market. Why? Because Klarus is creating lots of high-quality flashlight at an affordable price. We have listed here all-time best Klarus flashlight.
But, Why buy Klarus Flashlights?
If you want these type features from a flashlight, then buy this brand light:
High Lumen flashlight at a cheap price
Long run time and Powerful beam distance
Small Everyday Carry Size
USB rechargeable Option
Long Life Battery
Rough and Tough use
Two or more switch option
Sturdily built and more…
Klarus flashlights have taken the market by storm. Despite being one of the newest flashlight brands on the market, it has outperformed many brands that were started 10 years ago or beyond.
Our Recommend Top 7 Best Klarus Flashlight Comparison Table
Image
Flashlight Name
Lumens & Modes
Battery
Weight
Price

Editor's Choice

Check Price
Klarus Upgraded XT11GT 2000 Lumens SUPER BUNDLE LED Compact Rechargeable Tactical Flashlight
Read Review
Lumens: 2000
Modes: 4
1 Lithium ion batteries required. (included)
4.6 ounces
Medium

Powerful Choice

Check Price
Klarus G20 LED 3000 Lumen Flashlight, 26650 Rechargeable Battery, Mini USB light & More
Read Review
Lumens: 3000
Modes: 4
1 x Klarus 26650 battery
8.8 ounces
High

Keychain Choice

Check Price
Bundle: Klarus Mi7 CREE XP-L HI V3 LED Flashlight with AA Battery and SkyBen USB Light
Read Review
Lumens: 700
Modes: 4
AA (Primary/Rechargeable) and Li-ion 14500 batteries
0.96 ounces
Low
Check Price
Klarus Improved XT11S Compact Rechargeable Flashlight with Accessories Bundle
Read Review
Lumens: 1100
Modes: 3
1 single 18650 battery or 2 CR123 batteries
12 ounces
Low
Check Price
Klarus XT12GT Cree XHP35 HI D4 LED Tactical Rechargeable Flashlight with Magnetic USB Charging Connector
Read Review
Lumens: 1600
Modes: 6
1 Lithium ion batteries required. (included)
5.60 ounces
High
Check Price
Klarus G30 2450 Lumen CREE MT-G2 LED Flashlight
Read Review
Lumens: 2450
Modes: 4
1 AA batteries required.
9.9 ounces
Lowest
Check Price
Klarus XT2C XM-L U2 Cree LED Flashlight, Grey
Read Review
Lumens: 580
Modes: 2
2 CR123A batteries required.
1.6 ounces
Medium
Established in 2011, the Klarus company focuses on creating military grade flashlights with outstanding features. The brand already has a wide range of tactical flashlights from which different users with different needs can choose from. That's why their reputation has been growing rapidly and they are one of the top brands for sturdy flashlights. If you want the best tactical flashlight then you should check the Klarus brand flashlights.
Klarus is as well known for its innovative products apart from flashlights such as gun mounts, wand, remote pressure switches, flashlight accessories, and many others. Being a trusted brand, Klarus also offers warranties to its buyers and their customer support is very active and responsive. You will always find solutions to your queries.
Top 10 Best Klarus Flashlight review 2018
In this Klarus flashlight review, we are going to shed some light on some of the top Klarus flashlights. These have been highly embraced by many flashlight users and I also recommend them. This is from the famous and powerful XT-series to the G-series, and Mi-series.
Klarus flashlights are always sturdily built with excellent features. They are also compact and can be relied on for tactical and normal use.
Klarus Upgraded XT11GT tactical rechargeable flashlight (Our Top Pick)
This is one of the best selling Klarus flashlights. The Klarus XT11GT flashlight is an excellent torch with exceptional features.
The rechargeable flashlight has six brightness settings and two flashing modes. In addition, it has 3 operating settings, which are outdoor setting, tactical setting, and advanced tactical setting. It is easy to operate as it comes with a dual tactical tail switch and side switch. The anti-roll design with pocket clip is sturdily built from durable metal.

Check Price
The lightweight flashlight produces a maximum of 2000 Lumens which provides a super bright illumination. Other excellent features include ITS smart temperature control system, battery capacity indicator, and USB rechargeable.
Klarus XT12GT tactical flashlight
The Klarus XT12GT flashlight is compactly designed for outdoor use. It is made of a durable material and its lightweight for easy carry or use. Similar to xt11gt, it has a tactical dual tail cap switch and side switch for easy operation.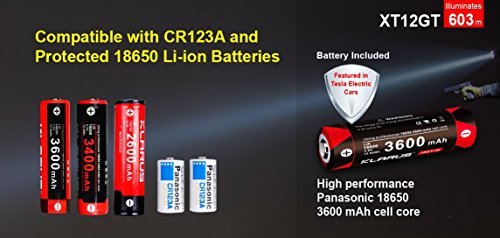 Check Price
The battery level indicator will notify you when the flashlight is low and you can recharge it via the magnetic USB charging connector. Powered by CREE XHP5 HI D4 LED chip, this is a powerful flashlight that produces white light.
It produces an outstanding light that reaches up to 603 meters. It has a maximum of 1600 Lumens with 6 light modes. You will never be disappointed with this xt12gt light.
Klarus G20 1000 Lumen flashlight
This is one of the best outdoor flashlights that I've come across. With a maximum of 3000 Lumens, the Klarus G20 flashlight
produced by this light is super amazing. Also, it can be recharged very quickly and it can offer light for 6 days consecutively without recharging. It is powered by a 5000 mAh battery.

Check Price
The aerospace-grade aluminum body will defy all the outdoor hardships such as water, impact, corrosion, and dust. On top of that, it has 4 light modes with strobe and SOS modes. Use this flashlight for hunting, camping, or hiking.
Klarus Mi7 700 Lumens flashlight
Klarus flashlight offers every light for every person. The Klarus Mi7 flashlight is an excellent light to have for everyday use.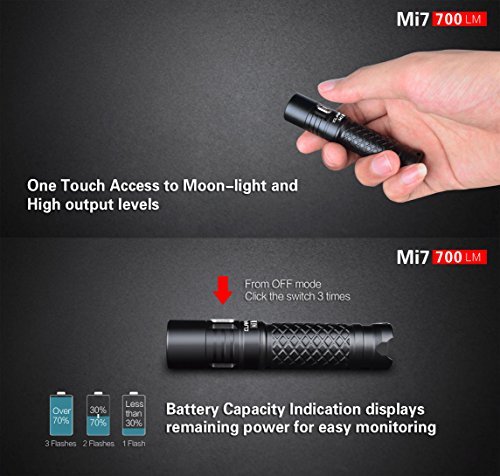 Check Price
It is small in size and very easy to move around with. Its compact design makes it simple to store in the pocket or backpack as you go about your duties. The flashlight allows you to cycle through the 3 light modes and strobe SOS modes.
It is also waterproof and impact resistant. With 700 Lumens, the maximum beam will reach up to 110 meters, which is just great for such a small light.
Klarus Improved XT11S rechargeable flashlight
This is another TX-series flashlight. The improved Klarus xt11s flashlight is sturdily built of an aerospace-grade aluminum alloy.
The body is of an anti-roll design and can withstand all outdoor hardships. It has a tactical dual tail cap switch and side switch for easy operation. Also, it has a striking bezel and strobe mode, which can be used for defending oneself. Unlike its previous model, this improved model has a direct recharging function.

Check Price
Built for tactical use, this flashlight is suitable for law enforcers, hunters, hikers, emergency responders, and military personnel.
Klarus G30 LED flashlight
With its sleek design, the G30 LED flashlight is created for daily use. This extremely bright light is compactly designed for simple use. It has a tail cap switch and side switch. You can use the switch that you are comfortable with as they serve the same purpose. Unlike other flashlights, you can't accidentally switch on this flashlight as it has a lock function.

Check Price
Also, it has a smart temperature control system that will prevent your flashlight from overheating. Use the flashlight to check your entire backyard with maximum Lumens of 2450.
Klarus XT12GT LED tactical flashlight
This XT12GT is an improved version of the xt12gt LED flashlight. But this one is slightly versatile and suitable for military or tactical use.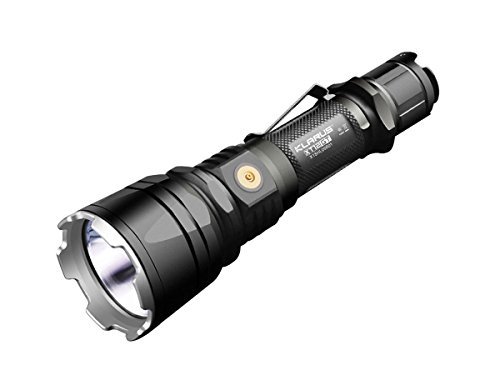 Check Price
It is durably constructed of aerospace-grade aluminum and has a toughened glass lens to prevent scratching. It utilizes CREE XHP35 LED and produces a maximum of 1600 Lumens. Moreover, it is impact resistant up to one meter and is rated as IPX-8. Recharge the flashlight easily with the magnetic charging connector and you can operate it with just one hand.
Klarus XT1C LED flashlight
The compact and sturdy xt1c led flashlight is a powerful flashlight with great features. As small as it is, the xt1c 700 Lumens flashlight comes with two settings.

Check Price
This includes the tactical setting and outdoor setting. It as well features a dual tactical tail switch and pocket clip. Being an upgrade of the xt1c light, it has an ITS temperature control function and it is waterproof up to 2 meters underwater.
Klarus XT2C LED flashlight
If you are on a budget but still want a quality Klarus flashlight, the XT2C LED flashlight is a wonderful option for you. Similar to other Klarus flashlights, this one is sturdily built of aerospace-grade aluminum. Also, it has a knurled body for offering a grip to the user and a pocket clip for easy storage.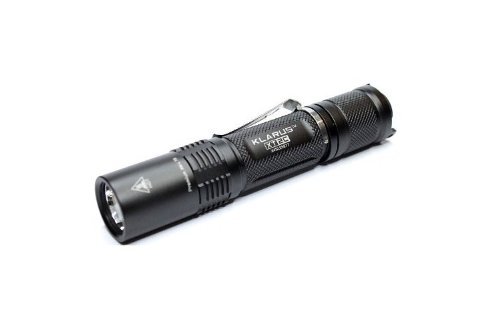 Check Price
The flashlight utilizes Cree XM-L U2 LED that produces a maximum of 580 Lumens. Other features include max runtime of 170 hours, max beam distance of 156m, and it is IPX-8 waterproof rated.
Klarus AR10 USB rechargeable flashlight
This is one of the newest flashlight designs at Klarus. The Klarus AR10 USB rechargeable light is uniquely designed for versatile use. It has a patent protected, adjustable head with a beam angle of up to 90 degrees. This allows you to turn it in a particular direction without straining your hand.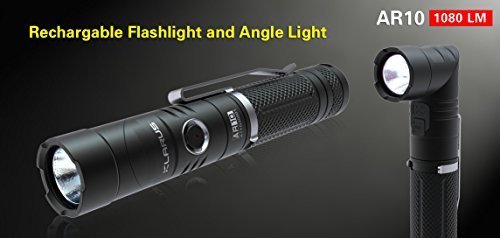 Check Price
It is also made of aircraft-grade aluminum and features 4 light modes and two flashing modes. With a smart temperature control system and battery level indicator, this is a reliable and powerful light to have for your general use.
Summary
If you are looking for some of the best designed and innovative LED flashlights, you will find them at Klarus. Klarus is a brand that concentrates on ensuring that it creates products that customers love. Established just a few years ago, the firm has already created a great name for itself and its one of the top brands in the market. We have listed some of the best Klarus flashlights above and you can feel free to select one that you think meets your lighting needs. With Klarus, you will never go wrong. After reading this Klarus flashlight review, Which flashlight you have decided to buy? Comment below your answer.