If you are the kind of person who loves walking at night, hunting or camping, having a reliable and compact light is important. Being one of the leading brands, Fenix has lots of quality flashlights to offer. You can check the top Fenix flashlight review here. The Fenix TK16 flashlight is a powerful light and can be used for self-defense or any emergency situation. Read this Fenix TK16 review to know more about this flashlight.
Related: Best Tactical Flashlight Reviews – Buyer's Guide
Technical Features of the Fenix TK16 LED flashlight
| | |
| --- | --- |
| Features | Fenix TK16 |
| Maximum Brightness: | 1000 lumens |
| Minimum Brightness: | 10 Lumens |
| Maximum Run-time: | 150 hours (10 lumens) |
| Minimum Run-time: | 1 hour & 10 minutes (1000 lumens) |
| Beam Distance: | 240 Meters |
| Impact Resistance: | 1 meter |
| Modes: | 5 (1000, 400, 150, 10, 1000(strobe)) |
| LED: | Cree XM-L2 U2 |
| Body: | Aircraft-grade aluminum |
| Waterproof standard: | IPX-8 (Underwater: 2 meters) |
| Length: | 140 mm |
| Weight: | 122 grams |
| Battery Include: | Yes (Two CR123A Lithium) |
| Price: | Check Today's Price On Amazon |
Today, we are going to review the Fenix TK16 Dual tactical tail switch flashlight. This light is ideal for use in emergency situations as it has a dual switch that allows the user to access strobe mode on the go. Furthermore, the flashlight is compactly designed for easy handling with a sleek body design. It has an anti-slip body and can defy tough conditions.
Related: Fenix UC35 Review: USB Rechargeable 960 Lumen Flashlight
Fenix TK16 Review 2022:
The TK16 is one of the latest Fenix flashlights in the TK series. It can be operated with one hand, and it is lightweight. The strike bezel, together with the strobe mode, makes this flashlight to be a wonderful defensive weapon. That's why it is considered great for law enforcers, hunters, and outdoor lovers.
Detail Features of the Fenix TK16 flashlight
Uses Cree XM-L2 U2 LED with a lifespan of 50 000 hours
Durable aircraft-grade aluminum body
Toughened ultra-clear glass lens with anti-reflective coating
Premium type III hard-anodized anti-abrasive finish
Low-voltage warning function
Reverse polarity protection
Specialized remote pressure switch integration
Dual spring design
Waterproof to IPX8 standard
Tactical tail switch
Tail mode switch
4 light modes and strobe
Anti-roll, slip-resistant body design
Intelligent memory circuit
Why choose the TK16 LED light?
Fenix is a trusted brand with a wide range of flashlights. The TK16 dual tactical tail switch light is one of the latest models. It is compactly designed and very easy to use. The flashlight is created for tactical and everyday use. You will never be disappointed with this flashlight as it has lots of features to offer.
Related: Fenix PD32 Review: Compact 900 Lumen(Upgraded) LED Flashlight
Major features of the Fenix TK16 dual tail switch flashlight
Durable construction
Before you purchase a flashlight, it is vital that you inspect its construction. The TK16 flashlight is sturdily made of a durable aircraft-grade aluminum body. In addition, the body is a dual-layer for extra sturdiness. Moreover, it has a toughened ultra-clear glass lens with an anti-reflective coating. It is suitable for outdoor use as it is waterproof and can resist the impact of up to 1 meter. This is a flashlight that will last for a long before you need a new one.
Dual tactical tail switch
If you are going to use a flashlight in emergency situations, you need one with an easy to use interface. The new TK16 rechargeable flashlight has a dual tactical tail switch with one large and small mode switches on the tail cap. The large one is for instant operation, while the small one is for cycling through the different 4 light modes and strobe. Also, the strobe mode can be activated through the small switch even when the flashlight is switched off.
Compact and lightweight design
The flashlight is sleekly designed and not a burden to carry or hold in the hands.
4 light modes and strobe
As the surrounding changes, so do the lighting needs. The TK16 will help you change to different light modes as per your environment or lighting conditions. If you go in a totally dark area, you can switch it to high or turbo mode for extreme brightness. Other light modes are low, medium, and strobe modes. When in turbo mode, the light can reach up to 240 meters.
Special features
This is not just any regular flashlight. It comes with additional features that make it perform even better. Such features include reverse polarity protection, an intelligent memory circuit, low voltage warning function, and digitally regulated output.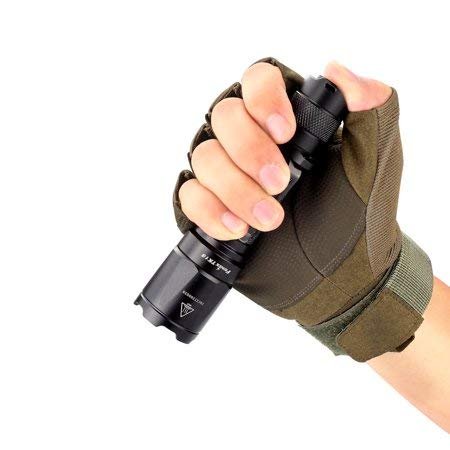 Check Price
Holster or pocket clip for easy storage
After using the flashlight, you need to keep it close to you so that you can easily remove it in an emergency. The holster and pocket clip makes this possible for you.
Powered by CREE XM-L2 U2 LED
This is the newest LED technology in the industry. This chip is indestructible, and you will rely on it for many years to come. The LED has a lifespan of 50 000 hours, which is just incredible.
Great accessories
Apart from the amazing features offered by Fenix, the TK16 LED light has extra accessories such as a battery charger, 2 X EdinsonBright CR123A lithium batteries, Fenix ARB-L2M protected 18650 rechargeable Li-ion battery and holster.
Related: Fenix PD35 Review: The 1000 Lumen Flashlight(Why Buy?)
Fenix tk16 vs pd35
The TK16 beam distance is 780 feet, and the pd35 beam distance is 656 feet. The Fenix TK16 flashlight is good for heavy use, and pd35 good for everyday use.
Fenix tk16 vs tk15
The TK15 flashlight lumen only 400. The Fenix has upgraded its tk15 model to tk16 with lots of improved features.
Fenix tk16 vs tk22
The Fenix TK22 is an old flashlight. The first version was 650 lumen, and the Fenix TK22 2014 version was 920 lumen. They have not released a new version since 2014. Fenix tk16 led flashlight is much better than this light considering the features and brightness.
Summary
After looking at the amazing features of the Fenix TK16 flashlight, you might think that it doesn't have flaws of its own. But this is very wrong. Although the Fenix TK16 is well built and performs well, removing the anti-roll ring is almost impossible. If you fully read the Fenix TK16 Review, then you will understand it is a good flashlight to buy. Also, it activates itself accidentally when placed in the pocket. All-in-all, this is a wonderful flashlight to acquire for your daily activities such as hunting, hiking, camping, emergency situations, and many others.