The Fenix PD25 may be a small everyday carry flashlight, but it is still very powerful. So, if you dislike big flashlights but still want something that is bright, compact, and sturdily made, the Fenix pd25 is the best choice for you. The flashlight produces a maximum of 550 Lumens and has an easy-to-use interface. The holster, belt clip, and lanyard make keeping it to be easy. Read this Fenix PD25 review article to know more about this led flashlight.
Technical Features of the Fenix PD25 flashlight
| | |
| --- | --- |
| Features | Fenix PD25 |
| Maximum Brightness: | 550 lumens(16340) / 400 lumens(CR123A) |
| Minimum Brightness: | 5 Lumens(16340) / 5 lumens(CR123A) |
| Maximum Run-time: | 100 hours(16340) / 53 hours(CR123A) |
| Minimum Run-time: | 35 minutes(16340) / 1 hour 10 min.(CR123A) |
| Beam Distance: | 130 Meters |
| Modes: | 4 |
| Low-voltage warning | Yes |
| Reverse polarity protection | Yes |
| Battery includes: | Yes (one CR123A Lithium battery) |
| LED: | Cree XP-L V5 |
| Body: | Aircraft-grade aluminum |
| Waterproof standard: | IPX-8 (underwater 2 meters) |
| Length: | 93 mm |
| Weight: | 47 grams |
| Impact resistance | 1 meter |
| Price: | Check Price |
Tactical EDC Fenix PD25 Review 2022
With the Fenix PD25, you will never hit your leg on the pavement again in the dark as it will illuminate your path. Also, you can keep it in the car and use it to change a burst car tire at night. The 5 light modes make the flashlight to be very convenient to use, and it has an indestructible LED chip.
Important points to note before buying a flashlight
A great flashlight should be easy to handle and keep. This is a tool that you intend to carry on a daily basis, and that's why it needs to be of a compact design and not a burden to have. You should be able to keep it in your pocket or easily attach it to your belt as it is small enough to fit. Also, it should be strongly built to survive tough outdoor conditions. Above all, the flashlight should be very bright to excellently illuminate your path while in the dark. Depending on what you are going to use the flashlight for, you can select a tactical, EDC, or keychain flashlight.
Get the best tactical flashlight list here: https://tacticalflashlightguide.com/
Fenix PD25 Flashlight Product specifications
Made of durable aircraft-grade aluminum
Anti-roll, slip-resistant body design
Premium type III hard-anodized anti-abrasive finish
Toughened ultra-clear glass lens with anti-reflective coating
Reverse polarity protection
Digitally regulated output
Low-voltage warning function
Overheat protection
5 output modes
Extended battery life
Tactical tail switch
Side switch
Pros:
Made of a sturdy construction
Easy to use interface with a tail cap switch and side switch
It is waterproof up to 2 meters underwater for 30 minutes
The low-voltage warning function alerts you when the battery is low
It provides a very bright light that reaches up to 130 meters
Sleek and compact design for easy use and storage
Cons:
It doesn't come with a lockout feature
It doesn't have an SOS feature, which the emergency responder usually uses.
Features and benefits of the Fenix PD25 LED flashlight
Dual switch
The dual switch on this flashlight makes using it to be easy. It has a tactical tail cap switch for momentary-on function and a side switch on the head for output selection.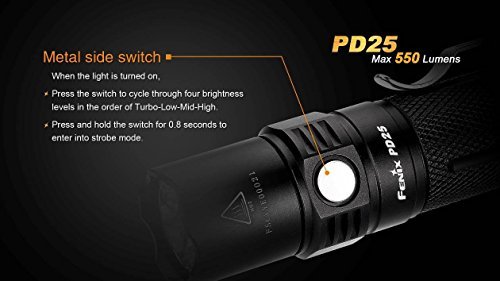 Check Price
The side switch is for cycling through different light modes.
Durable aircraft-grade aluminum construction
There is no doubt that this is a sturdy flashlight. Made of durable aircraft-grade hard aluminum, you can be certain to utilize this flashlight for a very long period of time. The flashlight comes with Reverse polarity protection with a spare o ring. It will protect your light from improper battery installation. Also, the body is anti-roll and slip-resistant.
Build for tactical use
Not only is this flashlight strongly built for long-term use, but it can as well survive tough terrains, droppings, water, dust, and corrosion. This is because it's waterproof up to 2 meters and for 30 minutes. Also, it can resist the impact of up to 1 meter.
It has 4 output modes and strobe mode.
With low, medium, high, turbo, and strobe modes, you will never be out of light options. You will get a bright visual on turbo mode. But for constant brightness, it is recommended to use it on high/medium mode to get better battery life. The strobe mode comes in handy when you are attacked as it blinds the enemy.
Get top Fenix flashlight list here: https://tacticalflashlightguide.com/fenix/
Powered by one 16340 rechargeable Li-ion or 3v CR123A battery
You have the choice of using one of the two batteries above. If you want a very powerful and bright light, you should use the rechargeable 16340 Li-ion battery. It is a high-performance battery, and your light will run for long hours.
Low-voltage warning function
When your battery percentage is low, a warning light will come on to let you know that you need to recharge it. Use the USB or charger included for recharging the flashlight.
Reverse polarity protection
Even if you insert the battery in the wrong way in the battery compartment, no damage will occur to the flashlight. This is because it has a reverse polarity protection feature that will prevent any damage from taking place.
Powerful flashlight
The light produced by this flashlight is outstanding. If you are in a very dark area and want very bright light, you can cycle the light to high or turbo light mode.

Check Price
Also, you should use 16340 rechargeable Li-ion batteries for very bright light. If you need a more powerful flashlight, then Fenix pd35 tac could be your choice.
Uses CREE XP-L LED
The CREE XP-L LED chip has a lifespan of 50,000 hours, and it is indestructible. The LED as well produces white light, which is reflected on the toughened ultra-clear glass lens to produce an excellent beam that reaches up to 130m. Also, it features over-heat protection that keeps your flashlight from overheating.
Final Thoughts
The Fenix PD25 LED flashlight is a great everyday carry light. It is sturdily built and compact in design. With a maximum of 550 Lumens, this flashlight produces a lot of light that will brighten your path or room. It is also powered by rechargeable batteries and has 5 different light modes with a strobe mode included. If you are a driver, hunter, cyclist, or hiker looking for a small and reliable flashlight, the Fenix PD25 LED flashlight is a good choice. That's it in this Fenix pd25 review article.