In traditional Chinese culture, the word Fenix has a lot of meanings. Fenix or Phoenix can be taken to mean, "lucky, blessedness, and perfection". Also, it can mean a "perfect thing", and many other meanings.
If you search for the best flashlights online, Fenix will be among the first brands to appear in your search results. Fenix is a Chinese company established 10 years ago. The company creates quality LED flashlights for hands, heads, and handlebars. The brand focuses on creating quality, durable, bright, and reliable tactical flashlights. One of their slogans is, "Fenix flashlight, sunshine in your pocket".
It doesn't matter if you are an outdoor enthusiast, law enforcer, hunter, emergency responder, or military personnel, Fenix flashlights are built for all. A good number of Fenix flashlights are made with a cutting-edge technology, high-efficiency optical system, lightweight aircraft-grade aluminum, a type III hard-anodized anti-abrasive finish, the impact resistance of up to 1 meter, IPX8 waterproof standard, and digital regulation with constant-current circuitry for consistent brightness. In addition, Fenix has a wide range of accessories that are included in the purchase. These are a holster, batteries, USB charging cable, etc…
Best Fenix Flashlight Review 2018
With such features, expect the best experience when you use any Fenix flashlight. That's why people have come to trust this brand and it has lots of positive ratings online. Below, we've selected some of the best Fenix flashlight from different series.
Fenix PD35 tactical flashlight
This is one of the best selling Fenix flashlights. The fenix PD35 tac flashlight is built for outdoor use. Not only is it a high-end flashlight, but it is also very bright and reliable. It uses Cree XP-L LED with 50, 000 hours lifespan. Also, it is powered by one rechargeable lithium-ion battery or two 3V CR123A lithium batteries with a long runtime.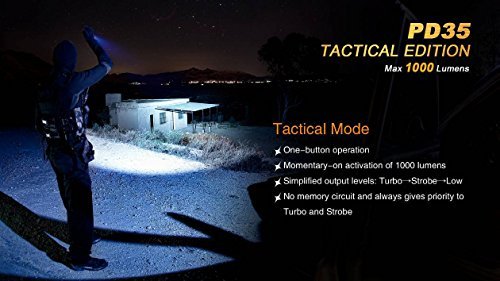 The PD35 is made of lightweight, aircraft-grade aluminum body with a water-resistant body. When dropped, it can resist impact of up to one meter. It features a max Lumen of 1000 that covers up to 656 ft. Get to choose from one of the 6 light modes it offers.
Check Price
Fenix UC35 LED Flashlight
The Fenix UC35 flashlight is one of the most powerful flashlights on the market. It uses a Cree XM-L2 LED that produces a maximum of 960 Lumens. Actually, this flashlight is very similar to the PD35, when it comes to size and performance.
The aircraft-grade aluminum it is made of resists impact and has a type III hard-anodized finish that resists water. The over-heat protection feature prevents the flashlight from overheating and hence protecting the inner parts. It is very easy to use with the side switch and tactical tail switch.
Check Price
Fenix UC30 Rechargeable LED Flashlight
Another UC series, the Fenix UC30 flashlight is a bit cheaper than the UC35 but have similar features. The UC30 is brighter than the UC35.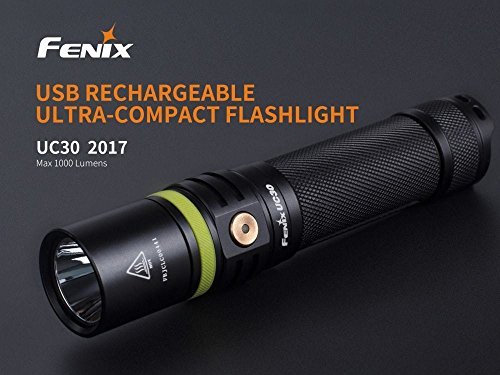 It is well built and ideal for outdoor use. The flashlight can resist impact and has a built-in USB for easy recharging. When the battery runs out, the battery level indicator will let you know. Choose from one of its 5 light modes or use the brightest mode with 1000 Lumens to perfectly illuminate a very dark area. Due to its compact design, storing this device won't be a problem at all.
Check Price
Fenix E12 LED Flashlight
The Fenix E-series flashlight comprises some of the most affordable flashlight models. The Fenix E12 flashlight is sturdily built and very bright.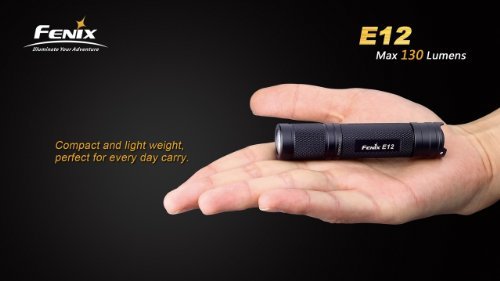 It has a maximum of 130 Lumens and uses Cree XP-E2 technology. This is a great flashlight for travelling with as it uses just one AA alkaline/Ni-MH battery. These are easy to find as they are almost everywhere. Also, its small size makes using and storing it be easy.
Check Price
Fenix PD32 LED Flashlight
If you are an outdoor lover, military personnel, or a hunter, the Fenix PD32 LED flashlight is an excellent flashlight for you.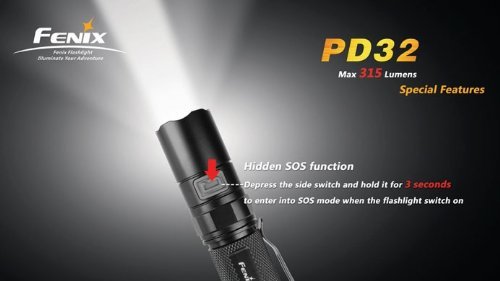 Made from durable aircraft-grade aluminum with a premium type III hard-anodized anti-abrasive finish, this is a very reliable flashlight. It can be immersed in water up to 2 meters and still function well. A great feature of this flashlight is that it has a wonderful runtime when used in low mode. With a maximum beam distance of 463 ft, this is an amazing tactical flashlight for outdoor use.
Check Price
Fenix TK16 Tactical Flashlight
The Fenix TK series is one of the most versatile. It is made up of durable and high-performance flashlights.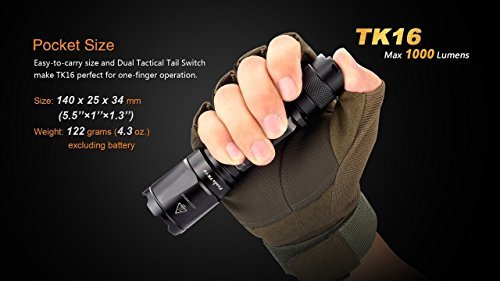 The Fenix TK16 flashlight is a wonderful light that can be used in different weather conditions and surroundings. This is because it is made up of lightweight and durable aircraft-grade aluminum with a hard-anodized anti-abrasive finish. It has a waterproof rating of IPX-8 and can resist impact up to 1 meter. Also, it has an anti-slip body and a toughened ultra-clear glass lens with anti-reflective coating. It won't let you down in rain or in extremely cold conditions.
Check Price
Fenix PD25 LED Tactical EDC Flashlight
Are you in search of a quality and easy to use Fenix light? The Fenix PD25 flashlight is the perfect fit for you.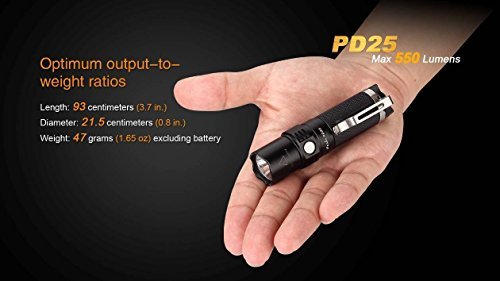 This 550 Lumen flashlight uses Cree XP-L LED to provide you with a very bright light. It is compact in design and has a pocket clip for easy attachment to your belt. The flashlight is very easy to use with the tail cap switch and side switch. It is powered by 3V CR123A battery or one 16340 rechargeable Lithium-ion battery. The anti-slip design prevents the flashlight from rolling and makes holding it in your hand to be comfortable.
Check Price
Fenix LD22 Flashlight
For those who want a powerful, durable, and affordable light, they should try out the Fenix LD22.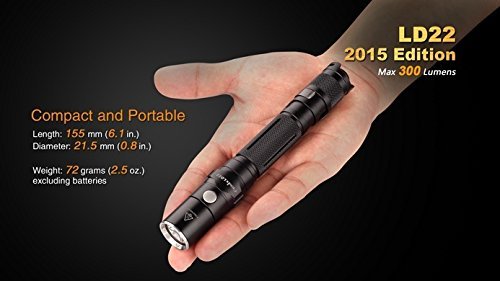 This is an amazing Fenix flashlight with quality features but still offered at a great price. The flashlight is compactly built for easy use. It has 6 output modes and a maximum of 215 Lumens. Similar to other Fenix series, it is both waterproof and impact resistant. Its sleek design makes handling it to be easy and Fenix offers a lifetime limited warranty.
Check Price
Fenix LD02 Tactical Key Chain Light
The Fenix LD series has a number of flashlights offered at a great price. The Fenix LD02 flashlight is an excellent everyday carry light.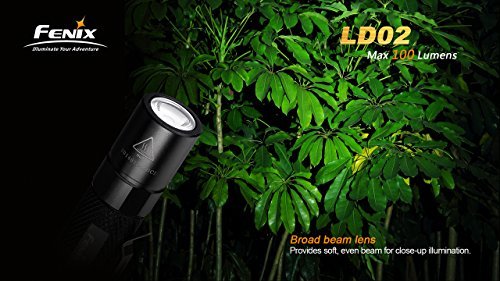 Being a keychain light, this means that you will attach it to your keys and carrying it won't be a burden at all. It is durable and powered by one AAA battery. The flashlight uses Cree XP-E2 LED and produces a maximum of 100 Lumens. Simply turn on the push button switch and start using it.
Check Price
Fenix E05 Flashlight
Last but not least, the Fenix E05 is made of durable aircraft-grade aluminum with a hard anodized anti-abrasive finish.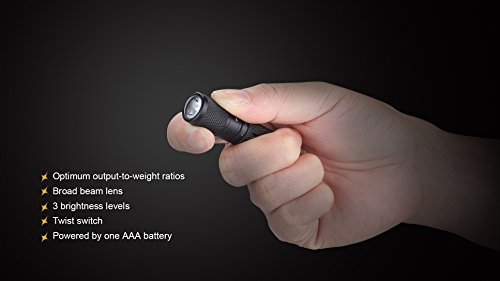 The Fenix e05 flashlight similarly compact as E12. Although, it's maximum lumen is 85 but still produce a powerful beam. It can resist impact of up to 1 meter and is waterproof up to 2 meters underwater. The flashlight is also lightweight and very easy to carry. It comes with 3 light modes and has a beam distance of 148 ft. Easily keep this light in the pocket when not in use or in your backpack.
Check Price
Summary
After looking at the features of the different Fenix flashlights and their performance, I can gladly recommend the Fenix flashlight brand to a friend or person. The brand has a wide range of lights that fit different uses. You can be a camper, emergency responder, hiker, work at law enforcement or even a hunter; but you will find a flashlight that suits your needs from Fenix. Flashlights from Fenix are durably made, bright, lightweight, resist impact, and are waterproof. Hence, you can rely on them in tough conditions or situations. I guess, this best Fenix flashlight review article will give you a clear idea about this brand top selling light.