Being an outdoor enthusiast, I need to carry at least one flashlight with me. It allows me to have an easy time in the camp and to light my path at night. Up-to-date, I have used different types of everyday carry flashlights and have come to fall in love with the Olight S1A 600 Lumen light. Very small flashlight, easy to carry, and with the lowest setting of 0.5 lumens, can run up to 15 days! In this Olight S1A review, we will find out the main features of this compact flashlight.
Technical Features of the Olight S1A Flashlight:
| | |
| --- | --- |
| Features | Olight S1A Flashlight |
| User Rating: | 4.8 Out of 5 (Rated by 583 users) |
| Maximum Brightness: | 600 lumens (use 14500 battery) |
| Minimum Brightness: | 0.5 Lumens |
| Maximum run-time: | 15 days |
| Minimum run-time: | 1 hour |
| Beam Distance: | 118 Meters |
| Switch: | Side |
| Modes: | 5 (0.5, 5, 50, 220, 600 lm) |
| LED: | Cree XM-L2 |
| Body: | Aluminum Alloy |
| Waterproof: | Yes |
| Length: | 79.5 mm |
| Weight: | 37.5 g |
| Compatible Batteries: | 1 x AA(R6) or 14500 |
| Battery Include: | Yes |
| Price | Check Today's Price |
The Olight S1A flashlight might be one single battery flashlight, but it is exceptional in performance. This pocket light is sturdily constructed from a 6061-T6 aluminum alloy body with an anti-scratch type-III hard anodizing. Therefore, this is a light that you can use for many years. You can also slip it easily into your pockets or backpack when not in use.

Baton Flashlight Olight S1A Review in 2023
The black and compact light provide very powerful light when a 14500 rechargeable lithium battery is inserted into it. It produces a maximum beam that covers 118 meters. In addition to these amazing features, it is water-resistant up to 2 meters for 30 minutes and impacts-resistant up to 1.5 meters. With such features, this is a wonderful EDC flashlight to have with you as you go camping, hiking, hunting, bicycling, or even perform simple tasks like checking your backyard at night.
Related: Klarus Mi7 Review: Small(26.4grams) LED 700 Lumens Flashlight
After finding this flashlight to be a performer, I decided to share my experience with you and other flashlight lovers. Below is more info about this AA-powered light to help you make a well-informed decision.
Features and benefits of the Olight S1A EDC flashlight
The Olight S1A flashlight comes with a wide range of features that makes it one of the best everyday carry lights. Here are some of the features that set it above most EDC flashlights.
Is the flashlight body construction durable enough?
The body of the S1A 600 lumen flashlight is made of AL6061-T6 aluminum alloy. Aluminum is a durable and waterproof material. Besides, the construction has an anti-scratch type-III hard anodizing finish that protects it from harsh outer surroundings. On top of that, it has a blue PVD stainless steel ring on the switch and bezel. All these features make this flashlight sturdy and reliable in tough conditions. So, it can be used for outdoor purposes or for general flashlight uses.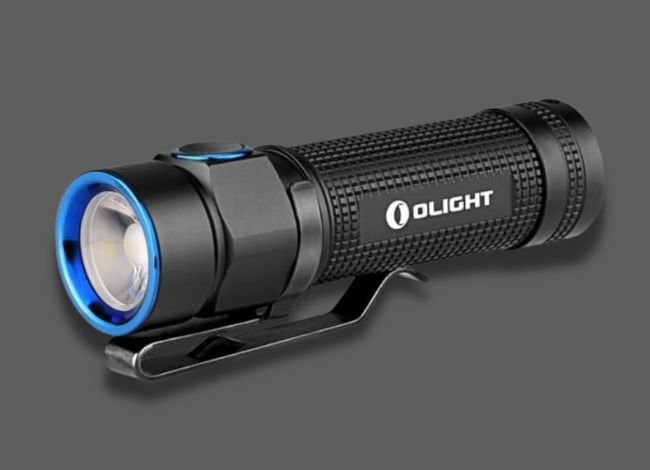 Related: Best AA Flashlight – List of Top 10
What type of battery is required?
A good number of flashlight users despise a single battery flashlight as it doesn't last that long. The Olight brand has changed that narrative by coming up with the S1A flashlight. This flashlight is powered by either one AA battery or a single 14500 rechargeable lithium-ion battery. It's good to have both of these batteries with you if you want to get the best out of this flashlight. For a longer run time and brightest light, you will have to insert one 14500 rechargeable battery. The AA battery is cheaper and very easy to find but cannot provide you with the special turbo mode.
Utilizes Cree XM-L2 LED
Cree LED technology has been a game-changer in the flashlight world. Without this technology, the creation of small flashlights such as keychain lights wouldn't have been possible. The S1A uses one of the latest LED technology in Cree XM-L2 LED. This is a very powerful bulb, and it will provide you with years of excellent white light.
Related: Best Keychain Flashlight for Everyday Use
What is the maximum lumen range?
This is one of the brightest pocket flashlights on the market. It can produce a maximum of 600 Lumens, which is just outstanding for its size. To attain this maximum brightness, you will need to insert one 14500 lithium-ion battery. Also, the flashlight offers you two light outputs, which are conventional output and special output. The conventional output provides you with 0.5 Lumens or moonlight mode, 5 Lumens for low mode, 50 Lumens for medium mode, 220 Lumens for high mode, and strobe mode at 10Hz. The special mode is made up of turbo mode at 600 Lumens.

Check Today's Price
Hence, this is a versatile flashlight that allows you to access different light modes and control the flashlight run time. The higher the Lumens used, the shorter the run-time. The moonlight mode can be great for reading maps, while the turbo mode is suitable for lighting a very dark area or for disorienting an enemy. If you are looking for a more powerful beam, then check out this Olight Seek 2 pro tactical flashlight.
PMM TIR lens
The powerful Cree XM-L2 bulb and the PMM TIR lens work together to produce an excellent beam of light. This lens provides more control over the light than the older reflector designs. With this lens, you don't even need a top glass lens. In the brightest mode, this flashlight will produce a beam that covers a distance of 118 meters. This is amazing for such a small flashlight that is powered by just one battery.
Does Olight S1A meet the IPX-8 rating?
If you intend to use the S1A LED flashlight outdoors or in poor conditions, there is nothing to worry about. This is because the flashlight is rated as IPX8. This means that it can be used in the rain or be immersed in water up to 2 meters for 30 minutes. In addition, it is impact resistant and can withstand drops of up to 1.5 meters from the ground. Therefore, you can use this flashlight for hunting or even in combat. If it falls accidentally on the ground, you will still count on it to deliver.
Easy to use
The flashlight might be small in size, but it is still easy to use. It has a tail cap switch for switching on/off the light and for cycling through the different light modes. The switch is securely protected by a rubber and O-ring seal. To cycle through the different light modes, you will need to hold the switch. With its grip, holding the light shouldn't be a problem at all.
Related: Outlite A100 Review: Portable Ultra Bright Handheld LED flashlight
How portable is the S1A light?
Weighing less than around 2 pounds, this flashlight is very light and portable. Also, it measures just over 3-inches, which means that it can fit perfectly in your pocket, purse, or backpack. As a result, you can carry it easily on your trip or as you head to school or work. It is not a burden at all, and even your colleagues may not discover that you have it unless you have it in your hands.
Pocket clip and lanyard
After using the flashlight, you can easily keep it in the pocket by attaching the clip or using the lanyard to tie it to your loop or hand. This is very easy, and you won't be burdened at all. After all, it is of a sleek design.
5-year warranty guarantee
Apart from the excellent features that this flashlight provides, the manufacturer offers a 5-year warranty to buyers of the product. Also, the buyer is assured of 100% satisfaction. So, if you find the flashlight to have a problem, you can always return the product or get in touch with Olight customer service for support. I hope this Olight S1A review article has given a clear idea about this flashlight.
Olight S1A Vs. S2A
| | | |
| --- | --- | --- |
| Features | Olight S1A Flashlight | Olight S2A Light |
| Length: | 132.1 mm | 79.7 mm |
| Head width: | 21 mm | 23 mm |
| Maximum Brightness: | 600 lumens | 550 lumens |
| Weight (Without Battery): | 37g | 56g |
| Battery Type: | Single AA or 14500 | Single 18650 |
Is the Olight S1A Flashlight Worth It or Not?
Of all the different single battery pocket flashlights that I have come across, I can rate this higher than the other light models. This is because it has more features, produces excellent light, and has a longer run time. Also, the flashlight is durably made and very easy to use. If you want to fully experience the Olight S1A light at its best, then you should insert a single 14500 rechargeable lithium battery. At such a price and quality, this light is worth having on a daily basis. Still, have a question after reading this Olight S1A review? Comment below.