A flashlight is an essential everyday carry tool. Take, for instance, this quote from Dawna Markova, "Gratitude is like a flashlight. If you go out in your yard at night and turn on a flashlight, you suddenly can see what's there. It was always there, but you couldn't see it in the dark." This simply summarizes how important a flashlight is to us. I understand that not every person can carry a large or handheld flashlight with them wherever they are going. But almost anyone can carry a Keychain light as it is compact, lightweight, and can fit almost anywhere.
Surefire knows the different demands of customers, and that's why Surefire has different types of flashlights on offer. In this review, we are going to talk about the Surefire Titan plus. This is an improvement from the Surefire Titan 1. Before I acquired this outstanding Surefire Titan plus LED light, I used to have the Surefire G2X Pro LED tactical flashlight. Even though these two lights perform excellently, I prefer the Surefire Titan Plus because of its size and durability. It might be small, but it is still powerful and very compact. So read our Surefire Titan Plus review to know more about this.
Technical Features of the SureFire Titan-B Plus 300 Lumen Flashlight:
| | |
| --- | --- |
| Features | SureFire Titan-B Plus Flashlight |
| Maximum Brightness: | 300 lumens |
| Minimum Brightness: | 15 lumens |
| Body: | Nickel-plated brass body |
| Design: | Anti-roll design |
| Light modes: | 3 |
| Removable pocket clip: | Yes |
| Proprietary reflector: | Yes |
| Weatherproof: | Yes |
| Battery Type: | included rechargeable AAA NiMH battery |
| Waterproof: | Yes |
| Length: | 4-inches |
| Weight: | 2.0 ounces |
| Can run: | up to seven hours |
| Tail cap switch: | Yes |
| Price: | Check Price |
Surefire Titan Plus Flashlight Specifications and User Reviews:
The flashlight is also known as Titan B. The Surefire Titan plus variable output flashlight weighs just 2 ounces which is not a burden at all. So, if you are looking for a durably made flashlight that you can rely on upon tactical, outdoor, or indoor situations, I highly recommend this keychain light. You will never be disappointed even if you dropped it accidentally. Use it as you go camping, hunting, dog walking, backpacking, hiking, fishing, or just as a backpack when you are in a blackout. Here is the feature review:
Does the Titan Plus flashlight pass the toughness test?
This is one o the first things that I look at before buying a flashlight. Why acquire a poorly made flashlight that will crumble the moment you accidentally drop it? This is not the case with this keychain Titan plus light. It is well made from durable nickel-plated brass that makes it able to defy scratch and corrosion. Moreover, the flashlight comes with a removable heavy-duty pocket clip that allows the user to have a simple time keeping the flashlight. As a result of its durability, this flashlight can handle any toughness thrown at it. You will use it for years before having to replace it.
Related article: Which one has a more attractive outlook between Streamlight and SureFire flashlights?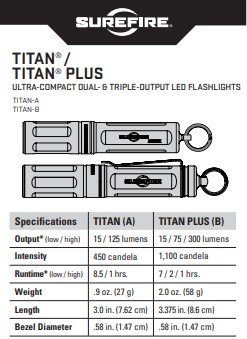 3 light modes or outputs
I love to have full control of my flashlight. At times, you will find that you don't need full brightness like when reading maps. In such situations, you can switch the light to its lowest mode, which provides a longer runtime. This is what the Surefire Titan plus gives you. Unlike the Surefire Fury Intellibeam light, it has 3 light modes: low 15 Lumens for 7 hours, medium 75 Lumens for 2 hours, and high 300 Lumens for 1 hour. For defensive reasons such as blinding an enemy, you can switch the light to high mode. Use different light levels for different purposes.
Check Price
Not a flashlight for long distances!
Apart from offering the user 3 light modes, the flashlight is made up of indestructible and powerful LED technology. The LED works in conjunction with the proprietary faceted reflector to give the user a smooth, MaxVision beam. The light is suitable for short distances as it doesn't cover a very great distance. The flashlight runs on an AAA battery (NiMH Eneloop Pro AAA battery is included in the purchase). Alternatively, you can use one disposable AAA alkaline battery to power the flashlight. These are cheap and can be found almost anywhere. So, you will never be stranded ever again.
Easy to operate and change the modes
One thing I like about Surefire flashlights is that they are very easy to operate. Also, their switches are very reliable and sturdily made. This is the case with the keychain Titan plus LED light. The flashlight can be switched on easily by just twisting its head counterclockwise. Also, this brings you to low mode. If you want medium light mode, simply return to off by twisting the switch clockwise, then counterclockwise again in one second. Do this for the third time in order to turn on the high light mode. In addition, changing the batteries is a breeze and needs no skill. Also, the price is affordable and lower than the Surefire 6PX Pro tactical light.
Compact and reliable Keychain light
There is no day or time that you will feel burdened by this flashlight. With a length of 3.4-inches and a weight of 2.0 ounces, this is a very compact and lightweight flashlight. All you need is to attach it to your keychain and slip it into your pockets. Apart from that, this flashlight has several carry options, and you can use the pocket clip to attach it to your pocket. Also, holding or handling this flashlight is not a problem as it is well designed for easy use. With its great finish and design, this flashlight is a joy to carry as it adds glamour, too.
Related article: Honest comparison between famous Fenix and Surefire flashlights
Weatherproof and impact resistant
If you are worried about whether this flashlight can function in hot conditions or in wet environments, then you have nothing to worry about. Just like the Surefire Stiletto, the Surefire Titan plus variable output LED light is both waterproof and shock-resistant. Therefore, you can use it during rainfall or when your hands are wet. Also, if it falls down accidentally, it will still function perfectly as if nothing happened. This makes it suitable for outdoor activities, hunting, dog walking, self-defense, hiking, camping, and overall home use. You will never be caught in the dark if you decide to always carry this flashlight with you.
Pros and Cons of the Surefire Titan Plush Flashlight:
| | |
| --- | --- |
| Advantages: | Disadvantages: |
| Easy to use flashlight with a twisty switch | Most of the users have complained about the cost of the flashlight as being high. |
| Small and lightweight device for easy carry | Not the most powerful flashlight if you want a very bright light |
| Compact and very portable flashlight | |
| Pocket clip makes keeping the flashlight easy. | |
| An extremely durable flashlight built with powerful materials | |
| It has a MaxVision beam for better situational awareness. | |
Is Surefire a good flashlight brand?
Surefire is a re-known brand in the market with more than 36 years of experience. This is an American brand that creates high-quality, high-performing, and reliable illumination products. Surefire G2X Pro and 6PX Pro are the most popular among them. The brand creates flashlights and other illumination tools that can be used by law enforcers, military personnel, outdoor lovers, and emergency responders. The only issue is that you will have to go above the normal flashlight prices to get one of their flashlights.
Conclusion
The Surefire Titan variable output flashlight is one of the best EDC lights to have. It can save you in your hour of need. The flashlight might be small in size, but it produces a maximum of 300 Lumens. This is bright enough to disorient an enemy or brighten a dark room. One of the most compelling features of this flashlight is that it is small but very durable. Also, it has a lot of carrying options and weighs just below 58 grams. Attach your keys to the keyring and slip them together with the flashlight into the pocket. No one will even notice that you have a flashlight with you until there is a blackout, and it illuminates the room.