Founded on 17th October 1979, Surefire, LLC has been one of the most reliable and notable flashlight brands in the market for so long. The surefire brand produces a wide range of products apart from flashlights such as headlamps, laser sights, and weapon-mounted lights. Read this Surefire G2X Pro Review to know more about this product.
Among the various high-quality and powerful Surefire flashlights, the Surefire G2X Pro light is one of the best tactical flashlights to have. This small but powerful light produces an impressive 600 lumens, which is enough to brighten your entire path or disorient an attacker. The device is also easy to use as it comes with two modes of operation.
Technical Features of the Surefire G2X Pro Tactical Flashlight:
| | |
| --- | --- |
| Features | Surefire G2X Pro LED Flashlight |
| Maximum Brightness: | 600LM |
| Minimum Brightness: | 15LM |
| Maximum run-time: | 52 hours |
| Minimum run-time: | 2 hours |
| Switch: | Dual output tail cap click switch |
| LED: | Virtually indestructible LED emitter |
| Body: | anodized aluminum bezel |
| Battery Type: | 2x CR123A batteries |
| Waterproof: | Yes |
| Dimension: | 5.2 x 1.5 x 1.5 inches |
| Weight: | 4.5 ounces |
| Reflector: | parabolic reflector |
| Battery Include: | Yes |
| Price: | Check Price |
Additionally, the Surefire G2X Pro tactical light is sturdily made of a high-strength Nitrolon polymer body that is okay to hold and very durable. Besides, the flashlight is also ergonomically designed, and thus you will have an easy time utilizing it. Also, the price is lower than the Surefire 6PX Pro tactical light. Read our review about the Surefire G2X Pro in order to find out more about this compact but powerfully LED light.
Why Did I Get the Surefire G2X Pro Tactical Light? (Review)
It doesn't matter if you want to use the G2X Pro for hunting, hiking, rescue missions, as a security light, or for any outdoor purpose; you will find it to be comfortable to hold and very reliable in performance. So let's dive deep into its features and performance.
Durable Nitrolon polymer construction
If you intend to use a flashlight in a tactical situation or for outdoor purposes, the first feature to look for is the construction of the flashlight. In this G2X Pro review, you will understand that it is sturdily constructed for outdoor or tactical use. This is because it is made of a high-strength Nitrolon polymer body with a hard-anodized aluminum bezel. The aluminum bezel can be used for hitting an assailant or for breaking glass.
Virtually indestructible LED emitter
Besides being made of a durable body, the G2X Pro flashlight also comes with a virtually indestructible LED emitter. This is a high-efficiency LED emitter that is regulated to maximize output and run-time. Moreover, in case the flashlight drops accidentally on the ground, the LED emitter will still function perfectly as it is very strong.
The LED emitter produces a maximum of 400 lumens which is better than the Surefire Titan Plus keychain flashlight. But in the description, it shows 600 lumens. This is enough light that will lighten your path or help you search for a lost person in the woods.
Parabolic reflector for smooth beam
The LED emitter works in conjunction with the parabolic reflector to create a smooth, optimized beam with a lot of reaches and surrounding light. As a result, the beam not only covers a larger area but as well reaches far. With this feature, you will love this light if you want to view a larger area instead of concentrating on one spot.
Dual-output tail cap clicky switch
A good tactical flashlight is one with a user-friendly switch that you can access easily and quickly in case of an ambush or attack. The Surefire G2X Pro tactical flashlight comes with a tail cap switch which is easy to operate and turn on/off. This switch can be operated by either turning it to momentary-on or constant-on. The tail cap switch can also be utilized using one hand. Also, the Dual Output feature will save your battery life and provide extended run time.
Related article: Should you buy a Surefire flashlight over Streamlight?
Built-in heat and fault protection system
The flashlight is safe to use as it has built-in heat and fault protection. The built-in heat function controls the temperature of the flashlight and prevents it from warming excessively. As a result, it won't spoil other internal parts of the flashlight.

Check Price
Weatherproof-O-ring and gasket seal for extreme weather
One of the biggest nightmares of owning an EDC tactical flashlight or outdoor light is extreme weather conditions. You never know when it's going to rain or how cold it will be. Some flashlights are not reliable in extreme weather conditions as they may fail to work or work poorly. This is not the case with the G2X Pro flashlight.
Featuring O-ring and gasket seals, this flashlight can be utilized in rainfall or even dusty places. Apart from that, it is corrosion and scratch-resistant. Therefore, you can rely on it 100% to save you when the weather is extreme.
Carry-on ergonomically designed flashlight
The Surefire G2X Pro 400-lumen flashlight is perfectly designed for easy use and storage. With a weight of 0.28 pounds, 1.5-inches diameter, and a length of 5.2-inches, this is a very lightweight, compact, and portable unit. Anyone can handle it, with kids included, as it has no sophisticated features that can complicate it. Between Surefire G2X Pro VS 6X Pro, G2X is lightweight and easy to carry.
Resists scratches, abrasion, and corrosion
For those who have been looking for a flashlight to use in the battleground or in combats, the G2X Pro is the light for you. Its sturdy construction and impact resistance tough Nitrolon body can resist water, scratches, abrasion, and corrosion. This means that this flashlight can be used in any outdoor setting.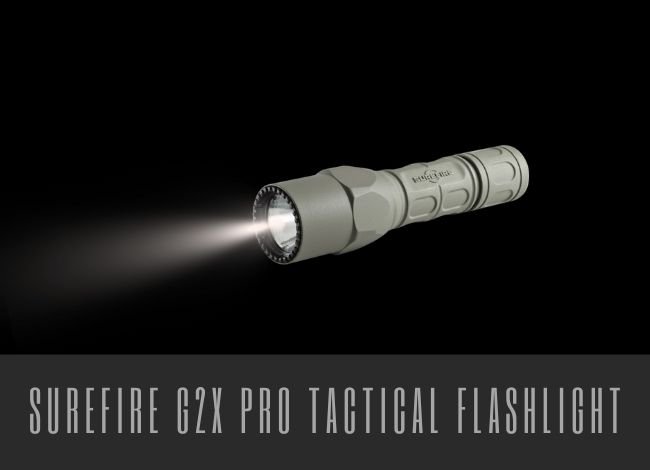 Strong firm grip
With its sleek design and ergonomic shape, you will discover that using this flashlight is fun. Whether you're running or chasing someone, you will be able to hold the flashlight firmly without dropping it. This is all thanks to its firm grip.
You can choose four different colors
Surefire did a great job of creating different colors so that every user can select a color that best matches their activity or taste. The different colors to choose from are black, forest green, desert tan, and yellow.
Related article: Surefire VS Fenix: which brand is more durable for you?
Powered by 2 Surefire CR123A batteries
2 Surefire CR123A batteries power the flashlight. The users will get two light Output modes. These have an excellent run-time if you decide to run on low 15 lumens and not the high 400 lumens. Always use maximum lumens when needed to avoid draining the battery quickly or causing the light to overheat.
Why should you buy SureFire G2X Pro Tactical Flashlight?
The durable flashlight is made of a Nitrolon polymer body
It is ergonomically shaped for easy use
It is easy to operate with its tail cap switch for momentary-on and constant-on
G2X Pro is lightweight and portable.
It features a high-efficiency LED emitter that is indestructible
It produces extremely bright light with a maximum of 600 lumens
The light is weatherproof as it comes with O-ring and gasket for sealing
Cons of the SureFire G2X Pro Light:
The product has been advertised as having a maximum of 600 Lumens while it has 400 Lumens. For higher lumen, you have to buy Klarus XT11GT 2000 lumen LED light.
Poor customer support from Surefire
The flashlight uses up batteries very fast
Conclusion
The Surefire G2X Pro 600 Lumen flashlight is a reliable and sturdy flashlight that can save you in an emergency situation or when you need lighting to find a way in the bush or to find a lost friend. Besides providing bright light, this flashlight is also compact and can be used as a defensive tool. It is able to withstand harsh weather conditions like rain and dust. With its sleek design and firm grip, you will have an easy time using this flashlight.
FAQs
Question: Is this a 10-inch long or 5.2-inch long flashlight?
Answer: This is a good question as people have had confusion about whether this is a 10-inch flashlight or a 5.2-inch flashlight. The description says that this is a 10-inch flashlight, but it is not. The flashlight is similar to other Surefire flashlights as it is 5.2-inches long. So if you are searching for pocket-sized light, you should either use Thrunite TN12 or ANKER LC90 tactical flashlights.
Question: Can this light hold up on rifle recoils?
Answer: Yes, it will. The G2X flashlight series have no problem being attached to different types of rifle recoils. For instance, you can securely attach it to Remington 870 express magnum 12 ga, model 88 Maverick, or on a MAK 90.
Still, have a question after reading this SureFire G2X Pro Reviews article? Comment below