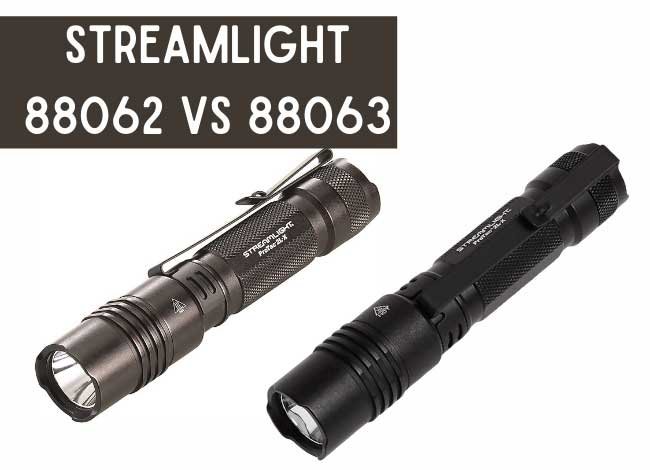 Since its inception in 1973, Streamlight has been producing high-quality and innovative flashlights that customers have fallen in love with. Besides offering high-quality flashlights, the brand also offers weapon-mounted lights, safety-rated lights, lanterns, headlamps, and much more. Read this Streamlight 88062 VS 88063 Review to know more about this.
In today's review, we want to compare the Streamlight ProTac 2L-X 88062 and 88063 tactical flashlights. These Streamlight flashlight models are similar in many ways, and many buyers find it hard to choose between them. Read this review to the end, as it will help you to make an informed judgment and pick a flashlight of choice.
Streamlight 88062 VS 88063 Comparison Table 2023
| | | |
| --- | --- | --- |
| Features | 88062 | 88063 |
| Maximum Brightness: | 500 lumens | 500 lumens |
| Minimum Brightness: | 40 lumens | 40 lumens |
| Maximum Brightness: | 500 lumens | 500 lumens |
| Luminous Intensity: | 6,800 cd | 6,800 cd |
| Maximum Beam Distance: | 165 meters | 165 meters |
| Minimum Beam Distance: | 56 meters | 56 meters |
| Maximum Runtime: | 30 hours (40 lumens) | 200 hours (10 lumens) |
| Minimum Runtime: | 3.25 hours | 3.25 hours |
| Light Source: | Streamlight's C4 LED | C4 LED |
| USB Recharge Option: | Yes | Yes |
| Modes: | 3 | 3 |
| Battery Include: | Yes | Yes |
| Length: | 5.14 inches | 5.14 inches |
| Weight: | 4.5 ounces | 4.5 ounces |
| Price: | Check Price | Check Price |
Streamlight 88062 VS 88063 Reviews 2023
No matter the flashlight that you choose, you will get a reliable and powerful flashlight that will not only give you brightness but also function in different tough outdoor conditions. So before jumping into our Streamlight 88063 VS 88062 article, let's check a short review of these products.
Streamlight ProTac Tactical Flashlight
First and foremost, we will start by looking at the Streamlight ProTac tactical flashlight. This is a strong flashlight as it is made of aluminum housing with type II military spec. As a result, this is a very lightweight, durable, and abrasion-resistant flashlight. It is able to resist dust, impact and can be submerged into water up to 2 meters. With these features, this is a wonderful tactical light that you can carry on your camping trip, as you go hunting, or when you go night fishing.
This Streamlight ProTac tactical flashlight is also powered by either one 18650 rechargeable battery or 2 x CR123A batteries. The power source is 18650 batteries that can be easily recharged as the device comes with a USB that will fully recharge the battery in 5 hours. Apart from being easy to charge, the 88062 tactical flashlight is easy to use as it has a tail cap switch. This switch can be turned on for momentary or constant operation. Besides, the flashlight offers the user 3 light operating modes, which are low/high, high only, and high/strobe/low.

Check Price
Many users consider this flashlight to be heavier than the Streamlight 88062 LED flashlight, but they have the same features.
Pros:
Made of durable aluminum construction
This 500 lumen light comes with 3 light modes
It is very bright as it produces a maximum of 500 Lumens
The flashlight provides continuous lighting for more than 30 hours
It is waterproof and dustproof
The rechargeable flashlight can resist an impact up to 2 meters
It has an excellent beam coverage of 165 meters
The light features a firm grip for easy holding of the light, even intense situations.
It is easy to carry as it comes with a pocket clip and holster
Limited lifetime warranty
Cons:
Users have complained about the light flickering.
The tail switch seems to be slightly stiffer, thus not very user-friendly. In that case, the Klarus XT12GT 1600 Lumens tactical flashlight would be a better option.
The device gets hot quickly when used on the higher light modes
Streamlight 88063 ProTac Professional Tactical Flashlight
The Streamlight 88063 ProTac professional light is more compact than the Streamlight 88063 flashlight. This flashlight is also durably constructed as it features strong anodized machined aircraft-grade aluminum. The flashlight is compact and will fit easily on your belt inside the pocket. At 4.4 ounces, this should be a lightweight and portable flashlight suitable for any outdoor activity such as hunting, jogging, fishing, rescue operation, etc.
Related article: Check the Reviews of 5 Best Selling Nebo Flashligh
The 500 Lumens flashlight offers a very bright light that covers more than 165 meters. Moreover, this flashlight is resistant to dust, impact, and water. Thus you can rely on it in the toughest scenarios. The anti-roll body makes it ideal for tactical use, and the C4 LED ensures that you have lighting even if you drop the flashlight accidentally on the ground.

Check Price
With the convenient USB charging, you won't have to constantly look for the disposable CR123A batteries as you can recharge the 18650 rechargeable flashlight batteries and use them for more than 30 hours on low mode. In addition, the manufacturer offers a limited lifetime warranty to buyers of this flashlight, which is a sign that they fully believe in their product.
Pros:
Sleek and compact design
Convenient charging through USB
It has 3 light settings for versatility
It uses C4 LED, which is indestructible and long-lasting
The flashlight has an anti-roll body
The firm grip allows the user to hold it well during use
It resists both water and impact
It is sturdily made of anodized machined aircraft aluminum body
Cons:
Poorly made tail cap switch with a flimsy feeling, and you have to hard press it.
This is a slightly heavy light for its size when compared to Streamlight Nano flashlights.
Final Thought: Streamlight 88062 or 88063?
The Streamlight 88062 and 88063 are two amazing tactical flashlights with outstanding features. These lights come with similar features but are slightly different in designs. Between SureFire and Streamlight, their price is also almost the same, and you will have an easy time using them. The Streamlight ProTac 88062 comes packaged in a plastic clamshell, while the Streamlight 88063 comes packaged in an easy-open box.
Built by Streamlight, the 88062 and 88063 ProTac 2L-X high-performance EDC tactical flashlights meet the relevant standards and are worth investing in. Still, do you have a question about this Streamlight 88062 VS 88063 Reviews article? Comment below.