Tactical flashlights don't just limit the user to lighting. As a matter of fact, many tactical flashlights come with a strike bezel for hitting an enemy and a strobe mode for disorienting them. This is why they are as well-referred as survival or military flashlights. You can use them in your hour of need. If you need a 900-lumen portable bright flashlight at an affordable price, then buy this Outlite A100 flashlight. Read this Outlite A100 review to know more about this budget flashlight.
Related: Fenix PD32 Review: Compact 900 Lumen(Upgrade) LED Flashlight
Technical Features of the Outlite A100 flashlight
| | |
| --- | --- |
| Features | Outlite A100 Portable Flashlight |
| Brightness: | 900 lumens |
| Beam Distance: | 183 Meters |
| Modes: | 5 (SOS, Strobe, Low, Middle, High) |
| Battery includes: | No |
| Zoomable: | Yes |
| Body: | 6061-T6 Aluminum |
| Waterproof | Yes |
| Length: | 137 mm |
| Weight: | 150 grams |
| Warranty: | Yes (1 year) |
| Price: | Check Today's Price |
A good number of tactical flashlights are costly and make people look away. This is not the case with the Outlite A100 LED flashlight.
Related: Similar Pricing – V1 Pro J5 Tactical Flashlight Review

A Review of the Outlite A100 LED Flashlight by Professional
First, who makes Outlite flashlights? The outlite flashlight is sold by the Outlite company. But, their flashlights are made in China. The maximum of 900 Lumens produced by its Cree XM-LT6 LED is bright enough for your tactical needs. Light on the waters as you fish or inspect the camp at night by zooming it to the floodlight. Whatever the use, this flashlight will not disappoint.
Product specifications:
Uses Cree XM-L T6 LED
5 light modes
Aluminum alloy construction
Convex lens
Attack head
A maximum beam distance of between 150m to 200m
Skid-proof and water-resistant design
Maximum Lumens of 900
Adjustable focus
30 days money back warranty and lifetime breakage replacement policy
Weighs 5.3 ounces
Features and benefits of the Outlite A100 tactical flashlight
The A100 tactical light from Outlite is a quality, reliable, and sturdy flashlight. It is sturdily constructed of a 6061T aluminum alloy which is strong for long use and lightweight, too. The flashlight is compact, and carrying or handling it isn't a problem. Description of the main features of this light.
Does the light offer multiple light modes?
If there is something that I like about the Outlite A100 flashlight, it is its 5 light modes. Check Price
Having different light modes makes this flashlight to be versatile in use. The light modes can be divided into two as 3 light modes and two special modes. The 3 light modes are low, medium, and high modes. The special modes are the strobe and SOS modes. The highest mode uses 900 Lumens, and it is the brightest. For a longer runtime, you should use the lowest mode, which utilizes 100 Lumens.
What distance does the flashlight cover?
This flashlight might be cheap when compared to other tactical flashlights with the same features, but it still delivers. On a very dark night, the flashlight will provide you with an extremely bright light that reaches 200 meters. But usually, the light reaches up to 150 meters. It utilizes a maximum of 900 Lumens. This is great for such a portable flashlight. If you need a super bright tactical flashlight, then go to this link.
What makes the Outlite A100 flashlight super durable?
When it comes to how strong the flashlight is constructed, there is no doubt that the A100 flashlight is built for tactical use. It is made up of a 6061T aluminum alloy body. This is a sturdy material and will defy scrapings, droppings, and even crushes. Aluminum alloy is as well lightweight, and you won't be burdened with this flashlight.
Powered by one 18650 battery or 3 X AAA batteries
This flashlight is normally powered by two kinds of batteries. The first kind of battery is one 18650 battery. Also, you can use 3 X AAA batteries. You will have to purchase a battery set as it is not included in the purchase. In the purchase bundle, a plastic tube for using the 18650 battery is included as well as an AAA battery holder for using the AAA battery. These hold the batteries in place so that the flashlight isn't loose.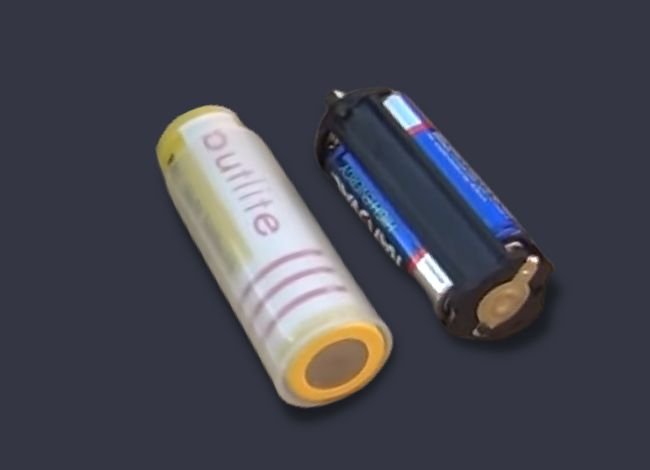 Utilizes Cree XM-L T6 LED chip
Similar to many other tactical flashlights, the A100 900 Lumen flashlight is powered by one of the latest technologies. This is the Cree XM-L T6 LED chip. This bulb can work for a very long period of time as it has a lifespan of over 100,000 hours. Actually, this is twice that found in most LED bulbs. Also, the LED chip is indestructible and produces excellent white light.
Tactical tail switch and zoomable focus
Using this flashlight is very easy and quick. It has a single button feature that is well-positioned at the end of the flashlight. Press the button fully to switch on/off the light. To cycle through the different light modes, you should lightly press the button. If you hear a clicking sound, it means that you have pressed the button to the end. In addition, it has a zoomable focus which enables you to instantly access floodlight or spotlight beam by zooming out or in.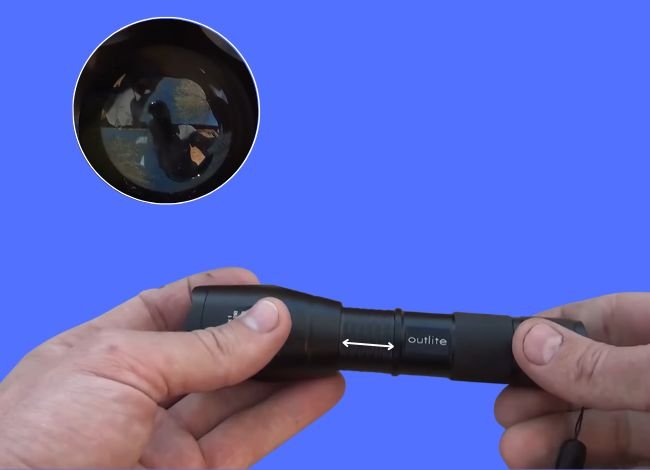 Related: Tail switch flashlight – Maglite XL50 Review: Updated lumens and Features
Strike bezel and strobe mode
If you find yourself in danger, you can always protect yourself by using this flashlight. First of all, you should switch the flashlight to strobe mode so that you can blind the enemy and then hit them with the attack head/bezel and take off to safety or ask for help. Also, this can be used when being attacked by an animal as you hunt.
Is the A100 a carry-on flashlight?
When you are done using this flashlight or want to keep it away, this is not a problem at all. The flashlight is compactly built for easy use and storage. It comes with a lanyard that you can use to hold it in your hand or attach it to your belt. Also, it is lightweight, and you won't be burdened in any way.
Related: Peakplus Flashlight Review [Super Bright Led]
Can you submerge the flashlight into the water?
If rain finds you out there in the woods, there is nothing to tense about. The A100 flashlight is water-resistant and will still function perfectly. But don't commit the mistake of diving with it in the water as it is not waterproof. The O-ring seals prevent water from entering the flashlight. Check Price
Great customer support
Outlite assures buyers of this product a 30-day money-back warranty. Also, it provides them with a lifetime breakage replacement policy. So, if you feel that you are not 100% satisfied with the product, you can return it and get a refund.
What are the setbacks of the Outlite A100 LED flashlight?
The flashlight doesn't come with its own battery, and thus, you will be forced to purchase some batteries to power it.
The instructions that the flashlight comes with are not very clear. Anyway, it's not difficult to figure out how to utilize the light, but the instructions should be made clear.
Not the best quality as it seems loose when shaken, but it won't spoil easily. Great for its price.
Outlite A100: My Final Verdict
Generally, the Outlite A100 LED flashlight is a high-performing tactical light with amazing features. It is sold at a very great price, but still, it has features that will help the user to utilize it in tough outdoor conditions. Built from 6061T aluminum alloy, this is a very durable flashlight and will last for a very long period of time. It is also lightweight, and you can easily travel with it or keep it in your pocket or backpack. This A100 900 Lumen flashlight provides the user with brilliant light, and it can still function in the rain. But don't immerse it in water as it is not waterproof but water-resistant. I hope you have found everything that you need to know in this Outlite A100 review.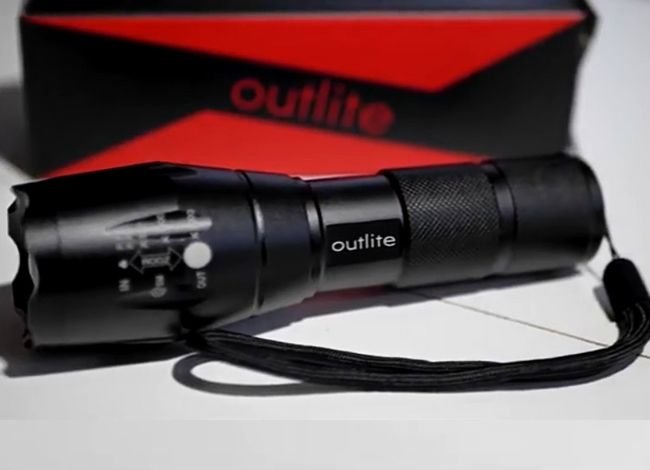 With such excellent features at such a wonderful price, having this light as you go hunting, fishing, hiking, or for any other outdoor activity will be fun and interesting. You can zoom it in to focus on a particular area or zoom it out to have a flood beam. Still, have a question after reading this Outlite A100 review? Comment below.