Landing on the best flashlight that delivers high performance without weighing you down can be a challenge. Fortunately, the Nitecore p12gt is a small, powerful design that will surprise you when it comes to what it has to deliver. The streamlined and firm flashlight can be used for a wide range of uses regardless of the type of weather. Read this Nitecore P12GT Review to know more about this product.
Currently, there are so many rechargeable flashlights on the market, and most of them claim to have great features. This is not usually the case as some of them have setbacks and don't produce the Lumens they say they do. On the other hand, Nitecore is a quality brand with outstanding products. The Nitecore p12gt is one of Nitecore's leading flashlights. It is an upgrade to the P12. I have explained everything in this Nitecore P12GT review article.
Technical Features of the Nitecore P12GT Flashlight:
| | |
| --- | --- |
| Features | Nitecore P12Gt |
| Maximum Brightness: | 1000 lumens |
| Minimum Brightness: | 0.2 lumens |
| Maximum run-time: | 520hr |
| Minimum run-time: | 1.5 hours |
| Peak beam intensity: | 25700 cd |
| Max beam distance: | 320 meters |
| LED: | CREE XP-L HI V3 |
| Body: | Aircraft-grade aluminum |
| Battery Type: | 1 x 18650 or 2 x CR123 batteries |
| Waterproof: | Yes |
| Dimension: | 140 mm |
| Weight: | 91 g |
| Modes: | Location Beacon, SOS, Strobe |
| Battery Include: | No |
| Price: | Check Price |
The Nitecore p12gt LED flashlight is strongly built to defy tough conditions, both indoor and outdoor. It can drop on the floor from 1.5 meters and still function perfectly. Also, it is water-resistant, and its excellent finish prevents it from corroding. Other great features of this flashlight include 4 brightness levels and three special modes. On its brightest mode, the p12gt covers a distance of 367 meters.
If you have been looking for an EDC flashlight that you can rely on in the hour of need, the p12gt is the flashlight for you. It can be used for hunting, hiking, cycling, fishing, camping, law enforcement, and general use.
Nitecore P12GT Review 2022
Durable construction
The p12gt is a sturdily made flashlight that can be used in all conditions. The flashlight has an aero-grade aluminum alloy cover that doesn't break easily, even when the flashlight is dropped. Also, it has an excellent military-grade hard-anodized finish that prevents the flashlight from corroding. The pocket clip is made of stainless steel. The ultra-clear glass lens is toughened and can't break easily. With this construction, this is a very reliable flashlight for all-purpose use.
Related article: Brand comparison between Fenix and Klarus tactical flashlights
Powerful flashlight
At measurements of 6 X 1 X 1, this is a small flashlight, but it will provide you with a very powerful light. The p12gt utilizes a maximum of 1000 Lumens which is similar to the Fenix PD35 1000 Lumen flashlight. This is in the brightest mode, which as well covers a distance of 367 yards. Moreover, the flashlight uses one of the latest LED technology. It has Cree XP-L hi v3 LED. This is a very powerful bulb, and it will provide you with years of use.
4 brightness levels and 3 special modes
Most of the flashlights in the same category as the Nitecore p12gt don't have many features as it does. Notably, the p12gt comes with 4 brightness levels and 3 different modes. The 4 light modes are ultra-low, low mode, mid, and high mode. You can have easy access to all modes and brightness levels with a handy side switch. At the same time, the special light modes are strobe, SOS, and Location Beacon. These have different uses and can help you in the hour of need. The flashlight features a tactical tail switch that allows you to activate the light into one's eyes.
Powered by 2x CR123A batteries or one 18650 rechargeable battery
One of the features that I love about this small but powerful light is the fact that it is powered by a 18650 battery. 18650 batteries are rechargeable batteries that provide the flashlight with a longer run time. They can be recharged, and Nitecore provides a USB charging cable for the same. Alternatively, you can use 2x CR123A batteries to power on this flashlight. You can check the battery voltage easily as it features a voltage indication system.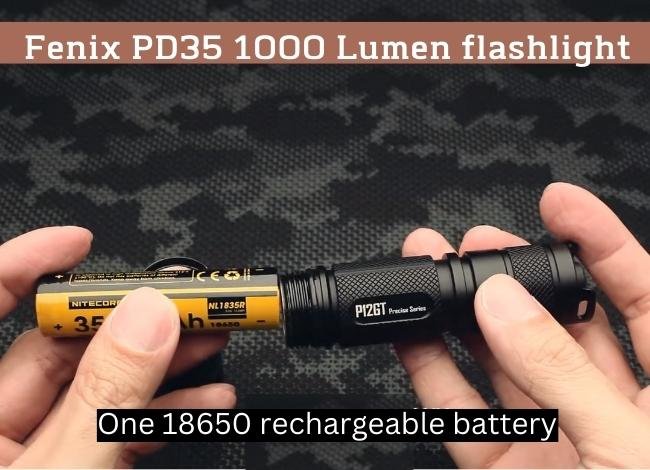 Easy operation with dual switch
The process is quick and more seamless than affordable Coast HP7 tactical lights when it comes to operating this flashlight. Also, the location of the tactical tail cap switch and side switch makes it be convenient. Easily turn on or off the flashlight by pressing the tail switch. Then, cycle through the different light modes by pressing the stainless steel side switch. This will provide you with 4 brightness levels and 3 concealed special modes.
Waterproof and impact resistant
Every day carry flashlights are small and tiny tools that can fall easily from our hands. The P12gt falls into this category. When buying a flashlight, make sure that it will survive things like scratching on the wall or accidentally dropping. This flashlight can resist the impact of up to 1.5 meters, and it is waterproof up to 2 meters for 30 minutes. Its crystal coating technology made this flashlight more durable than others. This implies that the flashlight can be used in extreme weather conditions like snow, rain, and fog, but it will still deliver.
Portable and compact design
Weighing just 6.4 ounces (without battery), this is a very light flashlight that is convenient to carry. It has a streamlined body, and the pocket clip can be removed for easy storage. You can either keep it in your pocket or backpack. Use the lanyard, the pocket holder clip, or the quality holster to keep this flashlight. Some lights, including Fenix LED TK16 and Fenix TK20R USB rechargeable flashlights, are quite heavy. Its compact design means that it is not a burden to carry at all.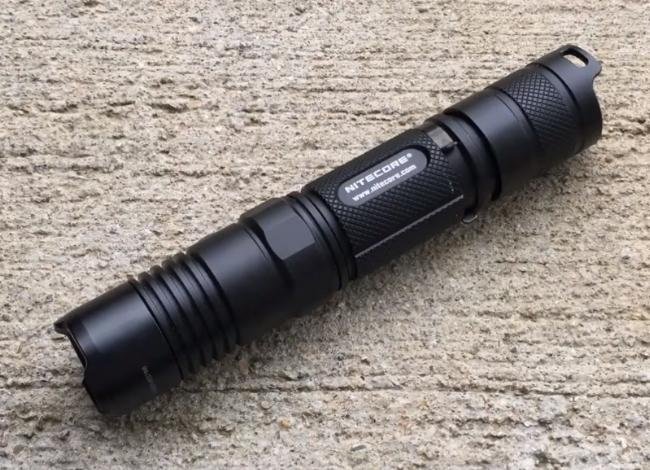 Versatile usage
Unlike many small EDC flashlights, the p12gt can be used for different purposes such as hunting, walking the dog, law enforcement, and camping. Also, it can be used as a weapon of defense. This is because it has a strobe mode, which is used to disorient enemies, and a hard strike bezel for hitting the attacker. The SOS mode is great for rescue missions, and the Location Beacon mode helps you be found if you are lost.
Excellent features
Another important factor that makes this flashlight to be outstanding from other EDC flashlights is that it comes with various amazing features. First of all, it has a battery level indicator that lets you know that the flashlight has to be recharged. Secondly, the reverse polarity protection feature prevents the user from placing the battery in the wrong manner. At the same time, the advanced temperature regulation technology prevents the flashlight from overheating. Also, they are less costly than the Fenix flashlight models. Also, its precision digital optics technology provides extreme reflector performance.
With these features, you can be guaranteed to use this flashlight for a very long period of time.  Finally, the intelligent memory function allows you the light to remember the last light mode.
Extra accessories
Besides having excellent features, the p12gt comes with different accessories that aid in the use of the flashlight. It comes with a holster, pocket clip, spare tail cap cover, tactical ring, spare O-ring, and lanyard. All of these help you to secure and keep the flashlight.
Reliable brand
Nitecore is a wonderful flashlight brand with a great reputation. They offer some of the best tactical flashlights, and flashlight users have come to fall in love with them. Buyers of this flashlight are awarded a 5-year factory warranty.
Related article: Nitecore VS Fenix: Which Flashlight is Better for EDC?
Why buy the Nitecore P12Gt Flashlights?
Aero-grade aluminum construction
Military-grade hard-anodized finish
Stainless steel titanium-plated two-way clip
Toughened ultra-clear mineral glass
High-efficiency regulation circuit
Advanced temperature regulation technology
Remaining battery power percentage indicator
Uses Cree XP-L V3 LED
4 brightness levels and 3 special modes
Maximum of 1000 Lumens
520 hours runtime
Reflector
Lightweight than the Nitecore MT21C 1000lm light
Head Diameter: 25.4mm
Stores preferred brightness setting
IPX8 waterproof rated
Impact-resistant up to 1.5 meters
5-year factory warranty
Summary
The Nitecore p12gt is a wonderful everyday carry light with amazing features. It is constructed from durable aluminum and has a hard-anodized finish. It uses a powerful 18650 Flashlight battery. The p12gt flashlight offers a very bright light with a maximum of 1000 Lumens. The various features that it comes with make it be special and very efficient in performance. Use it on the trail or as you go backpacking. Hoping that this Nitecore P12GT flashlight review helps you a lot.
FAQ
Are Nitecore flashlights good?
Of course, you can rely on Nitecore products. Nowadays, choosing a flashlight brand is quite difficult as hundreds of brands try to manufacture various flashlight models for different purposes. So before spending your money on any light, you need to select a reliable brand that offers decent features with durability. In that case, Nitecore is a leading brand in flashlight technology that focused on creativity, practicality, and engineering perfection. Also, they sell their products at very reasonable prices compared to other well-known flashlight brands.
What are the differences between the Nitecore p12 and the p12gt?
Both Nitecore P12GT and P12 models come with a maximum output of 1000 lumens with IPX-8 water-proof ratings. But P12GT features an XP-L HI-led emitter that the P12 doesn't have. Also, the maximum range of P12GT is 320m, while the P12 only covers 232m. So P12GT is more advanced than P12, but you need to spend more penny to get all those additional features.
Still, have a question after reading this Nitecore P12Gt Reviews article? Comment below