If you talk about the best tactical flashlights on the market, Nitecore is definitely one of them. Started 15 years ago, Nitecore has been creating innovative, sturdy, effective, and user-friendly illumination tools. This can be seen through the various awards that they have received over the years, such as the 2014 ISPO Award Gold Winner CR6 and the 2013 China Outdoor Industry Award Winner HC50. We have selected 14 all-time best Nitecore flashlights.
3 Best Nitecore Flashlights Comparison Table
Image
Flashlight Name
Lumens & Modes
Technical Features

(2023 Editor's Choice)


Check Price
Nitecore Rechargeable Bundle: 2015 Version P12 Compact Tactical LED Flashlight
Read Review
Lumens: 1000
Modes: 4
Weight: 3.1 ounces


Battery: 2x CR123A or 18650 (included)


Low price

(Best Tactical Choice)


Check Price
Nitecore P12Gt Flashlight Cree XP-L Hi V3 LED Flashlight
Read Review
Lumens: 1000
Modes: 8
Weight: 3.2 ounces (without battery)


Battery: 1 x 18650 or 2 x CR123A battery


Medium price

(Rechargeable Hunting Light)


Check Price
Nitecore P30 676 Yards Red and Green Light with Lumentac Rifle Mounting Kit for Hog Coyote and Varmint Hunting (Medium, Gift Box Packaging) Flashlight
Read Review
Lumens: 1000
Modes: 5
Weight: 0.8 ounces


Battery: 1x 18650 or 2x CR123A


High price
Nitecore tools can be found all over the world, as it has several distribution networks covering more than 100 countries worldwide. Like the
Imalent DT70 16,000 lumens LED tactical flashlight
, these LED lights are suitable for hunters, hikers, mountaineers, cyclists, law enforcers, military personnel, general use, and security personnel.
Top Rated Best Nitecore Flashlight Reviews 2023
With so many LED flashlights on offer from Nitecore, we have decided to narrow down and bring you some of the best Nitecore flashlights. These come with outstanding features. They are also easy to use and can be relied on in the hour of need.
This is from the P-series to the M-series. With Nitecore, you will always find a flashlight that meets your needs and budget.
Nitecore P12 1000 Lumen flashlight
This is the latest version of the P12 flashlight. It is sturdily built and produces a maximum of 1000 Lumens which is similar to a rechargeable Fenix UC35, Fenix PD35 flashlight, and Nitecore MT21C flashlights. The P12 newest version comes with 4 light output modes and 3 special modes. In addition, it is powered by 2x CR123A batteries or one 18650 flashlight battery. The flashlight is very easy to use with the tail switch and side switch. The compact and light flashlight is ideal for everyday use and for outdoor activities.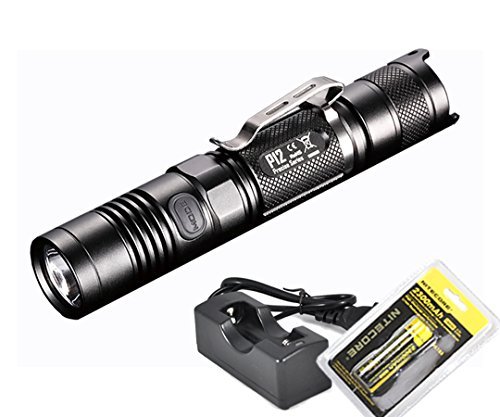 Check Price
Nitecore P12gt Flashlight
As sleek as this flashlight appears to be, it is able to provide an extremely bright light source despite its small size. It is sturdily built and comes with a wide range of features. The Nitecore P12gt flashlight produces an excellent beam with the help of crystal coating technology. It also uses premium Cree XP-L Hi V3 LED. This is a powerful technology and will offer you years of excellent light. Easily cycle through the different light modes using the side switch.

Check Price
Nitecore P30 1000 Lumen flashlight
This is the best rechargeable tactical flashlight for individuals searching for a more versatile light for construction works or rescue missions. The Nitecore P30 LED light covers up to 676 yards. It is super bright and great for outdoor activities like hiking, hunting, self-defense, and camping. In addition, it has complete hunting gear such as red and green filters, battery magazines, high clearance mounts for rifles, holsters, etc. A built-in USB-C charger is included with every purchase.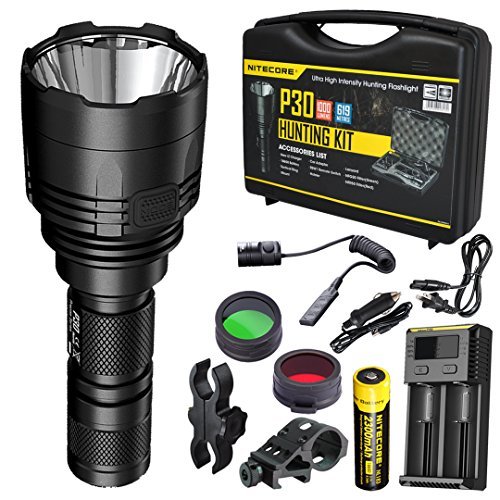 Check Price
Nitecore TM03 Flashlight
This is another powerful flashlight from Nitecore. The TMO3 super bright flashlight produces a maximum of 2800 Lumens. Also, it uses the latest technology in Cree XHP70 LED. Two 18650 batteries power it. The battery has 4 light modes that are more than a Maglite XL50 LED 3-Cell Flashlight. These are low, medium, high, and turbo modes. Its peak beam distance is bright enough to illuminate around 289 meters, which is amazing. The flashlight is built for tactical use and can resist both water and droppings.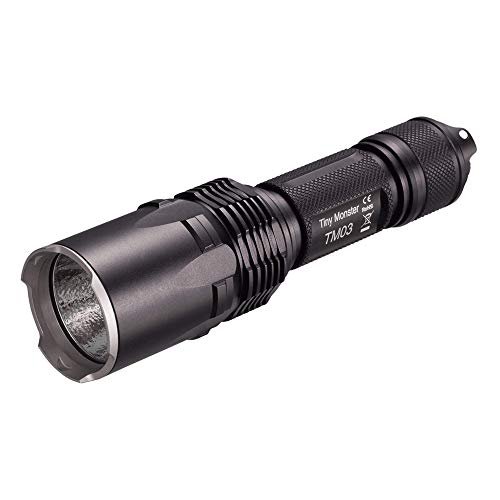 Check Price
Nitecore TIP 2017 Upgrade Flashlight
Keychain flashlights are suitable for people who don't love to carry heavy tools with them. The Nitecore TIP 2017 flashlight might be small, but it can be helpful in the hour of need. As small as it is, it has 4 light modes. In addition, it is sturdily constructed to withstand all the daily hardships thrown at it. The flashlight is available in different colors, and it can as well resist impact and water.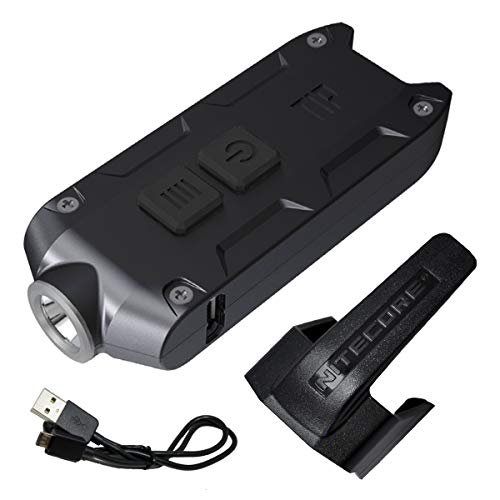 Check Price
Nitecore MT2A 345 Lumen flashlight
If you are on a budget but still want a strong and reliable flashlight, then the Nitecore MT2A is an ideal choice for you. This tiny, sturdy flashlight has a firm grip for holding it even under pressure. It produces a maximum of 345 Lumens, which is bright for its size. The flashlight can be used for defense as it has a strike bezel and strobe mode. This is a great everyday carry a flashlight with a maximum run time of 50 hours.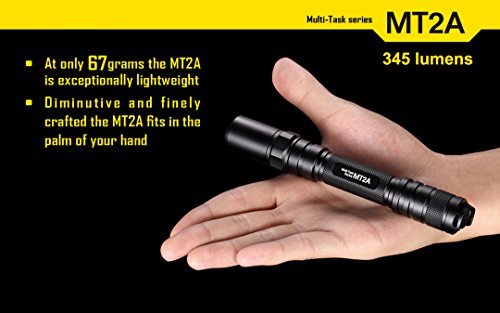 Check Price
Nitecore Tiny Monster TM28 Flashlight
The Nitecore Tiny Monster is one of the most powerful flashlights on the market. The power output levels are 6000 Lumens with a beam distance of 716 yards. You can view the entire pitch or brightly light the whole camp with such light. So this model would be one of the best flashlights to operate search and rescue missions.
Related article: Which Flashlight Has Better Runtime Between Maglite XL200 and XL50 Flashlights?
The light is powered by 4x Nitecore 3100mAh IMR 18650 batteries. The built-in OLED display shows info about battery level, brightness level, and remaining run time. Furthermore, it uses powerful CREE XHP35 HI LEDs and has 5 brightness settings.

Check Price
Nitecore MH20GT Flashlight
The Nitecore MH20GT LED flashlight is built for tactical use if you are looking for an excellent tactical flashlight. This flashlight is made of a military-grade aerospace body with a hard-anodized aluminum finish. The flashlight can be immersed in water up to 2 meters for 30 seconds. Also, it can resist droppings of up to 1.5 meters. With a maximum Lumen of 1000 and beam distance coverage of 362 meters, this is a wonderful flashlight to have on the trail.

Check Price
Nitecore Tube Kitchen Light T series
The Nitecore tube kitchen light T series is a great EDC flashlight. The small light produces a maximum of 45 Lumens, enough to provide light for general use. The flashlight is impact-resistant and uses a rechargeable Li-ion battery. It comes in a variety of colors and has two brightness levels to select from. This is one of the best cheap flashlight models compared to affordable Nebo Slyde and Coast HP7 flashlights.

Check Price
Nitecore MT10C Tactical flashlight
The Nitecore MT10C is a simple but powerful flashlight. It can stand on the tail cap and is thus great for providing a floodlight. Also, it uses the Cree XM-L2 U2 LED and produces a maximum of 920 Lumens. You will get one 18650 battery Which offers long battery life, holster, micro USB cable, and a USB flashlight in the flashlight bundle. Use the pocket clip to attach the flashlight to your pocket.
Nitecore EC23 1800 Lumens flashlight
This is one of the brightest everyday carry flashlights. The Nitecore EC23 has a maximum of 1800 Lumens, which reaches 278 yards. It is sleek and compact in design for easy use and handling. It has a nice grip, which means that you can hold it firmly even in wet conditions. With 5 brightness levels, this versatile light can serve different uses.
Related article: Surefire G2X Pro VS 6PX Pro: Which Brand is Better to buy?
Nitecore MH20 Flashlight
The Nitecore MH20 flashlight is powered by either a 3400 mAh battery or a 18650 Li-ion battery. It can be recharged easily and anywhere through its USB port. The battery level indicator will let you know when the battery is low. Cycle through the 5 brightness levels and three special light modes depending on the activity at hand.

Check Price
Nitecore MH25GT Flashlight
Last but not least, we have the MH25GT LED flashlight. This is another high-end LED flashlight with excellent features. It is an upgrade of the Nitecore MH25 LED flashlight. It is powered by one 18650 battery, which provides a longer run time of 36 hours in low light mode. This light is great for hunters, hikers, law enforcers, and outdoor enthusiasts.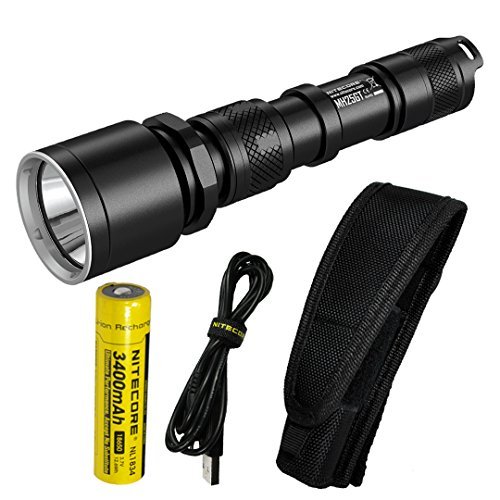 Check Price
Nitecore MH12 LED flashlight
The Nitecore MH12 Led flashlight is a compact flashlight built for outdoor and general use. It is made of aero-grade aluminum and has a hard-anodized finish. The intelligent memory feature enables the flashlight to recall the last light mode. The flashlight has a tail stand capability, making it ideal for camp use. The power indicator shows the level of the battery, which assists you in recharging it.

Check Price
Conclusion:
Nitecore is a popular EDC flashlight brand. If you want a high-quality best Nitecore flashlight, buy from the list above. On top of that, Nitecore is known for its sturdy, reliable, and tactical flashlights that have proven over and over again to be one of the best.
I hope our best Nitecore flashlight review will help you choose the right model for your needs.