Do you want to get an EDC flashlight at an affordable price? Then, Maglite XL50 will be an excellent choice for you. Maglite has lots of quality flashlights, but XL50 is one of their popular flashlights. In this Maglite XL50 review, we will try to figure out whether it's worth buying or not!
I will buy a Maglite XL50 flashlight because…
Sleek design
Length 4.8 inches only
Diameter 1 inches
Maximum output 200 Lumens
Maximum runtime 25 hours and minimum runtime 6 hours 45 minutes
Beam distance 224 meters
Tail Cap 'Quick Clik' Electronic Switch
Water-resistant
3 AAA batteries are required, and it's included with the multi-mode flashlight.
Technical Features of the Maglite XL50 flashlight
| | |
| --- | --- |
| Features | Maglite XL50 AAA Flashlight |
| Maximum Brightness: | 200 lumens |
| NTOA certified: | Yes |
| Switch: | Tail |
| Drop Resistant: | 1 meter |
| Beam Distance: | 224 Meters |
| Maximum Runtime: | 25 hours |
| Modes: | Three selectable modes |
| Technology: | LED flashlights |
| Body: | Aluminum Alloy |
| Water-resistant: | Yes |
| Length: | 4.8 inches |
| Light Weight: | 2.4 ounces |
| Battery Include: | Yes (3 AAA batteries) |
| Price: | Check Price |
Maglite XL50 Flashlight Video Review:
If you need a small, powerful, low price everyday flashlight, then buy this Maglite XL50.
For the last 10 years that I've been camping, I always ensure that I keep my backpack light. I don't believe in carrying only essential items. Thus I end up carrying more. To be able to carry extra items, I have to keep most of my basic items light. That's why I carry a pocket-sized LED flashlight instead of the big and powerful handheld lights.

Maglite XL50 LED 3-Cell AAA Flashlight Review
During those years, I have come into contact with different types of flashlights, and I can say I have had a great experience. But today, I will review one of my favorite pockets LED lights, which is the Maglite xl50 flashlight. Maglite is an amazing brand with lots of flashlights on offer. They create durable, powerful, and reliable flashlights. Most of their lights are used by law enforcers, the military, hunters, and other outdoor enthusiasts.
If you have been looking for an exceptional flashlight for your next trip, hike, camp, or any other activity, then you have come to the right page. The XL50 will give you outstanding performance, and it has a long run time. The sturdy construction makes it survive tactical life, and the sleek design is easy to keep and use. Read on to know more about this quality LED flashlight.
Features and benefits of the Maglite xl50 LED flashlight
The top features of the flashlight are described below.
XL50 Maglite is a 200-lumen flashlight
Maglite flashlights have the reputation of being sturdily made. That's one of the reasons these flashlights are used by law enforcers and the military. The Maglite XL50 200 Lumen flashlight is made of precision machined high strength aluminum that makes it durable. In addition, it has high rubber seals that make it water-resistant. The LED-powered light is anodized inside and outside for better corrosion resistance and longevity.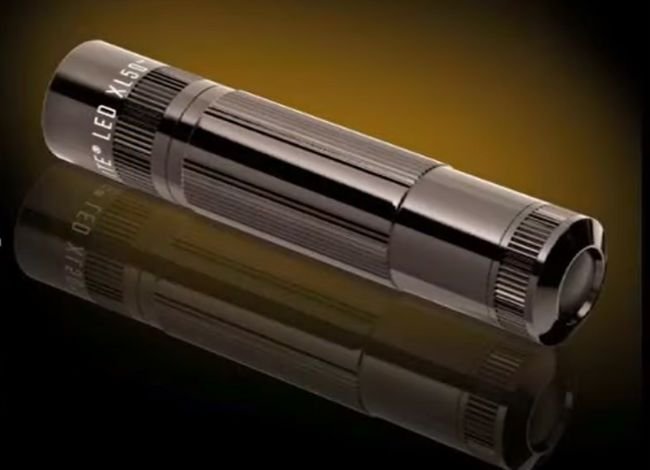 The grip should be more comfortable
Moreover, the light is of a sleek design, and it will have your friends admiring it. The tactile knurled design gives the user a grip to hold it firmly as they carry on with their activities. But the manufacturer should make a more stable grip as this one can easily roll if this little flashlight is dropped on the ground. It has a plastic lens and reflector, which are some of the weakest parts of the light. The manufacturer should as well change these two parts with more durable materials like glass.
Switch and Construction
The Mag XL50 flashlight has a Tailcap where the switch is accessed from. The switch is electronic and is covered with black rubber. The light switch needs both the positive and negative terminals to function, hence needing the specially created battery carrier. This flashlight switch allows the user to access the different light modes quickly, but one has to be attentive to operate it effectively. With such quality construction, you can use this flashlight to walk the dog in the evening or hunt with it at night.
The flashlight offers 3 modes
I can gladly point out that this is one of the most powerful pocket-sized flashlights that I have used so far. It is very bright for its size and has a long run time. The Maglite XL50 LED light offers the user three different light modes. These are the high, low, and strobe modes. The high mode can be turned on by just clicking once to attain 100% power, the low mode can be switched on by clicking twice to get 25% power, and finally, the emergency strobe mode can be switched on by clicking thrice. All these clicks have to be made quickly, or else you won't be able to access the mode that you want.
What type of battery is used in the Maglite XL50?
The flashlight is powered by three standard AAA alkaline batteries, but you can also use rechargeable batteries. In high mode, the flashlight can run for 6 hours and 45 minutes, while on low mode, the flashlight can operate for 25 hours. After 5 minutes of constant use, the flashlight automatically switches to the economy mode with a light output of 25% to save battery life. This feature not only prevents the battery from draining but also prevents the flashlight from overheating.
Beam Distance
The Maglite flashlight offers extremely bright light on a maximum of 200 Lumens. It uses LED technology, which is indestructible and durable. When the brightest mode is turned on, the flashlight can cover a distance of 224 meters. With such performance, you can use this light for your next trail or to light a dark room. If you want a floodlight, you can unscrew the head. In addition, the flashlight comes with different lens colors such as black, blue, gray, and red. You can attain different light colors as you wish to.
The best light for EDC use
This is an ideal everyday carry flashlight as it's light and portable. It weighs 2.4 ounces and measures 0.98 X 4.8 X 0.98 inches. With this size and weight, you can easily slip it into the pocket or backpack or attach it to the belt. Also, using it is as easy as it has a tactical tail switch for switching on/off. The added accessories such as a pocket clip make storage of the device to be simple by just attaching it to the belt.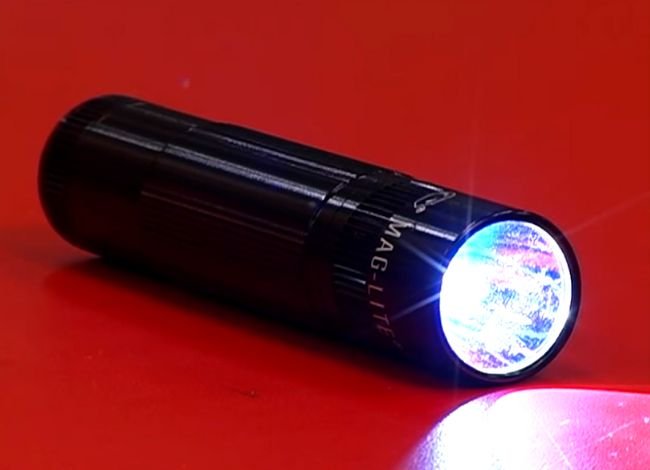 Portable and Compact design
The flashlight is not only portable but also compactly designed. Its durable construction makes it water-resistant as it has an IPX4 water rating. Also, it can resist the impact of up to 1 meter. So, if you accidentally drop the flashlight, it will still continue to function very well. I have used this flashlight in dusty areas, in the woods, and in the snow, but it has never let me down. It continues to provide bright light, whatever the conditions.
The reason why I recommend the Maglite XL50 flashlight is:
When you acquire this outstanding flashlight, you will get a limited lifetime warranty offered by the manufacturer. In addition, the flashlight is tested and recommended by the National Tactical Officers Association (NTOA). With the wonderful reputation that Maglite has on the market, acquiring this flashlight is a bonus, and you will be glad that you have a powerful light that you can rely on at all times. Buy this flashlight for your daily needs, such as changing car tires at night, fishing, hunting, walking the dog, and for home use.
Advantages:
Sturdy construction
Three different light modes
Simple to use the switch
Sleek and portable design
Great price
Uses AAA batteries are cheap and easy to find
Lifetime warranty
Negative reviews:
It has a plastic lens which is not very clear and less durable
No holster for carrying the flashlight
You need to click the button faster to access the different light modes.
It has a small standby current draw
Comparison: Maglite xl50 vs xl200
| | | |
| --- | --- | --- |
| Features | Xl50 Flashlight | XL200 Light |
| Maximum Brightness: | 200 lumens | 172 lumens |
| Minimum Brightness: | 8 lumens | 14 lumens |
| Beam Distance: | 224 Meters | 200 Meters |
| Maximum Runtime: | 25 hours | 218 hours |
| Minimum Runtime: | 6 hours 45 min | 2 hours 30 min |
| LED: | Cree XP-L (V5) | Cree XM-L2 (U2) |
| USB Recharge Option: | No | Yes |
| Modes: | 3 | 5 |
| Battery Include: | Yes | Yes |
| Length: | 4.8 inches | 4.8 in. 121.92 mm |
| Weight: | 2.4 ounces | 3.68 ounces |
| Price: | Check Price | Check Price |
Summary
In this Maglite XL50 review, I have explained each feature of this light. If you have been looking for a small, sturdy, and powerful flashlight, the search is over. The Maglite XL50 is an excellent and reliable flashlight that can run for 33 hours. Also, it provides you with three different light modes that can assist you in different ways. The flashlight uses three AAA batteries, which are very easy to find and are cheap.
Some of the improvements that the brand needs to make are to create a lanyard, change the plastic lens with a glass one, and modify the click button for easy changing of light modes. Apart from that, this is a wonderful light that will provide you with a bright light that covers up to 224 meters. Still, have a question after reading this Maglite XL50 review? Comment below.