Maglite is among the top American flashlight brands, and it is known for its high-quality and tactical flashlights. Most of Maglite's flashlights are used by law enforcers, military personnel, and emergency responders. But this doesn't mean that an ordinary civilian or outdoorsman should not use a Maglite flashlight. The flashlight has an extended runtime than the updated Maglite XL50 tactical light. Read this Maglite XL200 Review to know more about this.
After trying out several tactical flashlights, I landed on the Maglite XL200 LED flashlight, which I found to be outstanding in performance and very reliable. So, I've decided to share my experience with the Maglite XL200 light so that more people can know what to expect from this flashlight when they buy it.
Technical Features of the Maglite XL200 LED Flashlight:
| | |
| --- | --- |
| Features | Maglite Tactical Flashlight – XL200 |
| Maximum Brightness: | 172 lumens |
| Luminous Intensity: | 6663cd |
| Maximum run-time: | 218 hours |
| Minimum run-time: | 1 hour and 30 minutes |
| Beam Distance: | 138 Meters |
| Switch: | QuickClik |
| Modes: | High power, Strobe, Night Light, Signal, and SOS |
| LED: | CREE XP-G LED |
| Body: | Aerospace-grade aluminum alloy |
| Battery Type: | best with Polaroid AAA batteries |
| Waterproof: | Yes |
| Dimension: | 8.9 x 4.9 x 1.3 inches |
| Weight: | 3.7 ounces |
| Rechargeable: | No |
| Battery Include: | Yes |
| Price: | Check Price |
Maglite XL200 Tactical Flashlight Specifications
Generally, I personally love this flashlight as it is great for tactical use when compared to the Maglite XL50 flashlight. Continue reading the Maglite XL200 Review to find out more about its amazing features, pros, and cons.
Body construction is durable
Similar to other Fenix flashlights, the XL200 LED light is sturdily constructed to last long. The flashlight features a rugged machined aluminum body, and it is also anodized inside to prevent corrosion from taking place. Additionally, the flashlight is sealed at both ends using high-grade O-ring and lip seals. This makes the 172 lumen light to be water-resistant and shock-resistant.
Not the brightest flashlight
With a maximum of 172 lumens, this is an excellent light that will provide you with enough light that you need to see where you're going or to search for a lost item. The beam covers up to 138 meters with the help of a deep smooth reflector and a plastic window.
Powered by CREE XP-G LED
This is a flashlight that you can heavily rely on as it has CREE XP-G LED, which is indestructible and lasts for many years. Compared to Maglite XL50, XL200 light is bright and clear.
Multiple light modes/outputs
With 5 light modes to pick from, this is a very versatile light that you will enjoy having and using for different activities as they unfold. Use the button tail cap switch to turn on/off the light and cycle through the different light modes.
High-power
Strobe
Nite-lite
Signal
SOS modes
Check Price
Can you use the light for EDC purposes?
You won't have to struggle anymore or feel burdened when you carry this light. At 3.7 ounces, this is a very light flashlight, and it measures 8.9 x 4.9 x 1.3 inches, so it is also not a problem to keep. Also, you don't need to recharge the light frequently.
Easy to operate
The Maglite XL200 flashlight is also easy to operate, and this is due to its clickable pushbutton switch in the tail cap. The firm grip makes handling the flashlight to be simple and fast. You can also easily store it in your pocket or attach it to the belt when not in use.
Maglite XL200 runs on 3 AAA batteries
Last but not least, the XL200 LED light runs on 3x AAA alkaline flashlight batteries, but you also have the option of either using lithium batteries or NiMH batteries. When the flashlight runs on AAA batteries, it is able to offer 2 hours 30 minutes runtime on the highest mode and 218 hours on the low mode.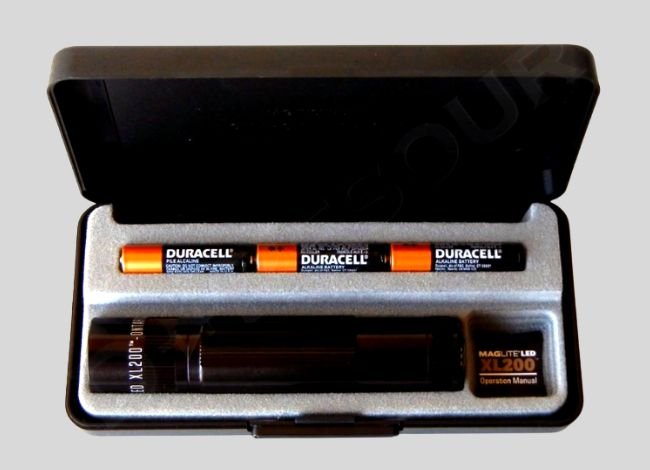 Why is the Maxlite XL200 Tactical Flashlight worth the money?
It comes with multiple light modes for versatility
It is compact and lightweight for easy use and storage
The Maglite XL200 is durably constructed for longevity
It is both impact and water-resistant
It has an excellent runtime of 218 hours on low mode
The manufacturer offers a limited lifetime warranty
It produces a brilliant light
The EDC light has a lockout function to prevent accidental lighting
It is easy to use with the pushbutton tail cap electronic switch
Cons of the Maxlite XL200:
Most users have complained that the batteries leak after some time and end up destroying the flashlight. Instead of using alkaline batteries, try out lithium or NiMH 18650 flashlight batteries to avoid leakage.
The limited lifetime warranty is not totally free as you have to pay for the shipping and handling costs.
Conclusion: Our Maglite XL200 Review
To conclude, in our Maglite XL200 review, we found out that the Maglite XL200 tactical flashlight is a great light for people looking for a lightweight and powerful light for everyday use. Even with its compact design, this flashlight still delivers brilliant light, and it can defy tough outdoor conditions. It may be round in design, but it has an anti-slip body that makes handling it to be easy and comfortable.
With 5 light modes to pick from, this is a very versatile flashlight and can fit in your pocket or backpack without much difficulty. Get it for your camping trip or just to use it on a daily basis. It will save you when there is a blackout or when you need to find lost keys in the yard.
FAQ
Question: Where is this flashlight made?
Answer: Unlike the Outlite A100 LED flashlight, this flashlight is made in Ontario, CA, United States of America. Maglite uses foreign and domestic parts to manufacture its flashlights. For instance, they use Chinese-made LEDs, which are cheaper but still of great quality.
Question: Is the Maglite XL200 waterproof or water-resistant?
Answer: I could say this flashlight is water-resistant as it can survive raindrops, but I can't say that it can be submerged in water for a long period of time. It has a rating of IPX4, which means it can resist splashed water or rainfall. But this doesn't mean that you can submerge it in water.
Still, have a question after reading this Maxlite XL200 Reviews article? Comment below