The Klarus brand is one of the best flashlight brands and has a wide range of flashlights to offer. For those looking for a powerful and reliable LED flashlight, the Klarus XT12GT will be an excellent choice. You don't need to spend lots of money to get a high-quality flashlight. Klarus XT12GT flashlight is affordable, and 1600 lumens brightness is really powerful. Read this Klarus XT12GT review to know more about this tactical flashlight.
Here are my main reasons: Why did I buy a Klarus xt12gt flashlight?
Very Bright: 1600 Lumens.
Long-distance: It can reach almost 603 meters.
Charging: Magnetic USB Charging Connector.
When need to charge: A battery capacity indicator will indicate that.
Modes: 6 different modes, including turbo and strobe.
Technical Features of the Klarus xt12gt flashlight
| | |
| --- | --- |
| Features | Klarus xt12gt Flashlight |
| Maximum Brightness: | 1600 lumens |
| Minimum Brightness: | 10 Lumens |
| Maximum Run-time: | 200 hours (10 lumens) |
| Minimum Run-time: | 1.2 hours (1600 lumens) |
| Beam Distance: | 603 Meters |
| Normal Modes: | 4 (10, 100, 400, 1600 lm) |
| Flashing Modes: | 2 (100, 1600 lm) |
| Switch: | Tail switch |
| Battery includes: | Yes (1 Lithium-ion battery) |
| LED: | CREE XHP35 HI D4 |
| Body: | Aerospace Aluminum Alloy |
| Waterproof standard: | IPX-8 (2 meters underwater) |
| Length: | 161.5 mm |
| Weight: | 159 grams |
| USB Charging Connector | Magnetic (include) |
| Price: | Check Price |
You don't need to know everything about a flashlight. If you read lots of reviews about a flashlight, then it will create lots of confusion. You may find lots of positivity in a product/flashlight, but still, you will find some negativity. Each person's satisfaction level is different. Thus, the only thing you need to know that; Will this flashlight be able to fulfill my requirement? If it does, then buy this flashlight; otherwise, don't. In this Klarus xt12gt review, we are going to look at the Klarus XT12GT flashlight's main features.
Klarus XT12GT Flashlight Video:
Klarus is a popular flashlight brand on the market, and Klarus XT11GT is one of their best-selling flashlights. The Klarus XT12GT is the updated version of that model. The XT12gt flashlight is sturdily made, but it as well comes with a maximum of 1600 Lumens. So, whether you want it for your basic needs or for tactical use, the Klarus xt12gt will still deliver.

Related: Klarus XT11S Review: Improved 1100 lumen flashlight
Klarus xt12gt Product description
Aerospace aluminum construction
Durable tempered glass lens with AR film
Patented dual-button tail switch
Magnetic charging/battery level indicator
Magnetic charging connector
Stainless steel strike bezel
Pocket clip
Reverse polarity protection
Smart ITS temperature control system
6 brightness modes
Maximum output of 1600 Lumens
Maximum beam distance of 603 meters
IPX-8 waterproof rated
Weighs 159 grams without a battery
Key Features Review of the Klarus XT12GT flashlight in 2023
The light is sturdily constructed from aerospace aluminum and has a knurled finish that acts as a grip. The stainless steel bezel and strobe mode can be used for defense. When the battery is low, the battery level indicator will let you know by the LED turning red and flashing. Simply switch on/off the flashlight by pressing the patented dual-button tail switch and cycle through the different light modes. Here is the list of the main features of the XT12GT flashlight.
Made of sturdy aerospace aluminum construction
If you decide to spend such an amount on a flashlight, you should ensure that it is sturdily built. That's what you get when you buy the Klarus XT12GT LED flashlight.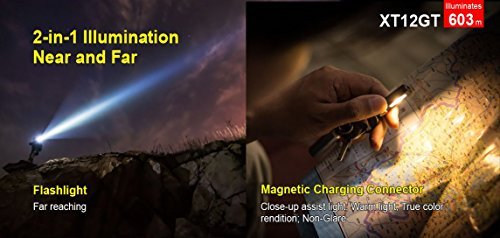 Check Price
This flashlight is made of 6061-T6 aerospace aluminum alloy and a Mil-spec hard-anodized finish. With this construction, this flashlight will defy several tough conditions such as heat, cold, water, and dust. It can also resist corrosion. So, expect to use this flashlight for many years without it spoiling.
Offers 6 brightness modes
This is a versatile flashlight, and it offers the user 4 light modes and two flashing modes. The 4 light modes include low, medium, high, and strobe modes. The low mode has 10 Lumens and runs for 200 hours. The medium mode has 100 Lumens and runs for 14 hours. The high mode has 400 Lumens and runs for 4 hours. And finally, the turbo mode has 1600 Lumens and runs for 1.2 hours. The SOS mode is usually used for emergency situations, while the Strobe mode is for blinding an assailant.
Easy to use interface
When it comes to using this flashlight, you will have an easy time and can even operate it using one hand. Unlike other Klarus flashlights, this one has a patented dual push-button tail switch. So, you can use the primary switch or mode switch. The primary switch has one-touch access, constant-on, and on/off. At the same time, the mode switch is for cycling through the different modes and for one-touch strobe and one-touch low if you need a tail and side switch options, check this Klarus G20 review.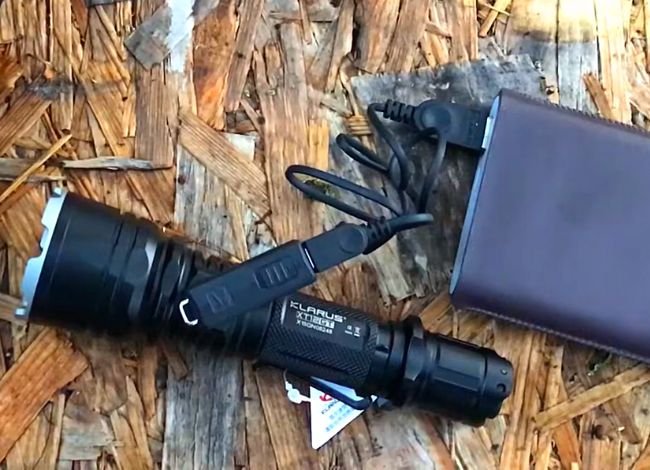 Smart ITS temperature control system
If you are fed up with flashlights that overheat when used for long hours, this is not the case with the XT12GT 1600 Lumen light. It has a smart ITS temperature control system that auto-adjusts output levels to keep the LED and internal parts of the flashlight safe. So, in case you see your light changing from a higher mode to a lower one by itself, there is nothing to tense about. This is a normal condition. Also, it has a reverse polarity function to prevent bad battery placement.
Produces very bright light
For campers, law enforcers, hikers, emergency responders, and construction workers, this light will produce excellent light that will meet all your needs. It's extra bright and produces a maximum of 1600 Lumens. This is enough to light two football pitches. Also, it has a wonderful beam that reaches over 603 meters. This beam distance is better than the Klarus xt11gt. This is greater than most of the tall buildings on the planet. Its light has no dark spot, and the CREE LED that it uses is one of the latest.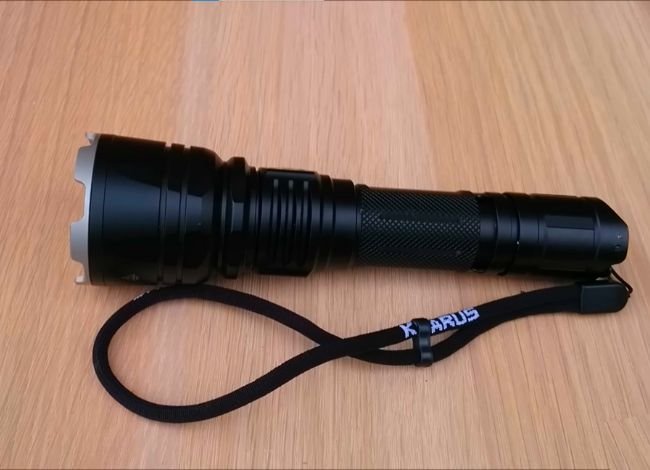 It can resist water and impact.
For those who work in extreme environments like dusty areas or places with water, this flashlight can defy those conditions and still function well. This is because it can resist impacting up to 1 meter. Also, it can be immersed in water up to 2 meters for 30 minutes and still function. Whatever the hard conditions, this flashlight will still perform exceptionally well.
It has two programmable settings.
In addition to the wonderful features, this flashlight has two programmable settings for versatile use. The first setting is the tactical setting, and the second one is the outdoor setting. The Tactical setting is made up of a one-touch strobe and one-touch turbo. In comparison, the outdoor setting is made up of one-touch turbo, one-touch low, and SOS mode. Choose a setting that serves your needs well.
Related: Klarus brand Smallest Flashlight – Klarus Mi7 Review
A compact and lightweight flashlight
Even with lots of features, this flashlight is still compactly made and lightweight. The Klarus xt12gt weighs 6 grams without batteries.

Check Price
It is also not very big as it can be attached to your belt clip when not in use. If you like, you can keep it in your backpack.
Battery capacity indicator
This feature enables you to know the battery level. This helps you to prepare in advance as you plan to go on a trip or journey. You can recharge the battery to full capacity. Green means the battery is more than 70%, and orange means the battery is between 30-70%, and red with flashing means that the battery is below 10% and needs recharging.
Pros and Cons of Klarus xt12gt flashlight
Advantages
Disadvantages

It is strongly built with a 6061-T6 aerospace aluminum alloy with a Mil-spec HAIII anodizing finish.

The light has 6 different brightness modes for versatile use

It is compact and lightweight for easy use and handling

The battery capacity indicator lets you know when to recharge the battery

The flashlight is extremely bright, with a maximum of 1600 Lumens

It is an all-weather flashlight as it can function in cold, dust, and even rain.

It is easy to keep as it comes with a pocket clip and Holster

Some of the clients have complained about the indicator light not working after some time.

It lacks a side switch like some of the high-end Klarus flashlights, which could have made it easy to use.
A flashlight is an essential tool that every person should be equipped with. Imagine your car has broken in a poor lighting area. Checking the issue or changing the car tire will be a nightmare if you don't have any source of light with you. A flashlight can save you stress, and it shouldn't be the best. A reliable and durable flashlight is enough for this, and the Klarux XT12GT flashlight is that for you.
Klarus XT12GT Vs. Acebeam L16 Flashlight Comparison
| | | |
| --- | --- | --- |
| Features | Klarus xt12gt Flashlight | Acebeam L16 Flashlight |
| Max. Brightness: | 1600 lumens | 2000 lumens |
| High Mode: | 400 lumens | 1000 lumens |
| Medium Mode: | 100 lumens | 500 Lumens |
| Max run-time: | 200 hours | 500 hours |
| Weight (without battery): | 159g | 128g |
| Working Voltage: | 2.5-8.4 volts | 3.5-6 volts |
Is the Klarus XT12GT a good flashlight?-Final Verdict
The Klarus XT12GT is a versatile flashlight with amazing features. You can use it on your camping trip, for hunting, run your dog on the sidewalk, inspect your compound at night or even go fishing with it. Its strong construction means that you will use it for many years, and it will survive a lot of hardships. On purchase, you will get a Klarus 18650 3600mAh battery, lanyard, USB charging connector, extra O-ring, and Holster. I hope this Klarus xt12gt review article has given a clear idea of why you should consider buying this LED Tactical Rechargeable Flashlight.
This is a reliable and powerful flashlight that will serve you for many years before thinking of buying another flashlight. Use it for any lighting need, and it will deliver. Still, have a question after reading this Klarus XT12GT review? Comment below.