The tough and versatile Klarus xt11s flashlight is ideal for law enforcers, hunters, emergency responders, military personnel, and outdoor users. It is powered by a rechargeable 18650 battery, which can offer constant light for 260 hours. The 1100 Lumen light offers an extremely bright light that reaches over 330 meters. This is wonderful for hunting, combat, or hiking. You will be able to see the animal you are hunting from a distance and take quick action. You can also check the best-selling Klarus flashlight list in his post. So, Why buy Klarus XT11S flashlight? Read this Klarus XT11S review to know more about this light.
Related: Best Tactical Flashlight Reviews – Buyer's Guide
The Klarus XT11S offers the user features such as the battery capacity indicator, smart ITS temperature control system, and reverse polarity protection for great performance. Moreover, the flashlight is rated as IPX8 waterproof and can resist the impact of up to 1 meter. All these features make this flashlight to be reliable and outstanding in performance.
Related: 3000 Lumens Klarus G20 Review
Klarus XT11S vs. XT11GT: Similarities and Differences
Similarities:
Three programmable settings
Pocket clip and bezel
Four brightness levels along with Strobe and SOS modes
Memory function
Weapon mount
Three switches
Lockout function
USB rechargeable
Battery level indicator
ITS temperature control
Water-resistant
Comparison:
| | | |
| --- | --- | --- |
| Compare | Klarus XT11S | Klarus XT11GT |
| LED Type: | CREE XP-L HI V3 | CREE XHP35 HI D4 |
| Max Brightness: | 1100 lumens | 2000 lumens |
| Runtime on Turbo Mode: | 2 hours | One hour |
| Max Beam Distance: | 330 meters | 402 meters |
| Length: | 139 mm | 142.6 mm |
| Weight: | 115 grams | 130 grams |
Technical Features of the Klarus XT11S Flashlight:
| | |
| --- | --- |
| Features | Klarus XT11S Tactical Light |
| Maximum Brightness: | 1100 lumens |
| Minimum Brightness: | 10 Lumens |
| Maximum Run-time: | 260 hours (10 lumens) |
| Minimum Run-time: | 2 hours (1100 lumens) |
| Beam Distance: | 330 Meters |
| Lighting Modes: | 4 (10, 100, 400, 1100 lm) |
| Flashing Modes: | 2 (100, 1100 lm) |
| Switch: | 2 (Side & Tail switch) |
| Battery includes: | Yes (rechargeable 18650) |
| LED: | CREE XP-L HI V3 |
| Body: | Aircraft-grade aluminum |
| Waterproof standard: | IPX-8 |
| Reverse Polarity Option: | Yes |
| Length: | 139 mm |
| Weight: | 115 grams |
| USB charging cable: | Yes |
| Price: | Check Today's Price |
Klarus XT11S Flashlight Specs:
6 brightness settings with two flashing modes
Aerospace-grade aluminum alloy construction
Uses Cree XP-L HI V3 LED
Lock-out function
Direct recharging function with a micro-USB
Dual tactical tail switch and side switch
Battery capacity indicator
Reverse polarity protection
Smart ITS temperature control system
Waterproof up to IPX8 standards
Impact resistant up to 1 meter
Klarus 5-year warranty
Related: Technical Features of the Klarus xt12gt flashlight
Benefits of using the Klarus xt11s LED flashlight
It has 3 programmable user settings for versatile use
This is a versatile LED light that comes with 3 programmable settings. The user can choose from one of these settings depending on their needs.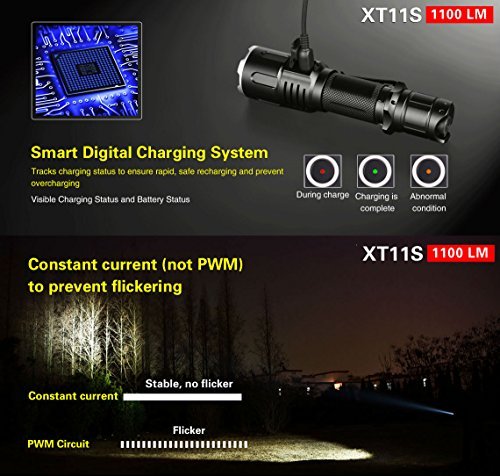 Check Today's Price
They include the classical tactical setting with straight-to-strobe/instant turbo/instant low-light, outdoor setting with instant turbo/instant low-light/no strobe for the tail switch, and tactical assault setting with instant turbo & straight-to-strobe.
Sturdy construction
The XT11S tactical flashlight is a strongly built LED light that can be relied on for a long time. Its body is made of aerospace aluminum alloy, which is sturdy and lightweight. This metal will defy hardships to provide long-term use.
Related: Technical Features of the Klarus Mi7 flashlight
6 light modes with two special modes
This flashlight will deliver if you want a light for hunting, combat, hiking, law enforcement, and outdoor activities. The 6 light modes offer the user different lighting options. The flashlight can be used as a defensive weapon with the strobe mode. Also, it can be used for emergencies or to just light a dark area or path.
Provides excellent brightness
With a maximum of 1100 Lumens, this is a very powerful and bright LED flashlight. The maximum beam reaches up to 330 meters and has a maximum runtime of 260 hours. This beam distance is much better than the klarus xt11gt. Although this light brightness is 2000 lumens, the XT11GT beam distance is only 316 meters. The run time is determined by the type of light mode you use. This super bright light will provide you with the maximum brightness you need for all your outdoor needs.
Easy-to-use interface
The flashlight has an easy-to-use interface. It comprises a tactical dual tail cap switch and a side switch. The side switch is for cycling through the different light modes and has a lock-out feature that prevents accidental lighting. Also, the flashlight can be operated with just one hand.
Has a smart ITS temperature control system
This feature monitors the internal temperature of the flashlight and auto-adjusts the light modes to ensure safe and optimum performance is maintained. Your light will never be extremely hot.
Easy to recharge
First of all, the battery level indicator will let you know if the battery is low. Then, you can recharge the flashlight by connecting it to the USB cable. The recharging process is quick and convenient.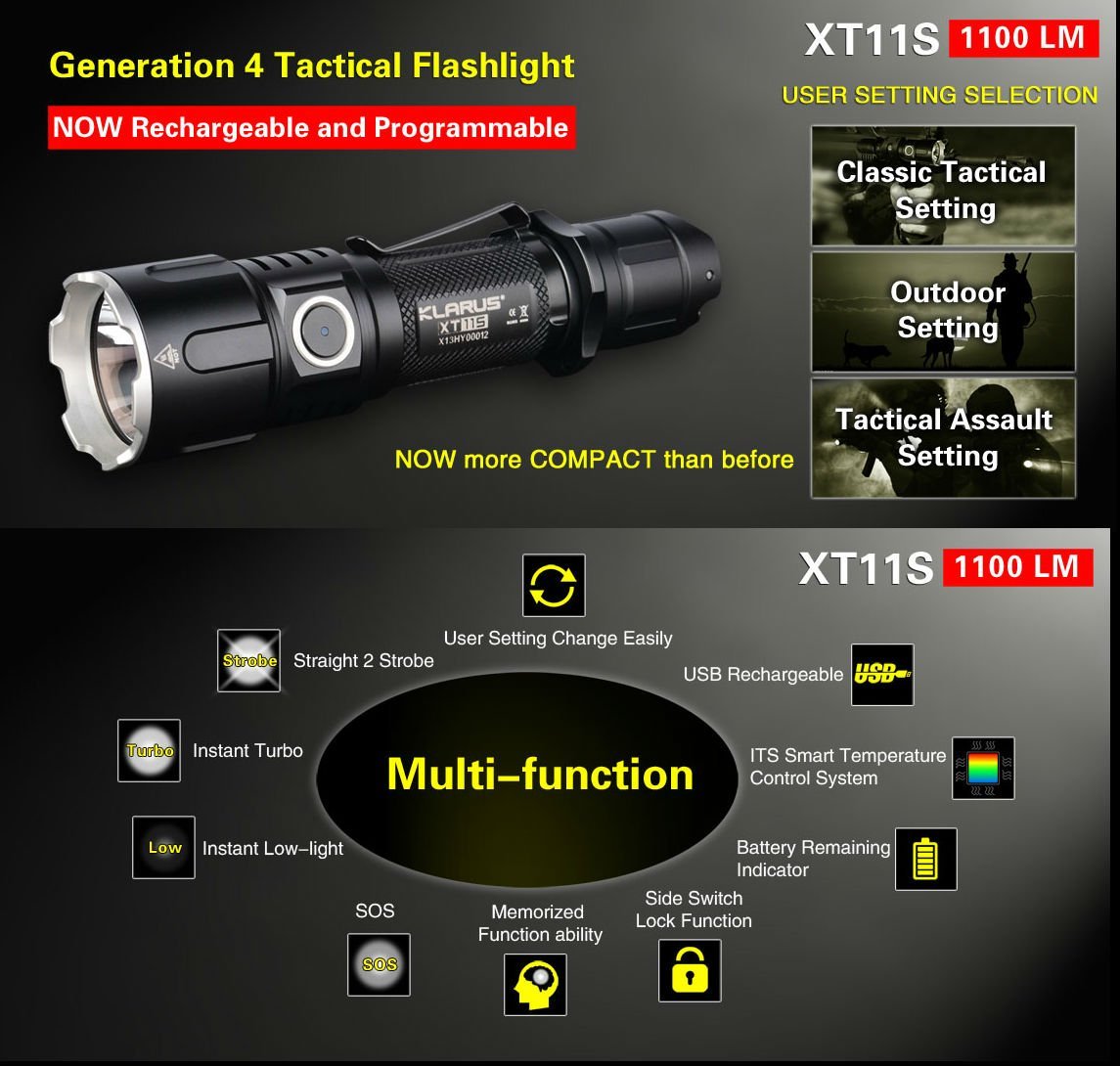 Check Today's Price
Actually, it can recharge any 18650 rechargeable batteries with PCB protection. Just ensure that you cover the micro-USB port after use so that dust or water doesn't get into it. If you want to buy the best 18650 flashlights, then you should consider this light.
Waterproof and impact resistant
If you intend to use this flashlight in bad weather, such as rain or in dusty places, it will still function well. This is because it has a waterproof rating of IPX8 and is impact resistant up to one meter. Furthermore, the flashlight is corrosion-proof.
Shortcomings of the xt11s flashlight
The micro-USB charging port is not very durable as it fails to recharge after some time.
This is a complaint that has been addressed by a number of users. Ensure that you keep the micro-USB port in tip-top condition and away from dust and water.
Final Overview
With such a great build and great performance, the Klarus XT11S flashlight is a light best suited for tactical and outdoor use. This is the reason why many military personnel and law enforcers love this light. Besides providing very bright light, the flashlight can defy all tough outdoor conditions and function in different weather conditions. Its beam covers a great distance of 330 meters, which means that you can see your enemy from a distance. Also, you can add a green or red filter for great success when hunting.