Is Klarus XT11GT worth buying? It is one of the best selling flashlights from the Klarus brand. The main reason for this light popularity is lots of advanced features. You may find all these features together from other brand flashlights, but you need to spend 200 bucks or more for that. But, Klarus XT11Gt price is less than 100 bucks, and it's worth buying; especially if you consider prices and features. I will explain more in this Klarus XT11GT review.
Technical Features of the Klarus xt11gt flashlight
| | |
| --- | --- |
| Features | Klarus xt11gt |
| Maximum Brightness: | 2000 lumens |
| Minimum Brightness: | 10 Lumens |
| Maximum Run-time: | 170 hours (10 lumens) |
| Minimum Run-time: | 50 minutes (2000 lumens) |
| Beam Distance: | 402 Meters |
| Normal Modes: | 4 (10, 100, 400, 2000 lm) |
| Flashing Modes: | 2 (100, 2000 lm) |
| Switch: | 2 (side switch and tail switch) |
| Battery includes: | Yes (1 Lithium-ion battery) |
| LED: | CREE XHP35 HD E4 |
| Body: | Aerospace Aluminum Alloy |
| Waterproof standard: | IPX-8 |
| Length: | 142.6 mm |
| Weight: | 130 grams |
| Warranty: | Yes |
| Price: | Check Today's Price |
Why I bought a Klarus XT11GT Flashlight?
Very Bright: 2000 lumens (You don't need more than that brightness for any task).
Three Switches: Two tail switches and a side switch near the head.
USB Charging: No need to carry an extra charger and it will reduce your headache of flashlight charging. (Very useful when Travelling).
Indicator: It will indicate charge status.
Modes: 6 (2 flashings and 4 normal modes).
Memory mode: Yes.
Klarus XT11GT Flashlight Video Review:
Klarus light
is one of the leading brands of
tactical flashlights
and they never disappoint. The Klarus xt11gt is a compact and powerful flashlight. It uses the latest Cree LED and produces a maximum of 2000 Lumens. This is enough to light the entire camp and path. Furthermore, it gives the user 3 different programmable settings for different scenarios. You can as well select from the different light modes that it has. These include low, medium, high, turbo, strobe, and SOS modes.
Flashlight Klarus xt11gt Review 2023
The XT11GT is a sleek and compact flashlight that can be easily kept in the holster or attached to the belt clip. When the battery is low, the battery capacity indicator will let you know. Also, the smart temperature control system will not allow the flashlight to overheat as it auto-adjusts the light modes from high to low.
Recharging this battery is easy as it has a magnetic charging connector. Use the XT11GT in water or dusty places, and it will still deliver excellent results. That's how exceptional it is.
Features and benefits of the Klarus XT11GT flashlight
This light has some advanced features that will give you extra benefits.
Uses the newest Cree XHP35 HD E4 LED
The XT11GT is such a powerful flashlight as it utilizes the most recent CREE XHP35 HD E4 LED technology. This is an excellent chip that produces a very brilliant white light. In addition, it is indestructible and will support your flashlight for many years. Also, it cannot spoil on impact. This LED technology is further secured by a hardened mineral glass lens with AR coating, which is scratch resistant. The CREE XHP35 HD E4 has a long lifespan.
Bright light with a beam distance of 316 meters
This is one of the brightest lights on the market. With a maximum of 2000 Lumens, the xt11gt is very bright and its light has no dark spot in the middle. This light brightness is better than the Klarus xt12gt.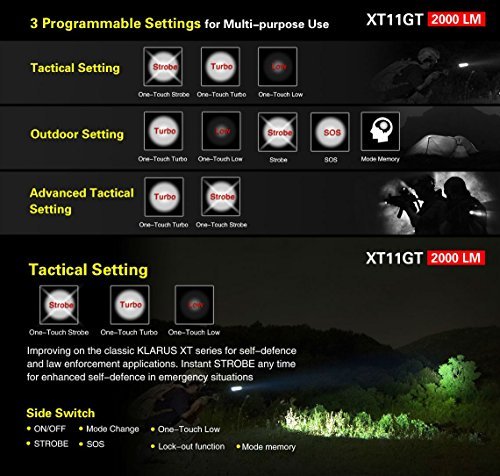 Check Today's Price
So, it will shine bright and stay clear all night. Also, it has a maximum beam distance of 316 meters, which is just great. This implies that the flashlight will provide bright light for over a long distance. So, whether you want to light a close place or a far-off area, this flashlight will help you do that. If you need more brightness then check this Klarus 3000 lumens flashlight.
Six brightness light modes and two flashing modes
As if the brightness and powerful LED isn't enough, the xt11gt offers the user with 6 brightness modes. Different light modes can be used in different situations. The first light mode is low, then medium, high, turbo, strobe, and SOS mode. For a longer runtime, you should use the lowest mode and it can light for 170 hours. The brightest mode, which is turbo lights for only 50 minutes. SOS mode can be used when the person is in danger or in an emergency situation. While the strobe mode is for blinding an enemy when attacked.
Easy to use interface
Built for tactical use, this flashlight can be switched on/off with much ease even when under pressure. This is because it has a tactical dual tail cap switch and side switch. All of these can be used through a one-hand operation. The easy to use interface allows the user to access one-touch strobe, one-touch turbo, one-touch low, mode memory, and SOS. The lock-out function prevents the user from accidentally switching on the flashlight while it is kept in the pocket. When not in use, keep it in the pocket, holster, or attach it to the belt clip.
Made of aerospace aluminum alloy construction with CNC technology
Another amazing feature about the xt11gt LED flashlight is that it is made of aerospace aluminum alloy with CNC technology. This is a durable and lightweight material.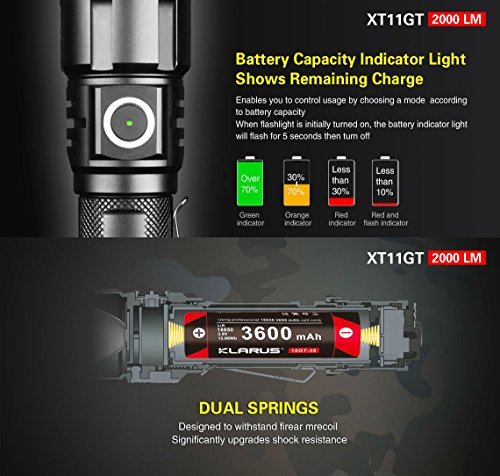 Check Today's Price
Also, this material is impact resistant up to one meter and comes with an IPX-8 waterproof rating. Thus, you can use the flashlight underwater up to 2 meters for 30 minutes. If the flashlight drops down accidentally, it won't roll as it has an anti-roll and slips resistant body. With such features, expect this flashlight to serve you for a very long period of time.
Has 3 programmable settings
As if the sturdiness and versatility of this flashlight are not enough, it also has 3 programmable settings. These are: tactical setting for everyday use, an advanced setting which allows the user to access one-touch turbo and one-touch strobe mode and the side switch is inactivated for use in extreme tactical scenarios, and finally, the outdoor setting that provides the instant high or low light and tactical tail switch without strobe mode. Select a setting that suits your needs so that you can access the modes that you want on the go.
Compact and lightweight design
Despite having a wide range of features, this is still a compact and lightweight flashlight. It only weighs 130g without battery and it is not a burden to carry. You can place it in your backpack or purse. Alternatively, you can keep it in the holster provided in the purchase. Also, the flashlight is made of an anti-roll and slip-resistant body for simple and firm handling even when stressed up or in a tense situation.
Tactical flashlight
All Klarus flashlights are created for tactical use. This is with the inclusion of the Klarus xt11gt tactical flashlight. This flashlight can survive harsh outdoor conditions and it is one of the best.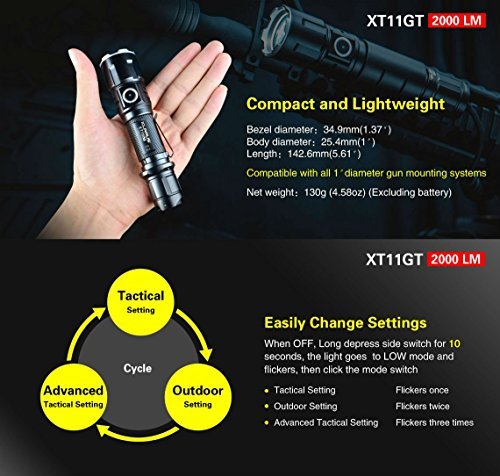 Check Today's Price
It has a waterproof rating of IPX8, which implies that you can dive with it in water up to 2 meters for 30 minutes. In addition, it can survive droppings of up to one meter. Also, it is dustproof and corrosion-resistant. So, if you intend to use this flashlight outdoors, it will provide excellent performance even in extreme conditions.
Special features
This flashlight comes with a lot of features. Some make it be sturdy while others make it perform exceptionally. Such features include reverse polarity protection for bad battery placement, a smart temperature control system for adjusting modes and preventing overheating of the flashlight, a battery level indicator to alert you when the battery is low, and an intelligent digital charging module. All of these play part in the great performance of this flashlight. Although, you will find similar features in the Klarus xt11s flashlight too.
Magnetic charging connector
Recharging your XT11GT flashlight is made easy with the magnetic charging connector. Also, you can use the USB charger to recharge your flashlight. When not in use, ensure that you securely close the micro-USB port with its protective cover that is dustproof and waterproof. Green means that the battery is over 70%, orange – 30-70%, red – below 30%, red and flashing – below 10%.
Klarus 5 year warranty
When you purchase this 2000 Lumen flashlight, you get a 5-year warranty from the manufacturer. This is excellent as not many brands offer warranties. So, you can be assured that your investment is safe.
The Klarus xt11gt is a 4th generation Klarus brand tactical flashlight. With its strong build and outstanding features, this is a flashlight that is suitable for military use, law enforcement, outdoor use, home use, and for construction works. Do you need an LED Compact Rechargeable Tactical Flashlight? Then you should consider this light. I have explained everything in this Klarus XT11GT review that you should know about this flashlight.
Klarus xt11gt vs xt11s
| | | |
| --- | --- | --- |
| Features | Klarus xt11gt | Klarus xt11s |
| Lumens: | 2000 lm | 1100 lm |
| Beam Distance: | up to 330 meters | up to 316 meters |
| Working Voltage: | 2.5V-8.4V | 2.5V-8.4V |
| Waterproof: | Yes. IPX-8 (underwater 2 meters) | Yes. IPX-8 (underwater 2 meters) |
| USB Recharge Option: | Yes | Yes |
| Batteries: | 1x 18650 battery with PCB protection or 2 x CR123A batteries (Do not use 16340 batteries) | 1x 18650 battery with PCB protection or 2 x CR123A batteries |
| Battery Include: | Yes | Yes |
| Length: | 142.6mm | 139mm |
| Weight: | 130g (w/o battery) | 115g (w/o battery) |
| Review: | More details | More details |
| Price: | Check Price | Check Price |
Conclusion
The XT11GT is a compact and versatile flashlight ideal for outdoor and tactical use. It produces a very bright light that will never leave you in the dark and the illumination has no dark spot. Go hunting with this flashlight or use it in emergency situations. And if you have a problem with the flashlight, get in touch with Klarus as they provide a 5-year warranty. After reading this Klarus xt11gt review, I hope you have got some idea why I am recommending this flashlight.