The Klarus Mi7 is a quality EDC flashlight with exceptional features. Its maximum brightness is 700 Lumens which provides incredibly bright light. The highest throw covers a distance of up to 180 meters, which is wonderful for such a small light. The Mi7 LED flashlight uses the latest LED technology. It has 3 lighting modes and 2 flashing modes. In addition, this Klarus brand flashlight has an easy-to-use stainless steel switch that allows you to access the different light modes. Read this Klarus Mi7 review to know more about this small flashlight.
What is TI Stands for?
TI stands for titanium. The Klarus mi7 ti body is structured TC4 Titanium alloy. For normal Klarus mi7 flashlight boy is structured Aerospace-grade Aluminum Alloy.
Klarus Mi6 vs. Mi7: Comparison
| | | |
| --- | --- | --- |
| Compare | Klarus Mi6 | Klarus Mi7 |
| Max Brightness: | 120 Lumen | 700 Lumen |
| Battery: | AAA | AA |
| Weight: | 0.28 Ounces | 0.06 Pounds |
| Modes: | 2 | 5 |
| Length: | 2.33 inches | 3.43 inches |
| Width: | 0.54 inches | 0.75 inches |
Technical Features of the Klarus Mi7 titanium flashlight
| | |
| --- | --- |
| Features | Klarus Mi7 Flashlight |
| Maximum Brightness: | 700 lumens |
| Minimum Brightness: | 5 Lumens |
| Maximum Run-time: | 67 hours (5 lumens) |
| Minimum Run-time: | 53 minutes (700 lumens) |
| Beam Distance: | 180 Meters |
| Lighting Modes: | 3 (5, 90, 700 lm) |
| Flashing Modes: | 2 (90, 700 lm) |
| Switch: | Side switch |
| Battery included: | Yes |
| LED: | CREE XP-L HI V3 |
| Body: | Aerospace Grade Aluminum Alloy |
| Waterproof standard: | IPX-8 |
| Reverse Polarity Option: | Yes |
| Length: | 87.2 mm |
| Weight: | 26.4 grams |
| Lock-Out mode: | Yes |
| Price: | Check Today's Price On Amazon |
Small EDC Klarus Mi7 Review in 2023- 700 Lumens
Apart from its sturdy construction and compact design, the Mi7 700 Lumen flashlight has other amazing features like lock-out mode, reverse polarity protection, battery capacity indicator, and over-discharge protection. It can as well function in different weather conditions as it is waterproof. Use this light to illuminate your path at night, go camping with it or use it to read a novel on your bed at night.
Related: Smallest Flashlight – Olight S1A Review
Klarus Mi7 flashlight specs:
Aerospace-grade aluminum construction
Hard anodized finish
Hard AR coated mineral lens
Uses Cree XP-L HI V3 LED
Lock-out mode
Over-discharge protection
Reverse polarity protection
Constant current control with no PWM flash
Battery capacity indicator
Stainless steel switch
3 light modes and 2 strobe patterns
Main features of the Klarus Mi7 LED flashlight
Construction
The Mi7 flashlight is durably made of a 6061-T6 aerospace aluminum alloy body. This is not only a durable material, but as well it is lightweight. Also, the flashlight has a hardened mineral lens with an AR coating. This material is also scratch-resistant.
The flashlight has an excellent finish made of military-grade hard anodizing protection. This prevents the flashlight from tough conditions such as water and dust.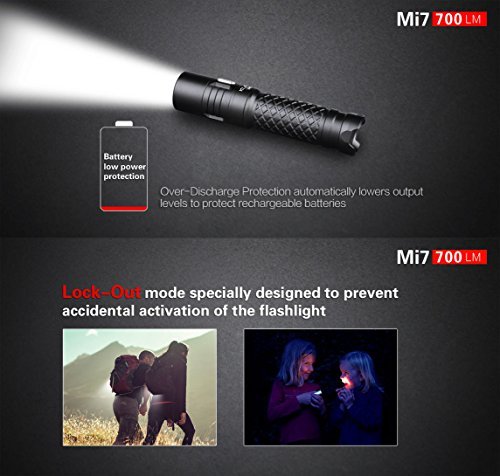 Check Price
Light modes
When you acquire this flashlight, you will have a lot of options. This is because it has 3 light modes and two special modes that make it versatile in use. The 3 light modes are moonlight, low, and high. While the special modes are the SOS and strobe modes. Use the SOS mode when you are in need of help. The strobe mode is usually utilized as a defensive weapon by blinding an enemy.
High Mode: 700 Lumens (53 Minutes)
Low Mode: 90 Lumens (3 Hours 47 Minutes)
Moonlight Mode: 5 Lumens (67 Hours)
Strobe Mode: 700 Lumens (1 Hour 46 Minutes)
SOS Mode: 90 Lumens (11 Hours 21 Minutes)
Uses CREE XP-L HI V3 LED
Another great feature of this flashlight is that it utilizes the latest Cree XP-L HI V3 LED technology. This powerful chip produces white light and has a lifespan of 50,000 hours. So, you can be certain to use this light for a very long while as it is indestructible.
Related: Tactical light – Klarus XT12GT Review
Compact and lightweight
Carrying this device or handling it isn't a problem at all. This is because it is small and compact in design. Also, it weighs 26.4 grams without a battery which is very light. For easy carry, attach this EDC flashlight to your key ring and have it handy whenever you need it. You will find all the popular Klarus brand flashlight reviews on this website. But, I like Klarus Mi7 for its compactness.
Waterproof and impact resistant
If you work in tough surroundings, you shouldn't worry about this light at all. The Mi7 LED flashlight is rated as IPX8, which means it can work when immersed in water up to 2 meters for 30 minutes. In addition, the flashlight is impact resistant up to one meter. So, you can drop it or crush it on a rock, but it will still function well.
Battery
You have two options for powering on this flashlight. The first way is by inserting any AA battery, and the second one is by using the 14500 Li-ion battery. You will have to use the 14500 Li-ion battery for a longer run time. Also, using the Li-ion battery will provide you with greater brightness.
Related: 2000 Lumen Flashlight Klarus XT11GT Review
Other features
This flashlight provides the user with lots of features.
It has a lock-out function to prevent the user from accidentally lighting on the flashlight. The battery level indicator lets the user know the remaining battery capacity. Other features are reverse polarity protection, over-discharge protection, and constant current with no PWM flash.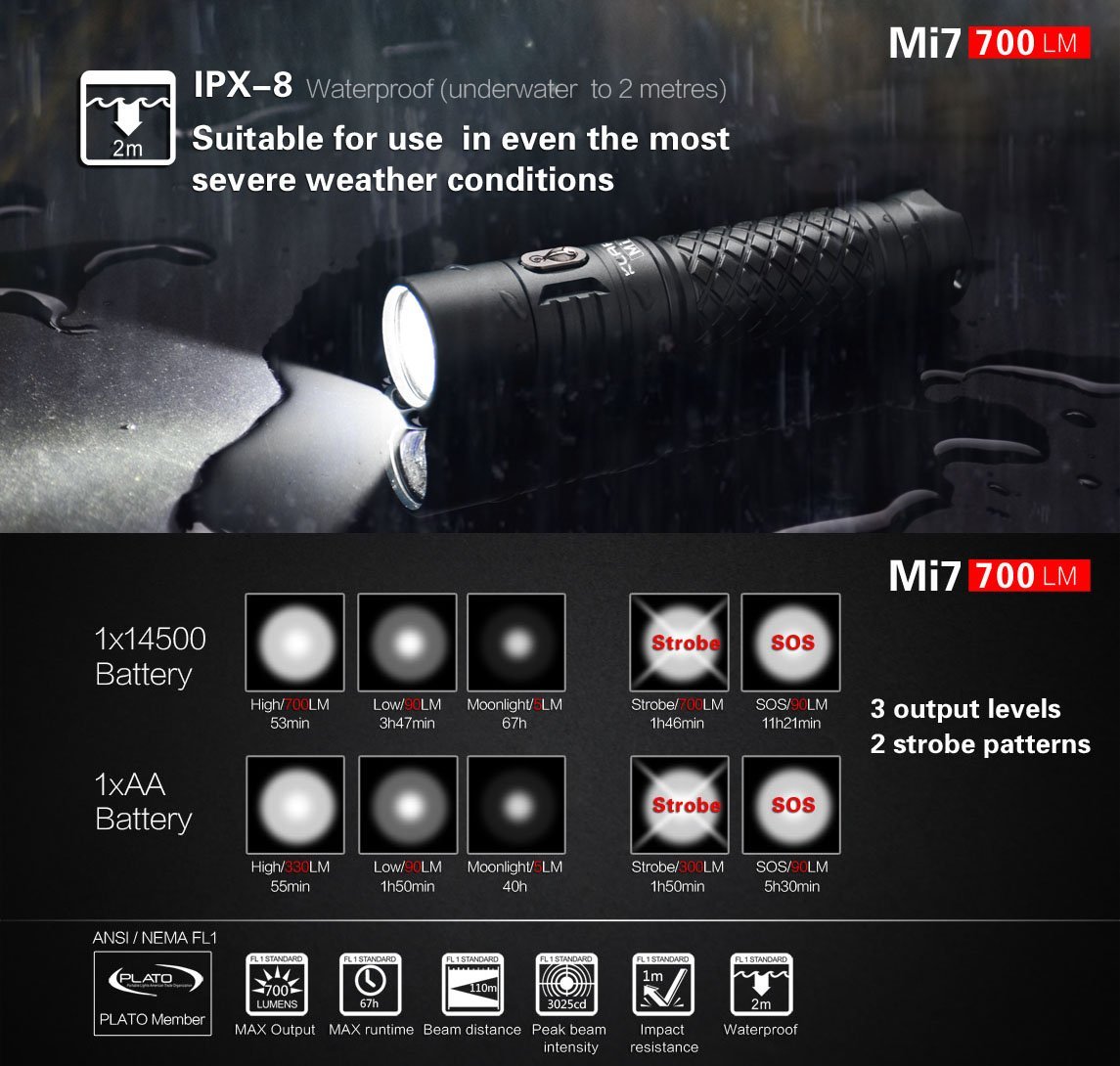 Check Price
Additional accessories
When you purchase the Mi7 flashlight, you get extra accessories like one AA battery, one extra O-ring, one Skyben USB light, and one key ring. These accessories make using the flashlight to be easy and fun. But you will have to acquire the 14500 Li-ion battery for greater performance.
Summary
It might be an EDC flashlight, but the Klarus Mi7 is a very powerful and sturdy flashlight. The LED light produces a maximum of 700 Lumens, which makes it one of the brightest in its category. Also, it is durably made and can withstand any tough conditions before it. This includes bad weather or even accidental falling. The compactness and sleekness of the Mi7 make it suitable for daily carry by either attaching it to your belt or keeping it in the pocket. With these and many other features, this is a wonderful EDC flashlight to have with you always.
A visitor coming for these terms:
Klarus Mi7 Review
700-lumen flashlight reviews