The Imalent DX80 flashlight is one of the most powerful rechargeable flashlights that you will ever come across. It produces a maximum of 32,000 Lumens, which is astonishing but still able to offer 3+ hours of use. This makes it a great flashlight for fishing, security, rescue missions, and industrial use. Read this Imalent DX80 Review to know more about this powerful flashlight.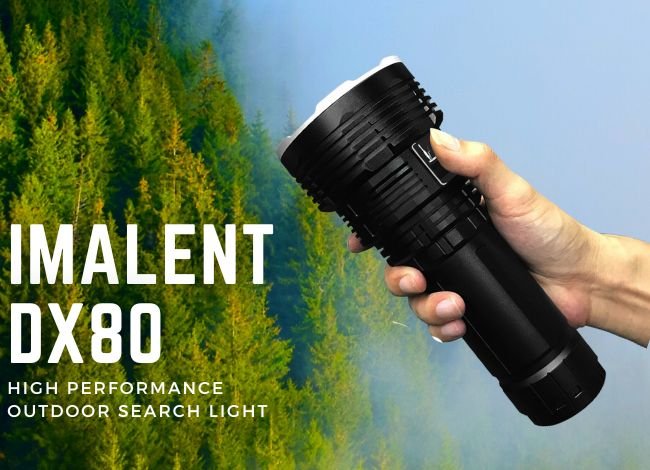 Imalent is a reliable brand that has grown steadily and focuses on offering some of the best tactical lights on the market. The brand has many series, such as the S, E, D, and R series. In this case, we're going to discuss the DX80 flashlight from the D-series.
Technical Specifications of the Imalent DX80 Flashlight:
| | |
| --- | --- |
| Features | Imalent DX80 |
| Lumens: | 32000 lumens |
| Type of Bulb: | LED |
| Number of Lights: | 8 |
| Light Direction: | Adjustable |
| Modes: | 6 |
| Shade Material: | Aluminum |
| Full charging time: | 3+ hours |
| Batteries: | 8 Lithium-ion batteries are required. (included) |
| Warranty: | Five years |
| Price: | Check Price |
These and many other features have been discussed in detail in this review. You should choose a flashlight on its lumens and durability. Continue reading to find out more about the wonderful features, pros, and cons of this powerful searchlight.
Imalent DX80 specs:
A built-in thermal control module
Aerospace-grade aluminum construction
High efficiency constant current circuit
Aluminum OP reflector
Wear-resistant type III hard-anodized surface treatment
Built-in battery pack
Multifunctional LED display
Uses 8 pcs of American CREE XHP70 2nd generation LEDs
Toughened ultra-clear mineral and anti-reflective coating glass
Anti-reverse battery protection
IPX-8 standard waterproof
Tail stand function
5m impact resistant
Powerful 32000 Lumen Flashlight- Imalent DX80 Review
Imalent DX80, also known as 'The End of Darkness on the internet, is powerful and reliable. Its Max output is up to 32000 lumens. It is made of an aerospace-grade aluminum alloy body for longevity. On top of that, the flashlight is also impact-resistant and waterproof, with an IPX-8 rating. It offers the user 6 light levels and a strobe mode for versatility. With a one-handed operation, you won't have any challenges using the flashlight whatsoever. It will provide you with more power and brightness than the Nitecore P12GT compact LED flashlight.
Durable construction
Imalent leaves nothing to chance as it has utilized the best materials possible. The Imalent DX80 flashlight is made of aerospace-grade aluminum metal. This is a durable metal, and it is lightweight at the same time. In addition, it has a type III hard-anodized surface treatment which is wear-resistant. The toughened ultra-clear mineral and anti-reflective coating also make the flashlight durable. With such construction, this is a light that you can depend on in your hour of need.
Outstanding brightness
Imalent dx80 is the world's brightest flashlight! The LED flashlight produces a ridiculous 32 000 lumens. This is very exceptional and great for people who need bright light to locate a person or find something. The brightness can be connected to the powerful 8 pieces of American CREE XHP70.2nd generation LED with a lifespan of 50000 hours. The maximum beam distance is up to almost 1700 meters at Turbo mode. Furthermore, the light has the ability to cover at least 806 meters. This range is just insane considering the Imalent DN35 tactical flashlight that only reaches over 596 meters.
One-handed operation
Whether you have used such a powerful flashlight before or not, you won't have any issues utilizing this light. You can operate it using one hand by operating the tactical pressure switch. The click is comfortable, and you will always have what you need at the touch of a button. Hold for a second to turn on the light, and hold for a second to turn it off. When you long-press the switch, you lock it completely to avoid accidentally turning it on while in the pocket or pack.
Related article: Is it worth buying an ANKER LC90 pocket-sized flashlight?
Versatile light
No matter the activity that you're going to perform, the Imalent LED flashlight will still deliver. This is because it has various lighting levels for different uses. It has a low mode that uses 120 Lumens, and other modes include middle-low, middle, middle high, high, turbo, and strobe mode. Both turbo and strobe modes utilize the same number of lumens (32 000 Lumens). Turbo can be used to blind the enemy in an attack.
Impact-resistant and waterproof
This high output led light is also built for tactical use as it is resistant to both water and impact. Like the Fenix TK20R USB rechargeable flashlight, it can be used underwater up to 2 meters as it has a rating of IPX-8. It also impacts resistance up to 1.5 meters.
Exceptional run time
In low mode, the flashlight uses 120 lumens and can offer an excellent run time of up to 168 hours. This is wonderful, and you can use this light for days while out here camping or searching for a lost person.
Intelligent temperature control
In case the flashlight body's temperature rises up to 50 degrees C, the high-temperature sign on the OLED display will flash 8 times for 30 seconds to show a warning. It will also adjust the current to keep the flashlight working below 50 degrees C. Apart from that, it has a warning function for low battery, too.
Compact and lightweight
32,000 lumens may have 8pcs of LED and 8pcs of high-performance 18650 batteries, but it is still lightweight and compact for daily use. Also, the maximum brightness is far higher than the Imalent DT70 flashlight. So you won't feel burdened having it around for your outdoor activities.
5-year warranty
Apart from offering exceptional features, this flashlight comes with a 5-year warranty. So, you can rest assured that this is a reliable and sturdy light that you will use for ages.
Why buy an Imalent dx80 flashlight?
Sturdy construction for longevity
The powerful light that covers a wider area
Anti-reverse battery protection to prevent bad battery placement
Has tail stand function for use as a candle or in camps
Very convenient to use as it features a rechargeable battery pack
A special OLED display with clear mineral glass shows different settings and parameters
Six super bright light output levels with strobe mode for versatility
The tactical pressure switch is easy to operate
No accidental lighting with the lock function
The lower power warning function reminds you when to charge the 8pcs battery pack
It has an outstanding runtime of 168 hours
5-year warranty
Cons of the Imalent Flashlight dx80

It takes 3 hours to charge, which is a long duration of time if you want to use it immediately.
DX80 requires installation before use as you have to remove the battery protection and screw it tightly.
Imalent DX80 tactical 18650 flashlight requires 8pcs of original Imalent rechargeable batteries to work. This may be costly when you have to purchase new batteries after their lifespan is depleted.
Flashlight Comparison: Imalent dx80 vs. Acebeam X80 GT
Features
Imalent dx80
Acebeam X80 GT
Max Brightness:
32,000 Lumens
34,000 Lumens
Material:
Metal
Aluminum
Underwater:
2 meters
30 meters
Max Beam Distance:
806 Meters
498 meters
Weight:
1204g (Battery included)
330g (Without battery)
Modes:
Turbo output: 32000-7000 lumens
High output: 13000-7000 lumens
Middle High: 5000 lumens
Middle output: 1500 lumens
Low Middle output: 500 lumens
Low output: 120 lumens
Low: 220 lumens
Med1: 1250 lumens
Med2: 2000 lumens
Med3: 4100 lumens
High: 9400 lumens
Turbo: 17800-4000 lumens
Turbo Max: 34000-4000 lumens
Strobe: 4100 lumens
Runtime:
Turbo output: 3+100 minutes
High output: 8+122 minutes
Middle High: 2 hours and 25 minutes
Middle output: 5 hours and 40 minutes
Low Middle Output: 40 hours and 46 minutes
Low output: 168 hours
Low: 34 hours
Med1: 7 hours
Med2: 3.5 hours
Med3: 1.7 hours
High: 4 minutes + 1.5 hours
Turbo: 2 minutes + 1.6 hours
Turbo Max: 1 minute + 1.7 hours
Strobe: 3.4 hours
Summary
The Imalent 32000 lumens flashlight is a very powerful light suitable for individuals who prefer brightness over any other feature. This makes it an amazing searchlight, security light, construction light, and fishing light. Despite being powerful and slightly bigger than standard flashlights, the Imalent DX80 rechargeable flashlight is still compact and will fit perfectly in the hands of the user.
Related article: Check the reviews of our best-selling Coast flashlight
Even with its amazing power, the flashlight can still last for up to 168 hours, making it an ideal light for many activities. Its build quality is impact-resistant and waterproof, thus ideal for use in the toughest outdoor situations. With a 5-year warranty and rechargeable battery, this is a light that you can depend on when you're against the odds. I hope this Imalent DX80 review article will help you to make the right decision.
FAQ
Question: What other accessories are included with the flashlight?
Answer: Apart from the flashlight, you will add accessories like O-rings, holster, lanyard, US/EU charger, rechargeable battery pack, and user manual. These are the things included in the purchase which you may not get with other Fenix flashlights.
Question: Does this flashlight come with a zoom function?
Answer: No, it doesn't. It would've been better if it offered a zoom function for floodlight and spotlight with a flashlight of such caliber and performance.
Question: Does this flashlight have a warranty?
Answer: Yes. The flashlight comes with an outstanding 5-year warranty. In addition, it offers a one-year warranty on the battery and charger. During this period, you are free to return the flashlight for repair or replacement if it comes with a defect in parts or workmanship.