For the past few years, I've been using the Imalent DT70 flashlight, and I've decided to share my experience with this compact but very powerful light. Before I acquired this flashlight, I had a small AA Flashlight that was great at the start but disappointed me later. So, I decided to get this flashlight after seeing the positive reviews and getting a recommendation from a friend of mine. Read this Imalent DT70 Review to know more about this.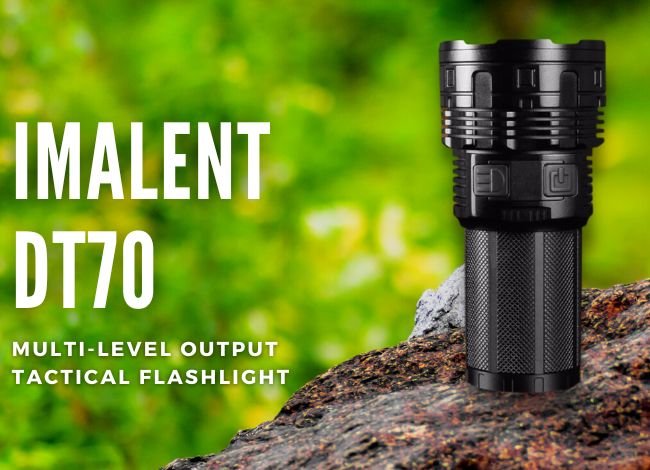 I can say that the Imalent rechargeable LED flashlight is one of the best flashlights that I've used so far. It is very reliable and durably made to last long. It functions as stated, and it is very powerful.
Technical Features of the IMALENT DT70 XHP70 Flashlight:
| | |
| --- | --- |
| Features | Imalent DT70 Flashlight |
| Maximum Brightness: | 16000LM |
| Luminous Intensity: | 123000cd |
| Maximum run-time: | 40 hours |
| Minimum run-time: | 1 hour and 30 minutes |
| Beam Distance: | 700 Meters |
| Switch: | Clicky Side |
| Modes: | Low, Mid, High, Turbo, Strobe, |
| LED: | Latest CREE XHP70 LEDs |
| LED Lifespan: | 50000h |
| Body: | Aerospace-grade aluminum alloy body |
| Reflector: | Aluminum OP reflector |
| Lens: | ultra-clear mineral glass lens with anti-reflective coating |
| Battery Type: | 4 x 18650 batteries |
| Waterproof: | Yes |
| Dimension: | 146mm(L) x 70mm(Head) x 50mm(Body) |
| Weight: | 427g |
| Rechargeable: | Yes |
| Battery Include: | Yes |
| Price: | Check Price |
Imalent DT70 is a mid-ranged flashlight with multi level functionalities that delivers an advanced temperature control module. Read my Imalent DT70 reviews to end, and you will find out why I have fallen in love with it.
Tactical Flashlight IMALENT DT70 Review 2023
Strongly built for long-lastingness
What I love most about Imalent USB rechargeable led tactical flashlights is that they are built to last. This is the same case with the Imalent DT70 LED flashlight. Just like other Imalent flashlights you can see in this Imalent DT70, it is made of aerospace-grade aluminum alloy, which is not only durable but also lightweight. The surface of the flashlight is coated to offer resistance to rust and corrosion.
Related Product: Should you buy an Acebeam X70 High-Lumen flashlight?
Powerful light
With a maximum of 16000 lumens, this is a very powerful flashlight and covers a wider area. As a matter of fact, the flashlight's beam reaches up to 700 meters, which is just wonderful for its size because the Imalent DN35 tactical flashlight only reaches over 596 meters. Also, the flashlight features 4 CREE XHP70 LEDs with a lifespan of 50,000 hours.
OLED display
This is another amazing feature of Imalent flashlights. The OLED display plays a huge role as it shows various parameters and settings such as low battery voltage, overheat warning, charging, and output. So, it always keeps you updated on the status of your flashlight.
IPX-8 waterproof and impact resistant
Whether you want to use the flashlight during summer or in winter, it will still perform exceptionally well. This is because it can be used underwater up to 2 meters. It is also impact resistant, and thus you shouldn't worry about accidentally dropping it.
Versatile flashlight with 4 light modes and 3 special light modes
Are you a hunter, law enforcer, military personnel, or just a civilian looking for a reliable and powerful light for your everyday activity? The Imalent DT70 is the flashlight for you. You can choose from its various light modes for your preferred activity. It has low, medium, high, and turbo. Additionally, it has special modes, which are Beacon, SOS, and strobe modes.

Convenient built-in USB charging interface
No more suffering when your battery runs out. Simply plug the USB charger into an outlet and have your rechargeable battery pack of 4 Li-ion rechargeable batteries recharged and ready to go. Also, the price is reasonable comparing the Imalent DX80 expensive flashlight.
Regulates temperature with built-in thermal control
Unlike many small and powerful flashlights, this one won't overheat too much. It features a built-in thermal control module that regulates internal temperature to prevent the device from overheating. Also, the flashlight features an anti-reflective coating glass aluminum OP reflector.
Excellent runtime
The 4pcs of Imalent 18650 rechargeable batteries that this flashlight comes with will provide you with 40 hours run time in low mode producing a maximum of 80 lumens. Its high-efficiency constant power circuit provides constant brightness with anti-reverse battery protection.
Related article: Check the reviews of our top 14 Nitecore Flashlight  list
Warranty
The manufacturer offers a 5-year warranty to buyers of this product. So, in case of a defect before the expiration of the warranty, you can always get a repair done or have a replacement if the flashlight has a defect.
Summary: Why buy IMALENT DT70 Led Tactical Flashlight?
Sturdy construction
Powerful light
Lightweight and compact
Extremely versatile
OLED display for easy use
Voltage warning
Aerospace-grade aluminum alloy
Rechargeable led tactical flashlight
Waterproof with an IPX-8 rating
Impact-resistant up to 1.5 meters
Long runtime & Anti-reverse battery protection
Convenient to use with the built-in USB charging
5-year warranty
Cons of the IMALENT DT70 Flashlight:
Difficult to locate the switch in the dark
This versatile USB rechargeable led light is quite expensive than other keychain flashlights.
Summary
I hope you get a clear idea After reading this Imalent DT70 flashlight article. This is not your ordinary flashlight, as it can be used for a wide range of activities due to its versatility. So this model is far advanced than ANKER LC90 or Fenix TK20R rechargeable flashlights. Whether it is hunting, fishing, camping, hiking, law enforcement, or jogging, the 16000 lumens light will deliver. It is also compact and easy to hold and use. When you acquire this LED flashlight, you will never be disappointed, especially on a totally dark night. It is a true definition of a tactical flashlight.
FAQ
Question: What does the OLED display do?
Answer: It shows various settings and parameters such as voltage, charging status, output, and overheating warning. In short, it makes you be aware of your flashlight ad in total control of it. As a result, the flashlight won't overheat without you knowing, or the battery gets drained without your knowledge.
Question: Is this flashlight waterproof?
Answer: Yes, it is. Just like the Klarus G20 high lumens flashlight, the Imalent DT70 has a waterproof rating of IPX-8. This means that it can stay in water up to 2 meters for more than 30 minutes, working perfectly.
Still, have a question after reading this Imalent DT70 Review article? Comment below.