With so many tactical flashlights on the market, picking a quality light can be quite a daunting task. That's why we've created this review about the Imalent DN35 tactical rechargeable flashlight. The Imalent DN35 tactical flashlight is different from other rechargeable flashlights in that it is compact but still very powerful. Read this Imalent DN35 review to know more about this handheld flashlight.
Don't let the size of this flashlight confuse you. It produces a striking 2200 Lumens, which is higher than the Imalent DT70 flashlight, making it be very powerful and bright. The rechargeable LED tactical flashlight is also powered by a 26650 Li-ion rechargeable battery with a capacity of 4500mAh and a maximum run time of 50 hours.
Technical Specifications of the Imalent DN35 Flashlight:
Features

Imalent DN35 Handheld Torch

Lumens:
2200 lumens
Type of Bulb:
LED
Lifespan:
Up to 50000 hours with maximum
Waterproof:
IPX-8 standard waterproof (2 meters submersible)
Rechargeable Battery:
Brightness anti-reverse battery with USB charging
Material:
Aluminum
Output Levels:
Turbo 2200lumens: 2h10min;
High 1500lumens: 2h50min;
Mid 450lumen: 4h30min;
Low 20lumens: 50h;
Batteries:
4500mah Li-ion rechargeable battery (included)
Average Battery Life:
One year
Price:
Check Price
You will definitely fall in love with this flashlight as you can use it for a wide range of purposes. You can make it your camping light, security light, search light, hunting light, fishing light, or even use it on construction sites.
Related article: Check the review of Nitecore P12GT compact tactical LED flashlight
Features of the Imalent DN35 LED Flashlight
Aerospace-grade aluminum alloy body
Type III hard-anodized surface treatment
Uses CREE XHP35 HI LED with a 50,000 lifespan
IPX-8 standard waterproof
The built-in thermal control module
Optimized deep metal reflector
5m impact resistant
Toughened ultra-clear and anti-reflective coating glass
Tail stand function
OLED display shows flashing overheat warning and charging status
My Thought After Using Imalent DN35 Flashlight
Durability is better than Fenix LD02 and Kalarus Mi7
The Imalent DN35 LED flashlight is sturdily made to withstand the daily wear and tear of outdoor use. This is because it is made of Aerospace grade aluminum alloy and has a type III hard-anodized surface treatment. So the light has a better lifespan than the Fenix LD02 chain flashlight and Klarus Mi7 small lights. With such construction, you will use this flashlight for years before having to purchase a new one.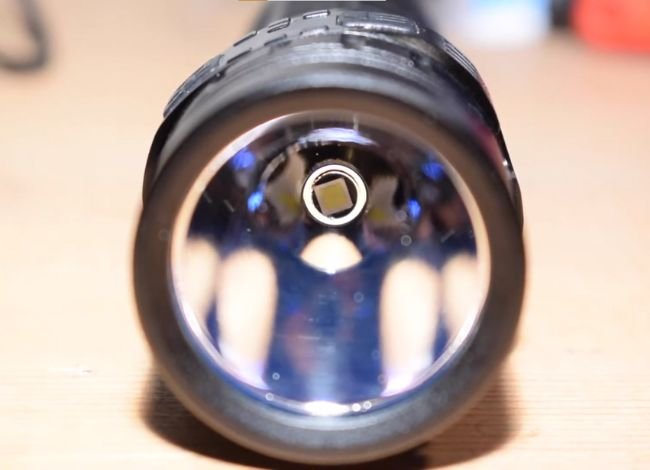 Brightness lacking after 3 months of use
The small size of this flashlight should deceive you. This is an extremely bright light that will instantly disorient an attacker if flashed in their eyes. It produces an astonishing 2200 lumens and covers up to 596 m. Its upgraded Imalent DX80 flashlight produces a ridiculous 32000 lumens that can cover a huge distance. But the brightness reduced by 10-20% after 90 days of use.
Versatile flashlight with 4 brightness levels and 3 special modes
Whether you want low, medium, high, or turbo modes, you can easily access them by pressing the switch. Also, it features 3 special modes, which are Beacon, SOS, and strobe modes. These make the flashlight to be very versatile.
Waterproof, but don't submerge it
It is hard to use a flashlight without dropping it. So, why not get a flashlight that can resist the impact of up to 1.5 meters like the Imalent DN35? Also, things like rainfall can never be fully planned for, especially when out camping or fishing. But with a waterproof light, you can be relieved to know that it will still work even if it starts to rain abruptly.
Related article: Features you can find in Nitecore p12gt compact LED flashlight.
The lightweight and compact design impressed me
This USB rechargeable led tactical flashlight is not a burden to have at all. This is because it's compact and lightweight for easy use and carrying. It will fit in your hand well, and you can easily slide it into the pocket. Also, it has an advanced temperature control module that will automatically adjust the brightness.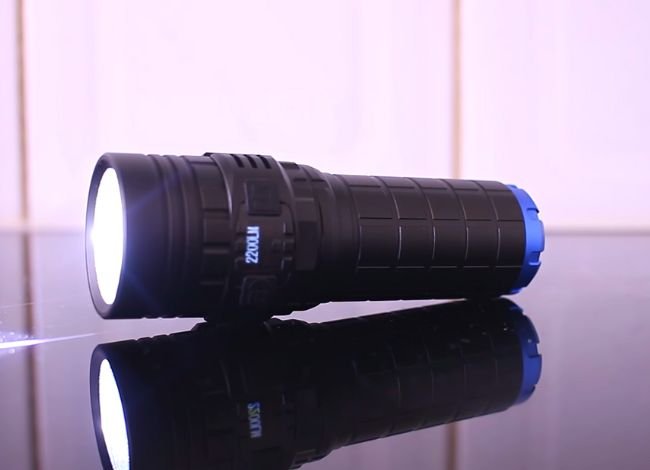 Intelligent thermal control prevents overheating
When the flashlight overheats when being used in the higher modes, it tends to get hot quickly. The intelligent control feature ensures that this doesn't damage the light by adjusting the modes. With a maximum output of up to 2200 lumens, dn35 is a versatile flashlight that is easy to operate.
You will get 5-year warranty
The manufacturer will give you a 5-year warranty when you purchase this flashlight. So, in case of a defect in parts or workmanship, you will be covered fully.
Why buy Imalent DN35 led flashlight?
Sturdily constructed for longevity.
Very bright light for its size
It is both waterproof and impact resistant.
DN35 can be used for a wide range of uses with the 4 light modes and 3 special modes
It is lightweight and compact for everyday carry.
Anti-reverse battery protection prevents bad battery installation
Anti-reflective coating glass ensures that the beam spreads wide and far
Convenient to use with the USB rechargeable system
This versatile USB rechargeable led light comes with a 5-year warranty
Cons of the Imalent dn35 flashlight

It gets hot within 3 to 4 minutes of use in the high modes
The on/off switch is not easily identified in the dark
Bottom line
a small and powerful LED flashlight that you can rely on when there is total darkness out there is not easy. But the Imalent DN35 rechargeable flashlight has proven that nothing is impossible. Also, it is more lightweight than the Fenix E11 130-lumen flashlight. This EDC light produces a maximum of 2200 Lumens which reaches over 596 meters. The flashlight features a high-efficiency constant power circuit that helps to maintain constant brightness and Anti-reverse battery protection. As a result, this flashlight is ideal not only for daily use but also for tactical use.
However, the flashlight has a switch that is difficult to detect in the dark and makes lighting on/off the light to be challenging. Apart from that, this powerful and reliable light can withstand difficult conditions like dropping or rain.
FAQ
Question: Does this flashlight come with a warranty?
Answer: Yes, it does. The 2200 Lumens flashlights come with a 5-year warranty. Also, Imalent provides a one-year warranty for its battery and charger. Therefore, you can be assured that this is a high-quality and durable flashlight to use.
Question: Can I use this flashlight when it's raining?
Answer: Yes, you can. Since the flashlight is rated as IPX8, you can use it in rainfall without worrying about its performance or damage. You can also use it underwater for up to 2 meters for 30 minutes.