When you open my everyday carry backpack, you will get a Multitool, a mobile phone, a tactical pen, a folding knife, and a Fenix UC35 flashlight. These are items that I feel I must have with me wherever I go to. In this Fenix UC35 review, we have elaborated on the UC35 flashlight so that you can know more about it. Check Price
Similar to many tactical flashlights, the UC35 light is built for tough use, and that's why it can resist water and impact. This flashlight is built for law enforcers, hikers, campers, and military personnel and for general use.
Fenix UC35 (V1 vs. V2.0): Most of the features are quite the same between the Fenix UC35 V1 and V2.0. The difference exists in weight and maximum brightness range. The maximum beam distance range of the Fenix UC35 V1 is 200m, while the range of the V2.0 is 266m.
Download Fenix UC35 User Manual
USB Rechargeable Fenix UC35 Light: Our Review
The sturdily constructed Fenix UC35 v2.0 lighting is a reliable flashlight with a very bright light. It is made of an aircraft-grade aluminum body with a dual control system. Just like other Fenix lighting products, the UC35 LED flashlight is powerful, bright, and comes with a warranty. The survival light uses rechargeable batteries that can be rechargeable via a micro USB cable or port. Read its features and benefits below.
Fenix UC35 flashlight specs:
Maximum of before 960 Lumens, now 1000 lumens
Tactical tail switch with momentary-on function
Side switch with battery life indicator
Micro USB charging via Micro USB port
Uses Cree XM-L2 LED with a lifespan of 50 000 hours
Low-power warning function
Waterproof up to IPX8 rating
Impact resistance up to one meter
Technical Features of the Fenix UC35 Flashlight
| | |
| --- | --- |
| Features | Fenix UC35 rechargeable flashlight |
| Maximum Brightness: | 1000 (before 960) lumens |
| Minimum Brightness: | 14 Lumens |
| Maximum Run-time: | 150 hours (14 lumens on a full charge) |
| Minimum Run-time: | 1 hour & 30 minutes (960 lumens) |
| Beam Distance: | 200 Meters |
| Modes: | 3 (14, 50, 180, 480, 960 lm) |
| Battery includes: | Yes (Two CR123A Lithium & 3200mAh rechargeable batteries with battery indicator) |
| LED: | Cree XM-L2 (U2) (V2.0: Cree XP l HI) |
| Body: | Aircraft-grade aluminum |
| Waterproof standard: | IPX-8 (Underwater 2 meters) |
| Length: | 150 mm |
| Weight: | 126 grams |
| Price: | Check Today's Price On Amazon |
Benefits and shortcomings of the Fenix UC5 LED flashlight
The first thing to look for in a flashlight is its durability. After all, you will be carrying it on a daily basis. Flashlights are used in the toughest of situations and are more likely to drop or crash during use. Therefore, it is important that you purchase a sturdily-built flashlight. Also, you can either use CR123A batteries or a single MAH 18650 battery to get better run-time.
Construction
The Fenix UC35 is made of durable aircraft-grade aluminum. This is a durable and lightweight material. It can defy the hardships of tactical life and is not a burden to carry. Moreover, the light is made of a premium type III hard-anodized anti-abrasive finish. The toughened ultra-clear glass lens with an anti-reflective coating protects the LED from being spoiled. This is the top-selling light, like the Fenix pd35 flashlight.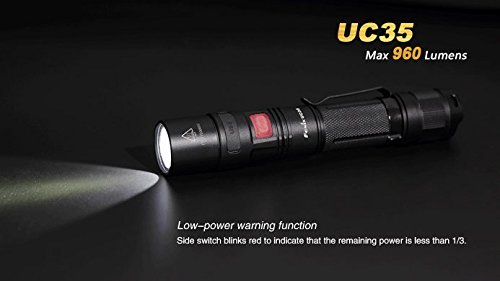 Check Price
Brightness
If you are a person who works in dark areas or loves to come home late, then you need very bright light. The Fenix UC35 rechargeable flashlight produces a very powerful light with a maximum of 1000 Lumens. Also, the beam covers a maximum distance of 200 meters. You just have to select from the 5 different brightness levels, including eco, low, medium, high, and turbo light modes. These are all produced by the powerful and indestructible Cree XM-L2 (U2) LED. It has a maximum lifespan of 50000 hours.
Rechargeable or not?
When you use the flashlight more often, you will have to recharge or replace the battery. A rechargeable flashlight is always better than a non-rechargeable flashlight. Hence, it's better to have a reliable light like the Fenix UC35. Fenix uc35 v2.0 flashlight has a long run time of 150 hours. On turbo mode, the flashlight can last for a maximum of 1 hour and 30 minutes. The low-voltage warning function will remind you to blink when the battery is low. It is in the form of a solid red indicator that flashes when the battery gets below 33%. There are various types of batteries to use. You can either insert one MAH 18650 rechargeable Li-ion battery or two Lithium 3V CR123A batteries. The indication light changes from solid red to solid green when the battery is fully charged.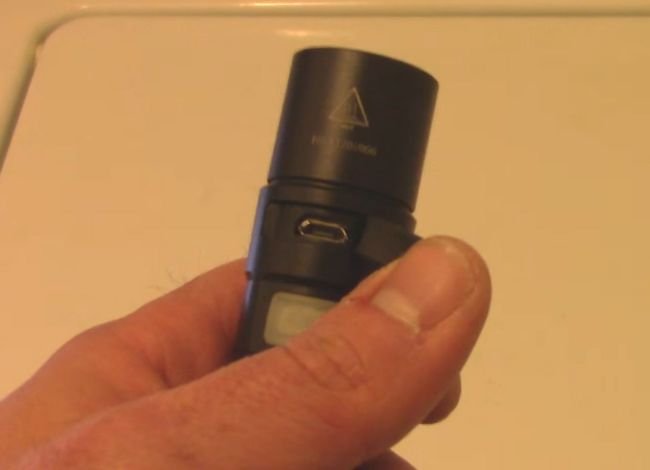 Similar to many tactical lights, the Fenix UC35 is a great tool for having in the hour of need. Its tough construction can be used to heat an assailant. Also, it comes with a strobe mode, which is used to disorient enemies before you can run away. If you are an emergency responder, you can use the SOS mode. In addition, the SOS mode can be used when you are lost and want to be found. Such features make tacticians and outdoor enthusiasts love this flashlight.
Polarity Protection!
In the past, flashlights came with just a handful of features. But today's flashlights have a wide range of features, as we are about to see with the Fenix original UC35 rechargeable light. The UC35 has reverse polarity protection that guards the light against bad battery placement. Your flashlight will never be damaged, even if you insert the battery in the opposite way. Furthermore, it has a digitally regulated output, which maintains constant brightness. Another outstanding feature of the UC35 flashlight is the over-heat protection. This prevents the flashlight from getting very hot as it adjusts the light to a lower mode.
Related article: Fenix UC30 Review: USB Rechargeable LED Flashlight
Tactical tail switch
Whether you are used to tactical flashlights or just a novice, using Fenix uc35 v2.0 light shouldn't be a problem at all. The Fenix UC35 has a tactical tail switch and a side switch. The tail switch comes with a momentary-on function, and it is located in the tail cap. At the same time, the side switch is found on the head of the flashlight. To use this light, insert the batteries in the battery compartment and press the tactical tail switch. The light will turn on, and you can use the side switch to cycle through the different light modes. The MOONLIGHT mode of 1 lumen is perfect for night-adjusted eyes. With its anti-slip and anti-roll design, the flashlight will stay firm in your hands during use.
Waterproof & Resistant
Using a flashlight outdoors can be very challenging. This is because a person is faced with bad weather conditions like rain. Also, the flashlight is more likely to fall, crash, or even encounter dust in a cold or hot environment.
Thus, acquiring a durable and highly rated light like UC35 is important. The UC35 LED flashlight is rated with IPX8. This means that it can be immersed underwater for 30 seconds up to 2 meters. Also, it is impact resistant up to 1 meter. So, you can drop it several times, and it will still function.
Use as EDC light
It is important that you keep your most precious EDC item safe and secure. Even though the UC35 960 Lumen flashlight is durable, you still have to ensure that it is kept safe after use.
Check Price
Related: Best EDC Flashlight (Warning! Don't buy without Checking this List)
Brand Reputation
Fenix is a top brand and a favorite of many. This is because the brand is known for its quality, power, and sturdy flashlights. They have various flashlights on offer, and UC35 is one of them. Besides offering quality flashlights, the brand has great customer support and cares about its clients. For instance, the Fenix UC35 has a lifetime limited warranty. This means that you will always get support from the brand as long as you don't tamper with the warranty terms.
This powerful and sturdy LED light from Fenix has all the aspects of a powerful and tactical light. Fenix lights feature a friendly user interface with an integrated battery level indicator. It uses a powerful Cree XM-L2 LED that is indestructible and will work for more than 50 000 hours. When you are in a very dark place, the light will provide you with an overwhelming brightness with its 1000 Lumens. The light beam covers more than 200 meters, which is amazing. The aircraft-grade aluminum body is rated as an IPX8 waterproof rating. With such specs, this is a quality light to have with you for any unexpected outcome.
Fenix PD35 V2.0 vs. Fenix UC35 V1: Quick Comparison
| | | |
| --- | --- | --- |
| Features | Fenix PD35 | Fenix UC35 |
| Maximum Brightness: | 1000 Lumens | 960 lumens |
| USB Rechargeable: | No | Yes |
| Low-voltage stepdown: | Quick | Long |
| Maximum Throw Distance: | 820 feet | 656 feet |
| Batteries included: | No | Yes |
| Length: | 5.4 inches | 5.9 inches |
Conclusion
The light comes with a holster for easy and secure storage. Apart from that, it has a pocket clip that you can attach to your belt or even pocket. And still, if you want to keep it away from ogling eyes, you can keep it in your pocket as it is compact and lightweight. Always keep the flashlight secure if you're not using it so that it can last longer.