Fenix is one of the best flashlight brands on the market. It has lots of high-quality and powerful flashlights for different needs and users. Whether it is hunting, everyday light, security lights, lanterns, headlamps, or penlights, you will get what you're looking for at Fenix flashlights. In this Fenix TK20R review, we're going to look at the Fenix TK20R 1000 lumens flashlight.
Fenix Brand introduced different flashlights, including Fenix E05, Fenix E12, and Fenix TK16. But this flashlight is suitable for different scenarios due to its quality construction and reliability. It is powered by either 2x CR123A batteries or one 18650 rechargeable battery. Moreover, the flashlight has 4 light modes and a strobe mode for a wide range of uses.
Fenix TK20R v2.0 vs TK16 vs PD35 Tac
| | | | |
| --- | --- | --- | --- |
| Features | Fenix TK20R V2.0 | Fenix TK16 | Fenix PD35 Tac |
| Max Brightness: | 3000 Lumens | 1000 Lumens | 1000 Lumens |
| Max Distance: | 475m | 240m | 240m |
| Bulb Type: | Luminus SFT70 LED | Cree XM-L2 U2 LED | Cree XP-L (V5) LED |
| Lighting Modes: | 5 brightness levels + strobe | 4 levels + Strobe | 5 Modes+ Strobe |
| Length: | 6.02 inch | 5.5 inch | 5.4 inch |
| Intensity: | 56600cd | 14480cd | 10000cd |
| Battery: | One 21700 | 2xCR123A/1×18650 | 2xCR123A/1×18650 |
Quick Overview:
If you intend to use it in the wild, it will sustain you as it is resistant to water and impact. With features like reverse polarity protection, overheat protection, low-voltage warning, and digitally regulated output, this is a light that you can rely on when you need it most.
Related article: Check the feature details of Fenix UC30 and UC35 flashlights
But before you decide whether to purchase this flashlight or not, it is better to look at some of its extra features, pros, and cons.
Features
Made of durable aircraft-grade aluminum
Toughened ultra-clear glass lens with anti-reflective coating
Premium type III hard-anodized anti-abrasive finish
Utilizes Cree XP-L HI V3 LED with a lifespan of 50 000 hours
Low-voltage warning
Maximum output of 1000 lumens
Overheat protection
Reverse polarity protection
339-yard beam throw
Side switch for side selection
Digitally regulated output
IP68 waterproof
1-meter impact resistant
5-year warranty
Technical Specifications of the Fenix TK20R LED Flashlight:
Features

Fenix TK20R Flashlight

Lumens:
1000 lumens
LED:
CREE XPL HI V3 LED
Supported Battery:
1 x 18650 (included), 2 x CR123A
Maximum Beam Distance:
339 yards / 310 meters
Maximum Beam Intensity:
24,000cd
Battery Run Time:
Turbo: 1000 lumens / 1 hr 50 min
High: 350 lumens / 4 hr 20 min
Mid: 150 lumens / 11 hr
Low: 10 lumens / 160 hr
Uses Cree XP-L HI V3 LED with a lifespan of 50,000 hours
Waterproof:
Yes (IP68, 1m submersible)
Warranty:
Five year
Price:
Check Price
Our Review
How bright is the Fenix TK20R flashlight?
The primary function of any flashlight is to provide light. So, why not go for a powerful light since you will need it most of the time? The Fenix TK20R produces a very powerful light on a maximum of 1000 lumens. Also, it comes with a very durable and reliable LED in the CREE XPL HI V3 LED with a lifespan of 50000 hours. LED bulbs are very durable and indestructible, making the light to be extremely durable and reliable in times of need, like when chasing a thug in the dark.
Is the flashlight durable enough?
Made of durable aircraft-grade aluminum, this is a flashlight that you will depend on while in the bush or during hiking. Aluminum is not only a strong metal but also lightweight. Thus you won't have any burden carrying it in your backpack or pocket.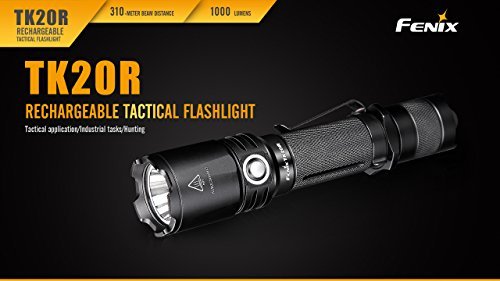 Check Price
The flashlight is also made of a toughened ultra-clear glass lens with an anti-reflective coating. This not only makes the light to be clear but also houses the LED bulb. With the premium type III hard-anodized anti-abrasive finish, the flashlight is well-protected and won't rust or corrode easily.
What type of battery is required?
What I like most about this 1000-lumen flashlight is its convenience. It is brighter than the Fenix UC35 LED tactical flashlights. You can either use the 2x CR123A batteries or just 1x 18650 rechargeable batteries. Different batteries offer different run times, with CR123A providing a higher run time than the 18650 battery. Additionally, recharging the batteries is easy as the unit comes with a Micro USB charging port, and you don't have to remove the batteries. This is for only rechargeable batteries.
Does Fenix TK20R flashlight have a strobe mood?
The Fenix TK20R tactical flashlight is suitable for different activities. This is because it features 4 different light modes and a strobe mode. The low mode is great for reading a map, while the turbo mode is good for lighting a dark path or alley. The strobe mode can be used to disorient an enemy or to identify your location when lost in the woods.
Is Fenix TK20R light water and impact resistance?
Not all flashlights that claim to resist water or impact actually do so. Some may fail you but not the TK20R rechargeable flashlight. It is more durable than the Fenix UC30 USB flashlight. Its Dual layer body will allow you to immerse this flashlight in water up to 2 meters, and it will still function exceptionally. Also, it has the ability to resist the impact of up to 1 meter. As a result, you can use it for tactical reasons without worrying about dropping it.
What is the maximum runtime?
Fenix tk20r comes with a USB charging cable with a micro USB port. As we said earlier, this rechargeable flashlight uses two types of batteries, which are the rechargeable 18650 battery and the CR123A batteries. CR123A batteries offer 1 hour, 50 minutes on 1000 lumens, and 160 hours on 10 lumens. On the other hand, the 18650 battery can run for 1 hour, 30 minutes on 1000 lumens, and 135 hours on 10 lumens. It is good to use rechargeable batteries but also safe to carry the CR123A batteries just in case you go where there is no charging option.
What are the additional features?
Even with all the lovely features that we've discussed above, this flashlight offers more advanced features than other models like Fenix LD02 100 Lumens mini key chain flashlight. Other amazing features that make this flashlight to be fun and more reliable to use include reverse polarity protection for improper battery installation, overheat protection to prevent the high temperature of the surface, and a low-voltage warning to remind the user when the battery is getting low.
Does the flashlight offer a warranty?
The best part about using this flashlight is that the manufacturer offers a 5-year warranty. This assures the user that the product is of great quality and very reliable.
Why buy a Fenix TK20R USB rechargeable flashlight?
Fenix tk20r flashlight is durably constructed to withstand tough conditions.
It is very bright with a maximum of 1000 lumens.
Reaches far with a maximum of 339-yard beam coverage
Has reverse polarity protection to protect the battery when wrongly placed
Versatile in use with the 4 light modes and strobe mode
Easy to use with back switch and side switch for cycling through different light modes
Overheat protection avoids high temperatures on the surface
Low-voltage warning lets you know the level of the battery
It is both impact and water-resistant
It comes with an excellent 5-year warranty for assurance
Cons:
It doesn't come with a tail stand for camp use
Conclusion
If you've been looking for a flashlight that you can rely on for your daily lighting needs, then the Fenix tk20r rechargeable flashlight will be good for you. This tactical flashlight will offer a great level of brightness and still defy impact and water from destroying it. The Fenix TK20R is also compact and lightweight, making it ideal for everyday carry.
Related article: Check the review of Fenix PD25 550 lumen led flashlight
Whether you want a hunting light, security light, camping light, or just your home light to use during a blackout, this flashlight will be a great fit for you. Besides, the flashlight is made by a reliable brand, and it offers a 5-year warranty. Apart from lacking tail stand capability, you can use the TK20R for almost anything.
FAQ
Question: Can I use the side switch to turn the flashlight on and off?
Answer: No, you can't. The only way to turn or switch on the flashlight is by pressing the back or tactical tail switch. The side switch is for changing light modes from low to strobe.
Question: Is it possible to turn on the strobe mode using the back button?
Answer: It is not possible. The back button is for switching the light on. In order to access the strobe mode, you will have to cycle through the different light modes, which are low, medium, high, turbo, and then strobe mode.
Question: Can the flashlight tail stand?
Answer: No, it can't. This is because Fenix tk20r rechargeable flashlight doesn't have a balanced tail cap for tail standing. So, if you want a tail standing light, then you will have to look at Fenix PD32 tail stand flashlight.