For the many years that I've been using flashlights, Fenix flashlights have never disappointed me. The Fenix LD22 is a small flashlight. It is perfect for everyday carry. Although LD22 is not a bright light, 215 lumens is good enough to remove darkness from your path. If you want a compact flashlight for everyday use, then buy this light. Read this Fenix LD22 review to know more about this small flashlight.
Related: Fenix E12 Review: The 130 lumen led flashlight(Upgraded from E11)
Technical Features of the Fenix LD22 Tactical Edition Flashlight
Features
Fenix LD22 AA Flashlight
Maximum Brightness:
215 lumens
Minimum Brightness:
3 Lumens
Maximum Runtime:
150 hours (3 lumens)
Minimum Runtime:
2 hours 30 min. (215 lumens)
Beam Distance:
113 Meters
Modes:
3 (215, 105, 3 lumens)
LED:
Cree XP-G2 (R5)
Body:
Aircraft-grade aluminum
Waterproof standard:
IPX-8 (2 meters)
Length:
155 mm
Weight:
60 grams
Battery Include:
Yes (Two Lithium-ion)
Price:
Check Price
Fenix LD22 Review(video):
One thing that I like about Fenix is that they always come up with sturdy and reliable flashlights. Their flashlights are usually constructed of aircraft-grade aluminum bodies and have a toughened ultra-clear glass lens. In addition, they use the latest CREE LED technology, and thus their flashlights are always bright and reliable. Moreover, they include features like reverse polarity protection, over-heat protection, and a wide range of light modes.
The Fenix LD22 is similar to most Fenix flashlights in many ways. First of all, it is compactly designed for easy use. It has an anti-roll and slip-resistant body. Its sleek design makes holding and using it to be effortless and fun. Also, it has 6 output modes with strobe and SOS modes included. The strike bezel on the front of the torch is for hitting assailants, and the pocket clip is for attaching the flashlight when not in use.
Quick Overview of Upgraded Fenix LD22 LED Light:
Made of aircraft-grade aluminum
Uses Cree XP-G2 LED with 50,000 hours lifespan
Toughened ultra-clear glass lens with anti-reflective coating
Premium type III hard-anodized anti-abrasive finish
Digitally regulated output
Reverse polarity protection
Intelligent memory circuit
Weighs 72 grams, excluding batteries
Limited lifetime guarantee from Fenix Lighting, US
Fenix LD22 Flashlight Features and Benefits
Depending on what you intend to do with the flashlight, you can choose from the various 6 modes that it has. These are low, medium, high, turbo, SOS, and strobe mode. SOS is for emergency responders, while the strobe mode is for disorienting an attacker.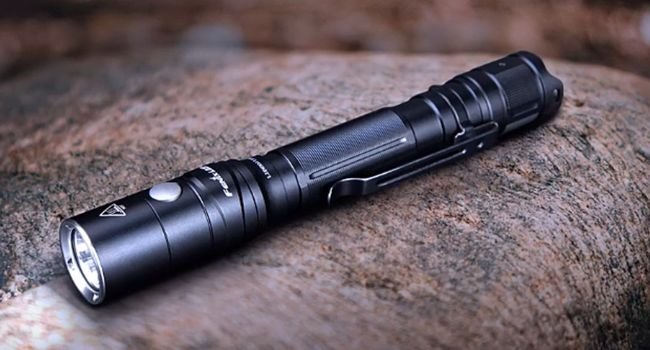 Is Fenix ld22 Durable Enough?
Every Fenix flashlight is sturdily built of lightweight, durable aircraft-grade aluminum. This material is not only durable but also lightweight. As a result, you will never feel the burden of carrying a flashlight.
The Flashlight is Waterproof But…
Are you a diver? This flashlight will still suit you as long as you don't dive beyond 2 meters and for 30 minutes. It is as well impact resistant up to 1 meter. So, no matter how many times you drop it from that range, it will still function exceptionally.
The bulb will ensure that you have constant white light for many years to come. It has a lifespan of 50,000 hours, and the brightest light reaches up to 113m. This is great for such a small flashlight.
Extremely bright light with a maximum of 215 Lumens
Your path or room will never have dark patches again with the LD22 flashlight. This torch produces very bright light when switched to high or turbo modes. It produces a maximum of 215 Lumens, enough to light an entire camp for 2 hours and 30 minutes. If you need a more compact and less lumen flashlight, then Fenix LD02 mini is for you.
Dual switch for quick and easy access
Using the LD22 LED light is easy and seamless. It has a tactical tail switch for the momentary-on function. The second switch is the side switch, which is utilized to cycle through the different light modes. This is found on the head of the flashlight.
Intelligent memory circuit
This feature allows your flashlight to remember the last output mode that the flashlight was on before being switched off. It will switch to that mode immediately after you light it on.
Reverse polarity protection
In case you improperly place the batteries in the battery compartment, the reverse polarity protection will prevent the battery from damaging the flashlight.
Powered by two AA batteries
This flashlight can be powered by two AA batteries. These are not included in the purchase. You can decide to use Ni-Mh or Alkaline batteries. Ni-Mh batteries have a longer run time and are more powerful than alkaline batteries.
When you purchase this flashlight from Fenix, you will be given a lifetime limited warranty. This is great from Fenix as you will have lifetime support. So, if the flashlight has an issue, you will get the much-needed help.
Alternatives: Fenix ld20 vs. ld22
Fenix ld20 maximum lumens is 180, and the Fenix ld22 maximum lumens is 215. Other features are almost identical. Difference Between ld20 and ld22:
| | | |
| --- | --- | --- |
| Features | LD20 Flashlight | LD22 300 lumens Light |
| Maximum Brightness: | 180 lumens | 215 lumens |
| Minimum Brightness: | 5 lumens | 3 lumens |
| Beam Distance: | 135 Meters | 113 Meters |
| Maximum Runtime: | 100 hours (5 lm) | 150 hours (3 lm) |
| Minimum Runtime: | 2 hours 16 minutes (180 lm) | 2 hours 33 min (215 lm) |
| LED: | Cree XP-G | Cree XP-G2 (R5) |
| Modes: | 2 | 6 |
| Battery Include: | Yes | Yes |
| Weight: | 60 grams | 60 grams |
| Price: | Check Price | Check Price |
Nitecore mt2a vs. Fenix ld22 Flashlights
| | | |
| --- | --- | --- |
| Features | Nitecore mt2a | Fenix ld22 |
| Max Output: | 345 lumens | 300 lumens |
| Max Beam Distance: | 152 m | 120m |
| Max Runtime: | 50 h | 90-100 hour |
| Special Modes: | SOS & Strobe | Turbo, Strobe, and Medium |
| Weight: | 2.36 oz/67 g | 2.5 oz/72 g |
| Brightness in Turbo Mode: | 345 lumens | 300 lumens |
| Brightness in High Mode: | 138 lumens | 100 lumens |
| Medium Mode: | 55 lumens | 30 lumens |
| Brightness in Low Mode: | 17 lumens | 5 lumens |
Is the Fenix LD22 Flashlight Really Worth It?
Having a flashlight that you can rely on at all times and in all situations is crucial. The Fenix LD22 215 Lumen flashlight is a reliable and durable light. It is well built for use in hard situations such as in the rain or outdoor. So, it doesn't matter if you are a hunter, hiker, bicycle rider, camper, or even a security guard; this flashlight will still be of great help to you. Simply switch to the light mode of your choice, and you are good to go. On top of that, the LD22 comes with a lifetime limited warranty. So, when my son bought me a Fenix LD22 as an Easter gift, I was appreciative as I knew that I would greatly benefit from it. One year later, the Fenix LD22 LED flashlight is still strong as it was when I received it.
The Fenix LD22 is a small flashlight for everyday carry. Still, have a question after reading this Fenix LD22 review? Comment below.