Generally, an EDC light does not contain maximum lumens above one thousand. But the Fenix E30R has this quality with which it can provide a total of 1600 lumens. So this Fenix E30R review article will bring the flashlight's features, benefits, and limitations to perfectly judge the product.
This great tactical flashlight includes a lock-out function so that the user can save the device from any accidental illumination automatically. With the help of E30R, you can experience intelligent overheat protection, which is very helpful when the light is getting very hot due to random operation. The magnetic charging port takes a little time to be charged. Also, this versatile gadget serves voltage indicator to know/show the status of voltage. Apart from these, It allows a single button for the entire operation to conveniently maintain the light. Moreover, it provides a coating with Automobile ultrathin optical lens.
Fenix LD30 vs. E30R Flashlight Comparison
| | | |
| --- | --- | --- |
| Features | Fenix ld30 | Fenix e30r |
| Magnetic Charging: | No | Yes |
| Type: | Clip | Hand |
| Splash Proof: | Yes | No |
| Shockproof: | Yes | No |
| Width: | 4.29 Inch | 3.9 Inch |
| Depth: | 1 Inch | 0.85 Inch |
| Weight: | 2.08 oz | 1.8 oz |
| Tail stand: | No | Yes |
| Side Switch: | Yes | No |
My Experience with the Fenix E30R EDC Flashlight
This small, handy flashlight ensures qualitative features with outstanding performance to make your life easy and stressless. The most exciting thing is that this light contains these brilliant staff at a significantly lower price. So let's consider some important characteristics to make a sensible decision on the Fenix E30R.
Lock-out function?- Yes
This Fenix flashlight has a distinctive feature of the lock-out function that can enhance the safety of the light. This function cares about the device that it can not automatically or accidentally turn on. This lock-out function comes with only a double press. If you use a flashlight, you can understand the importance of this feature. With the help of this aspect, you can protect energy or battery power from being wasted. 
Overheat Protection?-Yes
For regular and random use, the flashlight may be very hot. High temperatures can cause a reduction in brightness. So you have to cool the device when the temperature rises. 
Though all of the flashlights in the market may not have this feature of automatic cooling technology, you can get this outstanding feature with this flashlight. It cools the light when the gadget gets overheated. 
Extended Runtime- Max 70.5 hours
Most of the time, a significant feature of an ideal device is based on its runtime. Observing the runtime, a potential consumer decides to buy this product. In the case of a tactical flashlight, the runtime means a lot.
With the Fenix E30R tactical flashlight, you can experience 1.5 hours with turbo for 1600 lumens, 1.92 hours with high for 800 lumens, and 5.5 hours with 350 lumens. Apart from these, the flashlight allows enjoying 17.5 hours with low mode for 150 lumens and 70.5 hours with eco mode for 30 lumens. With the strobe mode, this light supplies 600 lumens. 
Low Voltage Warning?- Yes
The Fenix E30R has the characteristic of displaying voltage status. The device informs you when the battery power remains low. Moreover, you can understand when battery replacement is required. 
Instant power loss may call any danger in a critical situation. This brilliant feature protects you from instant power loss. Every flashlight must have this unique feature so that the user can take precautions. 
Side Switch Control- No!
It is effortless and convenient to operate this E30R due to the very straightforward management system inside the flashlight. You can execute the entire process through only one switch, from turning the light on to turning the light off and changing the brightness level. With this feature of the device, you can be faster and more speedy in operating this tactical flashlight. This all-in-one button will assist you in taking the lock-out mode in a hurry. 
Waterproof?- Not Really!
A tactical light must have such characteristics to prepare itself to serve its best in any challenging situation. One of the vital commitments of the flashlight is to have a waterproof feature. Otherwise, it is not possible to perform best. Like the Fenix e18r, the Fenix E30R tactical flashlight includes an IP rating of IP68. So it is fully submersible for up to thirty minutes and entirely submersible down to two meters. 
Design and Attitude- Compact
Undoubtedly the flashlight makes you feel very comfortable and relaxed with its gesture and attitude. The light is just 3.9 inches in length, 0.8 inches in body size, and 1.0 inches in the head. On the other hand, the E30R has just 1.8 oz of excluding battery. Moreover, it contains a Premium type HAIII hard-anodized anti-abrasive finish as well as durable, high-strength oxidation-resistant aluminum.
So this lightweight gesture can reduce any hassle of bearing the light for a long time. In any difficulties, you can able to keep it with only one hand, and there is no need to have another person to assist you in holding this. 
Emergency Modes- Enabled
Apart from five different brightness levels, the E30R has a mode that is for an emergency period. The emergency mode is called the strobe. The other five modes are named turbo, high, mid, low, and eco. According to your preference, the ways will be running. For a tiny space, there should not be more brightness. Instead, it can cause damage to your retina due to excessive brightness.
Performance of Fenix E30R Flashlight: Our Review
The Fenix E30R tactical flashlight includes 222 yards of peak beam distance with 10302 cd peak beam intensity. Moreover, the device contains SST40 LED and 1m impact resistance. The light has L-3.8″x W-0.85″x H-1″ dimension. With a very smart and convenient charging procedure, the E30R serves a Fenix 3500 rechargeable 18650 battery. You can get 1600 Lumens for the visibility of a distance of 665 ft. The flashlight provides 0.85 Inches of cutting diameter and five years of warranty.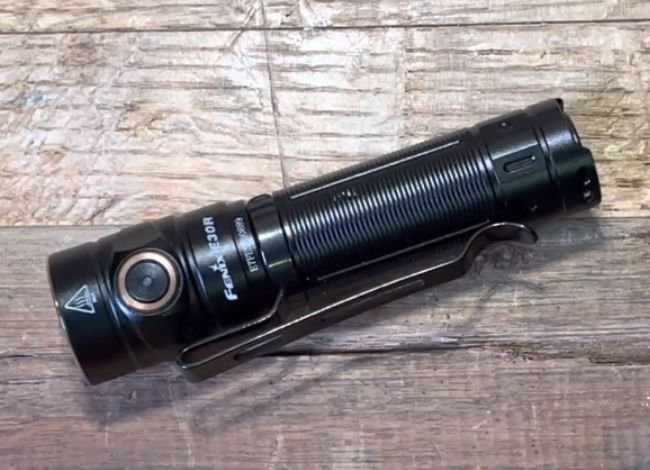 Now be ready to consider some benefits and detriments of the flashlight. This Fenix e30r review section will help to make a sensible decision on the light. 
Benefits
With the device, you can get excess lumen power compared to its cost. 

It offers a waterproof gesture with which you can work in a waterside area.

This durable product is very lightweight and compact to carry.

With the help of only one switch, you can operate the device.

The Fenix E30R provides the opportunity to enjoy a lock-out function.

The overheat protection feature makes the gadget more reliable and intelligent.

E30R can give you voltage warning as well as battery warning indicators to check out the level of voltage or power instantly. 
Detriments
It has no moonlit mode to illuminate.

Unlike the Fenix TK16 light, there is a lack of pressure switches in the E30R.
Final Thought on Fenix E30R Flashlight
All these intelligent and excellent features can make your daily life more grateful and easy. At a lower price, you can get maximum satisfaction with the Fenix E30R. Furthermore, you can enjoy most of the merits with this flexible pocket tactical torchlight that an ideal tactical light provides. It may help you when you are on a tour, camping, on hill tracks, trip in the jungle, or any type of trouble in the dark. Overall you can experience a qualitative performance with this versatile product. So your journey with the Fenix e30r EDC flashlight will be stressless and happy.