If you are one of those guys who love small, everyday carry flashlights, then the Fenix e05 LED light will be an ideal selection for you. Fenix is a famous brand with lots of quality flashlights on offer. The Fenix e05 flashlight is small in size but still performs outstandingly. You can easily keep it in your pocket, and you won't feel any burden. It is also very easy to use with its twisty switch. If you want an exceptional everyday carry light at a great price, then this is the flashlight for you. However, the E05 maximum lumen is only 85, but still enough to shine your path. It is operated with a single AAA battery. But if you need a high lumen flashlight, then check the best Fenix flashlight article. Read below this Fenix E05 review to know more.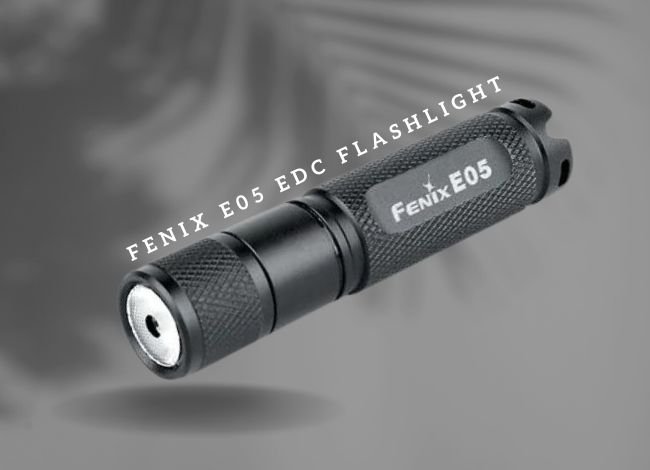 Technical Features of the Fenix E05 AAA Flashlight
| | |
| --- | --- |
| Features | Fenix E05 Tactical Flashlight |
| Maximum Brightness: | 85 lumens |
| Minimum Brightness: | 8 Lumens |
| Maximum Run-time: | 15 hours (8 lumens) |
| Minimum Run-time: | 45 minutes (85 lumens) |
| Beam Distance: | 45 Meters |
| Impact Resistance: | 1 meter |
| Modes: | 3 (8, 25, 85 lm) |
| LED: | Cree XP-E2 |
| Body: | Aircraft-grade aluminum |
| Waterproof standard: | IPX-8 (Underwater- 2 meters) |
| Length: | 64.5 mm |
| Weight: | 11.3 grams |
| Battery Include: | Yes (Single AA battery) |
| Price: | Check Price |
Fenix E05 EDC 85 Lumens Flashlight (Video Review)
If you are looking for a small EDC flashlight, then Fenix E05 will be a good choice.
Features of the Fenix E05 flashlight
Durable anodized aluminum body
Broad beam lens
3 brightness levels
Uses Cree XP-E2 LED with a lifespan of 50 000 hours
Maximum of 85 Lumens
Maximum beam distance of 148 ft
Digitally regulated output
Waterproof to IPX8 standard
Twisty switch
Weighs 12.5 grams
What are the Pros and Cons of the Fenix E05 keychain flashlight?
Advantages
Disadvantages

The flashlight offers 3 different light modes for versatile use

It is sturdily built of aerospace aluminum alloy

It is compact and very portable

The light produces bright light with a max of 85 Lumens

It is powered by AA batteries which are cheap and easy to acquire

It has a waterproof rating of IPX8 and can resist the impact of up to 1 meter

E05 is easy to keep due to its small size

The LED bulb is not well protected as it doesn't have an outside glass frame. In addition, the plastic diffuser that it comes with doesn't reach all the way down to the LED bulb.

The low and medium brightness levels are almost the same. The manufacturer should create some difference in them so that the 25 Lumens and 8 Lumen be a bit different.
Related: Fenix LD02 Review: 100 Lumens Mini key chain flashlight
Why should you choose the Fenix E05 flashlight?
The light has some unique features like:
Durable construction
One of the features that set apart the E05 from other keychain flashlights is its sturdy construction. This flashlight might be small, but it is well built to defy hardships. It is made of aircraft-grade aluminum and has a hard-anodized finish.

Check Price
Versatile use – with 3 light modes, this flashlight can be used for different purposes. The initial version's maximum lumen was only 27 lumens. Now, The low light mode with 8 Lumens can be used for reading, while the high mode with 85 Lumens can be used for camping, hiking, traveling, etc. The flashlight is very bright, and you will be able to clearly see where you are going, or it will brighten the whole room. You can also check the Fenix E12 review if you want a 130-lumen flashlight.
Compact and lightweight
The Fenix e05 flashlight is compact and lightweight. This means that it will not be a burden to you. Actually, you can easily hold it in your hands or slip it into the front pocket.
Easy to use
Since it has a twist switch, switching on/off the flashlight won't be a problem at all. This switch can be operated with one hand and very easily. Simply switch the light on and cycle through the 3 light modes.
Easy to keep
One of the challenges that people face is keeping a big flashlight in their pocket or backpack. The E05 light is very easy to keep due to its small size. If you want, you can attach it to your keychain and use it whenever you need light. Also, you can place it in the front pocket, and no one will notice it.
Related: Most Popular Keychain Flashlights list here…
https://tacticalflashlightguide.com/best-keychain-flashlight-for-everyday-use/
Brilliant white light
This great little flashlight uses the latest Cree XP-E2 LED technology. This bulb produces a white light that covers a maximum distance of 148 ft. To cover such a distance with such a small flashlight is just amazing. Use it to light the camp or to illuminate your backyard before going to sleep.
Ideal for tactical use
Whether it's camping, fishing, hunting, or home use, this keychain flashlight will still provide you with the light that you need. It is made of waterproof material with an IPX8 rating. In addition, it can resist the impact of up to one meter. So, it will survive any dropping.
Powered by one AAA (Ni-MH or Alkaline) battery
This flashlight uses two kinds of batteries. It can be powered by one AAA Ni-MH battery or one AAA alkaline battery. For a long run time, you should use the alkaline battery instead of the Ni-MH battery. The maximum run-time when using the alkaline battery is 15 hours, and that of the Ni-MH battery is 14 hours 30 minutes.

Check Price
What is the main difference between Fenix e05 and e01?
| | | |
| --- | --- | --- |
| Technical Details | Fenix E05 | Fenix E01 |
| Diameter | 0.55 In | 0.57 In |
| Maximum Range | 21 with triple output modes | 26 with single output mode |
| Price | Medium | Low |
Fenix E05 Vs. Fenix E12
| | | |
| --- | --- | --- |
| Features | Fenix E05 | Fenix E12 |
| Width: | 0.57″ | 0.75″ |
| Depth: | 2.54″ | 3.54″ |
| Weight: | 0.4 oz | 1.01 oz |
| Maximum Brightness: | 85 lumens | 130 lumens |
| Level of power: | 1 | 3 |
| Maximum run-time: | 15 hours | 40 hours |
Conclusion: My Fenix E05 Flashlight Review
The Fenix e05 LED flashlight is an excellent and powerful keychain light. Despite its small size, this light provides the user with 3 light modes. These are low, medium, and high modes. This is a nice little light that is brighter than any other model at this price range. In addition, this keychain flashlight uses Cree XP-E2 LED with a maximum of 85 Lumens. Its sturdy construction makes it a wonderful light for outdoor use, and it can provide you with light for a maximum of 15 hours on an AAA alkaline battery. Easily carry this flashlight in your pocket or backpack for later use.
Coming Search term:
Fenix e05
fenix e05 review
The fenix e05 85 lumens
fenix e05 27 lumens