Flashlights are essential tools that every individual should have. A flashlight can save you when you are in the dark as you will be able to see the holes on the road or a see hooligan standing by the corner ready to pound on you. Also, a flashlight can help you to repair a broken car or even change car tires. If you love to park your car in an indoor garage, it's a good idea to carry a flashlight as people are usually attacked in such areas.
Fenix VS Surefire
But with so many flashlight brands, selecting the best is at times challenging. In this post, we are going to look at and compare the Fenix flashlight brand with the Surefire flashlight brand. These two are some of the most notable flashlight brands on the market and they offer amazing and reliable LED flashlights. But which one is the best or better than the other.
Best Selling Fenix PD35 and Surefire P2X Fury difference
These two are the most popular flashlights from each brand. Find the fenix pd35 vs surefire fury comparison here:
Features

Surefire P2X

Fenix PD35

Brightness:
600 lumens
1000 lumens
Beam Distance:
Below 100 Meters(my test)
200 Meters
Maximum Runtime:
53 hours (15 lumens)
140 hours (8 lumens)
Modes:
2 (15,600 lm)
6 (8,60,200,500,1000 lm)
Battery include:

Yes (two CR123A)
Yes (two CR123A)
Body:
Aerospace aluminum
Aircraft-grade aluminum
Length:
173 mm
137 mm
Weight:
204 grams
89 grams
Price:
Check Price
My Choice
Check Price
History of the Fenix and Surefire
To begin with, Surefire is an American company that is based in Fountain Valley, California. Similar to other top brands, Surefire offers different types of flashlights and has a variety to choose from. Apart from flashlights, they offer headlamps, laser lights, weapon-mounted lights, batteries, Picatinny rails, and knives. Surefire products are made in the USA and they meet the set flashlight standards.
Related: Difference between Fenix and Klarus
On the other hand, Fenix is a company based in China. Established in 2004, Fenix has developed quickly and is now one of the leading flashlight brands in the world. Fenix manufactures its products in China and sells it in more than 100 countries. They offer dive lights, handheld flashlights, headlamps, lanterns, and flashlight accessories.
Quality difference between these two brands
When it comes to quality flashlights, Surefire has created a name for itself in this area. Actually, Surefire is the major supplier of flashlights to the US Armed forces. This means that Surefire products are very reliable, sturdy, and perform very well. Also, they are built for tactical use and that's why you will find many law enforcement agents in the US using them. This is not the case with Fenix.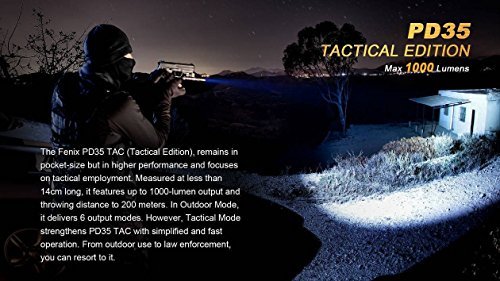 Check Price
Fenix lighting, as it is referred to at times is a wonderful brand with high performing flashlights. Fenix flashlight offers a wide range of features when compared to Surefire. Surefire may be a step ahead when it comes to quality, brightness, and durability, but Fenix is also right there with it. Also, Fenix flashlights are more affordable when compared to Surefire flashlights in the same range. But if you want something reliable and for tactical use, then I suggest you go for Surefire lighting.
Related: Fenix Vs Nitecore
Which brand flashlight you should buy?
It is very hard to compare Fenix VS Surefire. Because, both companies produce quality flashlight. Which brand you should buy depends on your use:

Check Price
Surefire is ideal for use for tactical reasons. This is because it uses lithium CR123A batteries. So, Surefire lights tend to provide light for long hours when compared to many Fenix flashlights. That's why many people who engage in shooting or combat love Surefire lights. They fit well on gun rails and provide very bright light.
But for outdoor use or general use, Fenix is the ideal flashlight to acquire. This is because they are lightweight and are very easy to use.
Related: SureFire VS Streamlight
Final Thoughts
From the above info, it is clear that both Fenix and Surefire are amazing flashlight brands to buy a flashlight from. The light that you choose will narrow down to your budget and needs. If you are looking for a low-priced flashlight for daily use, then Fenix is the most suitable brand to get a light from. But if you want a quality and tactical light for your shooting needs, then Surefire will be an ideal brand for you. Also, Fenix has more features than Surefire but Surefire is more durable than Fenix lighting.