Lots of people get confused when it comes to choosing between the Fenix pd35 and the Fenix uc35 flashlights. These two flashlight models are similar in a number of ways. First of all, they are from the same brand and have similar features. Also, they are almost the same size, though the uc35 LED light is a bit longer. Previously, they produced the same number of Lumens, but the latest PD35 LED light produces more.
Related: Best Fenix Flashlight Review: Most popular 10 List
In short: (Check below the features comparison details)
If you need a portable-size flashlight with higher brightness, then buy Fenix PD35.
If you need a medium size flashlight with a USB rechargeable option, then buy Fenix UC35.
What is the main difference between Fenix PD35 and UC35?
With such similarities and just a few differences, which is the best flashlight for you. I can say that depending on your needs or preferences, any of these two lights will work for you. If you want a slightly brighter flashlight, the PD35 will come out strong. Alternatively, if you want a flashlight that you can charge with much ease, then the UC35 will be ideal for you.
Fenix PD35 VS UC35 comparison table in 2023:
| | | |
| --- | --- | --- |
| Features | Fenix PD35 | Fenix UC35 |
| Maximum Brightness: | 1000 lumens | 960 lumens |
| Minimum Brightness: | 8 lumens | 14 lumens |
| Beam Distance: | 200 Meters | 200 Meters |
| Maximum Runtime: | 140 hour (8 lm) | 150 hour (14 lm) |
| Minimum Runtime: | 70 minutes (1000 lm) | 90 minutes (960 lm) |
| LED: | Cree XP-L (V5) | Cree XM-L2 (U2) |
| USB Recharge Option: | No | Yes |
| Modes: | 6(outdoor:6; tactical:3) | 6 |
| Battery Include: | Yes | Yes |
| Length: | 137 mm | 150 mm |
| Weight: | 89 grams | 99 grams |
| Review: | More details | More details |
| Price: | Check Price | Check Price |
Head-to-Head Comparison Between Fenix UC35 and PD35 Flashlights
Compare Overall Construction
To begin with, the Fenix pd35 and uc35 are both made of durable aircraft-grade aluminum. In addition, they have a premium type III hard-anodized aluminum finish. This prevents the flashlight from corroding. The anti-roll feature of these flashlights prevents them from rolling on the surface when dropped accidentally. They have a firm grip, which allows the user to easily handle the flashlights. The pd35 LED flashlights weigh 88-grams without a battery, while the uc35 LED flashlight weighs 99-grams without a battery. The UC35 has measurements of 150mm by 25.4mm, and the pd35 measures 138mm by 25.4mm.
Both come with LED technology
Before the 2018 pd35 model was created, both the uc35 and pd35 utilized the same technology. They used Cree XM-L2 (U2) LED with a lifespan of 50 000 hours. At the moment, they differ as the pd35 latest model uses a more powerful technology than the former. It uses Cree XP-L HI V3 LED with a lifespan of 50 000 hours. LED technology is indestructible and long-lasting.
Light levels
One of the important features of the Fenix flashlights is that they are normally versatile. This is the case with the uc35 and pd35 flashlights. They both can be used for a wide range of activities, whether outdoor or indoor. This is because they have 6 different light modes with strobe mode included. Also, they can be used in different weather conditions as they are both impact and water-resistant. The 6 light modes are eco, low, mid, high, turbo, and strobe mode.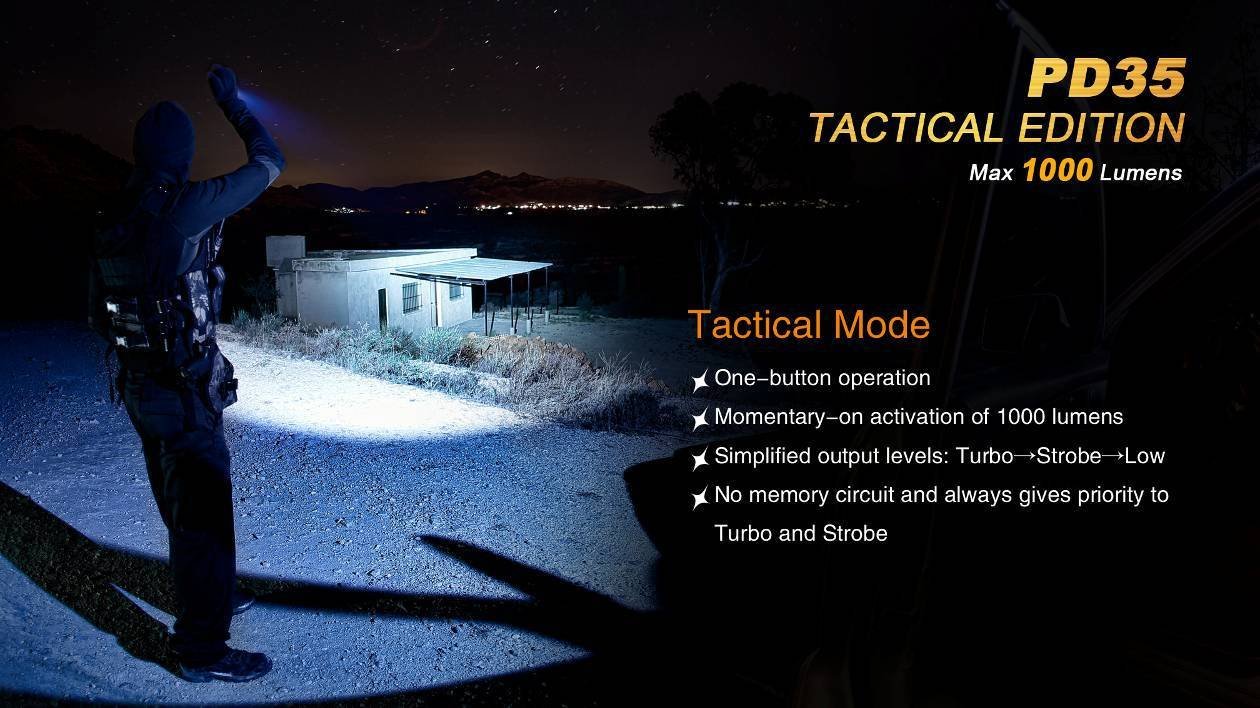 Check Price
The pd35 flashlight has a longer runtime when compared to the uc35. It can function for 430 hours, while the uc35 works for only 150 hours. Also, it covers a larger area and distance than the uc35. To be precise, it covers 250 meters while the latter covers 200 meters.
Related: Difference between Fenix pd32 and pd35
Number of Lumens
This is another factor to consider when choosing a powerful flashlight. When it comes to the number of Lumens, the pd35 2018 model outdo the uc35. It has a maximum of 1000 Lumens, while the uc35 produces a maximum of 960 Lumens. So, this means that the pd35 is more powerful and brighter than the uc35 LED flashlight.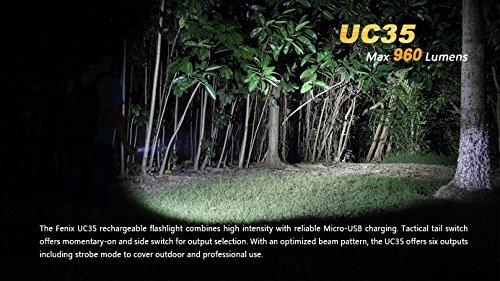 Check Price
Features
These two flashlights have similar features that enable them to perform outstandingly and be reliable throughout. They have reverse polarity protection for preventing bad battery placement, a battery voltage warning function, digitally regulated output, and overheat protection. Also, the flashlight can recall the last light mode when turned on.
Recharging function
One of the distinctive features of the uc35 over the pd35 is its charging function. This flashlight allows the user to recharge the 18650 batteries without removing them. The flashlight has a USB cable for recharging, and it can be recharged anywhere. This is not the case with the pd35, where you have to remove the battery and recharge it.
Which flashlight is easy to carry?
Since the pd35 is smaller than the uc35, keeping it is very easy and fast. You can easily slip it into the pocket or backpack. But this doesn't mean that you can slip the uc35 flashlight into your pockets. It's just a bit longer, and it will take up more space. Also, the uc35 LED light is heavier than the pd35.
Price Comparison
Despite having similar features with a few differences, the Fenix uc35 LED flashlight is slightly more costly than the pd35 LED flashlight. So, if you want a high-quality flashlight at a great price, the pd35 will be great for you.
Fenix PD35 v2 VS UC35 v2 (2018 version)
Fenix has just released V 2.0 of the Fenix pd35 and uc35. Find the difference between Fenix pd35 v2.0 and uc35 v2.0.
| | | |
| --- | --- | --- |
| Features | Fenix PD35 v2.0 | Fenix UC35 v2.0 |
| Lumens: | 1000 lumens | 1000 lumens |
| Maximum Brightness: | 1000 lumens | 1000 lumens |
| Minimum Brightness: | 3 lumens | 1 lumen |
| Maximum Runtime: | 430hour (3 lumens) | 800hour (1 lumen) |
| Minimum Runtime: | 2hour 50min. (1000 lumens) | 2hour 15min. (1000 lumens) |
| Beam Distance: | 250 meters | 266 meters |
| LED: | CREE XP-L HI V3 | CREE XP-L HI V3 |
| Modes: | 5 | 5 |
| Length: | 139mm/5.5 inches | 140mm/5.5 inches |
| Batteries : | 1 CR123A battery is required. (included) | 1 Lithium-ion battery is required. (included) |
| Weight: | 3.1 ounces | 3.13 ounces |
| Product Dimensions: | 5.4 x 1 x 1 inches | 5.5 x 0.9 x 0.9 inches |
| Price: | Check Price | Check Price |
My Recommendation
The pd35 and uc35 LED flashlights are two excellent flashlight models from Fenix. They both have outstanding features and can be used for various activities. Both flashlights can be utilized for hunting, hiking, mountaineering, cycling, camping, for military personnel, or for general use. They are sturdily built and have safety features for prolonged use. The only difference they have is that the pd35 flashlight is brighter than the uc35. On the other hand, the uc35 can be recharged directly via its USB port, while the pd35 doesn't have a USB port for recharging directly.
Moreover, both flashlights are wonderful for daily use, but the Fenix pd35 is easier to keep and handle as it is some length shorter than the uc35. I hope this Fenix PD35 VS UC35 article has given you a clear idea about their differences. However, whatever choice you make, you will get a quality light with constant brightness.