Do you need a tactical LED flashlight that features a pure beam focusing optic or slide focus system? With the Coast A25R, you can experience a transition cycle with a super wide flood beam or a spot beam at an asymmetrical illumination and distance. On the other hand, it allows managing the spotlight to the floodlight, and with the help of pushing or pulling, you can provide a shape to the beam. Ultimately this is the rechargeable version of the classic model of Coast A25. This Coast A25R review article will assist you in making a sensible conception of this LED flashlight.
With this LED light, you can experience excellent runtime and iconic design. It has beam lock technology, so you can easily lock the beam after fixing it as your preferable flood or spot mode. Most interestingly, this versatile device offers a flex charging system with which you can recharge the batteries by keeping them in the gadget or by getting them out of the gadget.
Technical Features of the

Coast A25R Flashlight
Features

Coast A25R Flashlight

Diameter:

Body – 1.116 inches
Bezel – 1.412 inches

Charge Type:
AC, DC, or USB power sources
Focus Type:
Slide Focus
Materials:
Stainless Steel
Durability:
IPX4 – Water Resistant
Rechargeable:
Yes
Lumen Output:
1000 Lumens
Weight: 
10.4 oz
Light Output:

High – 466 lumens
Low – 68 lumens

Length:
5.5 inches
Runtime:

High – 7 hours 30 minutes
Low – 25 hours 45 minutes

Beam Distance:

High – 561 Feet
Low – 167 Feet

Battery Type:
2 x Lithium Ion/4 x AAA
Rechargeable: 
Yes
Rechargeable Pure Beam Focusing

Coast A25R Flashlight Review

It is high time to check the significant features of the Coast A25R 725 lumen flashlight to understand its functions and operations.
Bull's eyes spot
Some of the flashlights in the market have the feature of a bull's eyes spot. Among them, the Coast A25R rechargeable flashlight has this characteristic with which you can hit the power on your target. This system creates a shiny hotspot on the focused object. Moreover, the light makes a dim cycle of transitional light around the circumstance that you can view the entire area.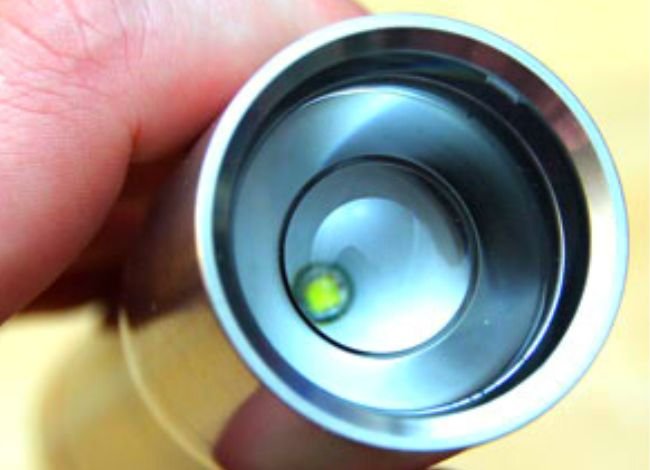 Flex charging system 
You will have two rechargeable lithium-ion battery cartridges, so it is possible to use one while the other is in the recharging process. On the other hand, in a trip or long-distance traveling, one can have the opportunity to carry these two with full charge to maintain safety. The Coast A25R provides a flex charging system with which you can get a rechargeable battery. You can recharge the battery keeping inside the device or outside the machine.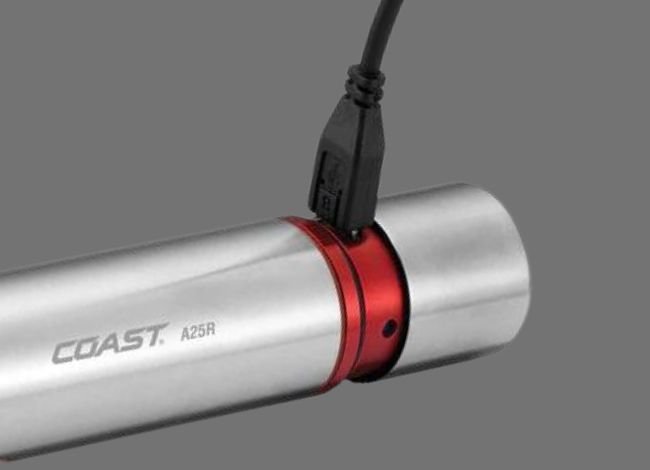 When you choose to recharge the battery keeping inside the flashlight, you have to unlock the light by rotating the tail cap. Then pass it upward for getting the micro USB charging port.
Pro-tec charging port 
The rechargeable A25R has a pro-tec charging port with which anyone can directly charge it via USB, AC, or DC. This feature is very impressive and convenient for the user. For backup power, this pro tec charging port has headlamps as well as flashlights to serve direct connection.
Slide focusing feature
It is possible with the flashlight to maintain it with only a single hand. You can effortlessly change the shape of the beam according to your preference because the light includes a slide focus system that is very effective in transit between flood beam and spot beam. You can handle this process with only one finger. This aspect makes the user troubleless.
Dual power technology
When your device provides a chance to have dual power technology, it can be a blessing for you. Unlike the Coast  HP7 LED flashlight, this versatile gadget offers dual power technology. One can charge the tactical flashlight with either standard alkaline batteries or USB rechargeable batteries. This system is incredible when lithium-ion power does not exist cause then you can get a chance to have a backup with this dual power technology.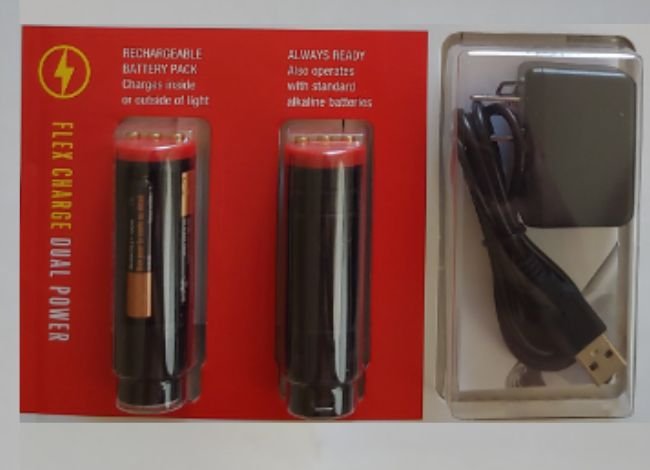 Coast A25R Flashlight Has Impressive runtime.
An ideal device has the ability to perform in a long time. One can consider a gadget as applicable and qualitative with measuring the runtime. In this A25R, you can enjoy a long-lasting running time tested to ANSI/FL1 standards. If you charge it for one, you can get qualitative feedback. 
Beam lock
The beam locking system is another impressive characteristic of a flashlight. It makes the use more convenient and straightforward. Along with it, you can reduce the hassle of operating your light.
This Coast rechargeable A25R supplies a beam locking technology that enables you to set the beam and lock it as you want. The slide focus system can be more worthy with this feature. By rotating the head to the left of the light, you can lock your preferred beam and unlock it, and you have to turn it to the right. 
Coast A25R Features Ultra view flood beam.
It offers broader beam consistency from a flood beam to a spot beam by Coast's Pure Beam Focusing Optic System with Fingertip Speed Focus Control. You can experience seeing the entire circumstance with the wide beam of the flashlight. This qualitative illumination raises your utility high.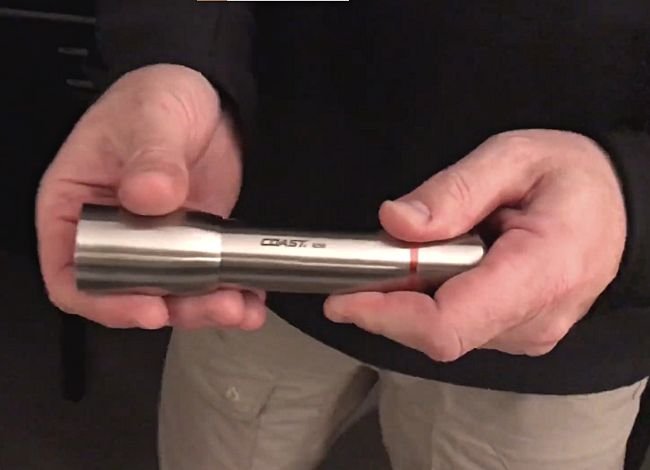 Two modes of illumination 
Coast A25R has two modes of brightness. The LED flashlight gives you the scope that you can quickly shift the light from one way to another. It provides a lower level and a higher level of brightness. To change these modes, just one has to turn the tail cap switch.
Water resistance 
You don't need to panic about what the weather is. The Coast is such a light that it is ready to serve its services at any temperature. Whether it is the winter or rainy season, you can use this brilliant thing in any weather. It saves thyself from rain as well as from snowfall because the light passes the IP test obtaining IP54. Moreover, this device also has a durable context that makes it fit for any challenging situation. Now let's consider the benefits and detriments that are listed below in this Coast A25R review section.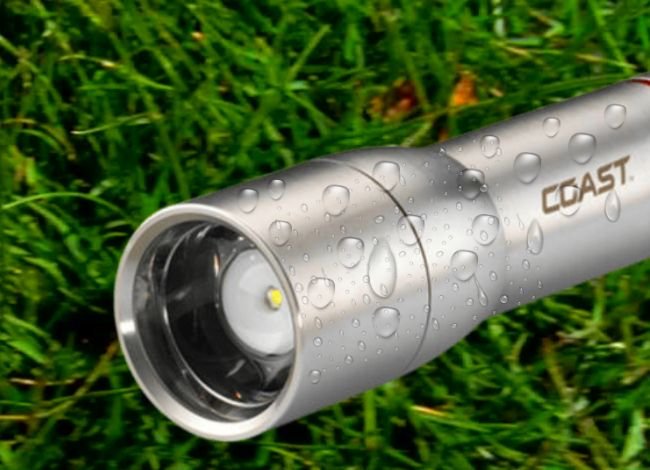 Advantages of the Coast A25R Flashlight
The Coast flashlight has a duel power technology with which one can use standard alkaline batteries or USB rechargeable batteries.

The device is waterproof, so the user can carry it underwater.

One can easily use the two levels of brightness of the gadget.

The

Coast A25R has a beam lock system that allows you to lock the beam according to your desire.

A25R light serves a broader beam.

With this outstanding device, you can use the slide focusing feature.

It is possible to get bull's eye features and quality full run time with the tactical device. 

 This LED flashlight provides comfort and balances to its consumer. 
Limitations
Final Verdict on Coast A25R
Coast A25R includes many outstanding features that make your daily use very straightforward and comfortable. If you want to buy a flashlight, you will be impressed by the gadget to see its versatile qualities. Every characteristic of the Coast A25R flashlight reviewed in this article will impress you. Like other tactical flashlights of the market, it also has some demerits, but you can rely on its qualitative performance. A25R assists you in operating different types of challenging tasks. So do not think more about it to buy. Just pick the device up cause this one may maximize your satisfaction level.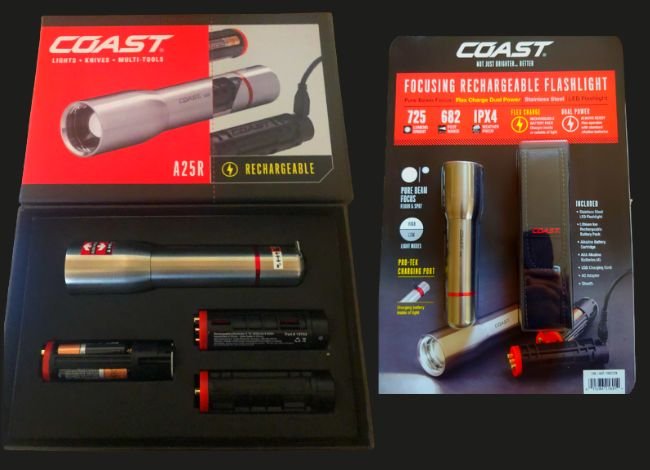 FAQs 
What materials have been used to make the lense?
You can have a qualitative lens with the Coast A25R. It uses polycarbonate plastic material to make the lens of the flashlight.
Does the LED flashlight include AC, DC, or USB charger?
Yes, the tactical flashlight includes two chargers. You can experience a 12-volt DC automotive or a 110 volt AC with A25R.