Suddenly, your flashlight stop working, and you find that the batteries have down. You need to drive miles to find batteries for your flashlight. Damn…Annoying! But, a reliable flashlight will save not only your time but also your money. So, how to find the best rechargeable flashlight for the money?
Rechargeable flashlights mostly use lithium-ion batteries, and they are extremely powerful. If you properly take care of these batteries, then they can last more than a year(1000 cycles plus). Rechargeable batteries can survive extremely high or extremely low temperatures.
Depending on the size and power of the flashlight, you can use a 18650, AAA, or AA battery. Now, lots of flashlights have USB rechargeable options. So, you don't need to carry a charger, especially when you go for a tour.
The only bad thing about rechargeable batteries is that they take lots of time to fully recharge(8-10 hours). You can reduce this time by using official batteries or plug-in at night and getting ready in the morning. So, you need a quality light at an affordable price. Below I have listed the best rechargeable flashlights for the money.
Rechargeable lights are easy to charge, reduce the cost of buying batteries, have a long runtime, and they minimize polluting of the environment as one battery can be recharged even 1000 times or more.
Our Recommend 3 Best Rechargeable flashlight comparison chart 2023:
Image
Rechargeable Flashlights
Lumens & Modes
Feature Details

(2023 Editor's Choice)


Check Price
Fenix PD35 TAC CREE LED Tactical Rechargeable Flashlight
Read Review
Lumens: 1000
Modes: 6
IPX8 Water-proof rating


Battery: 2X Fenix ARB-L2S 3400mAh type 18650 battery


Weight: 1.37 pounds


Medium price

(Budget Choice)


Check Price
ThruNite TC12 V2 Max Micro-USB Interface Rechargeable Tactical LED Flashlight
Read Review
Lumens: 1100
Modes: 5
Super bright EDC flashlights with type III hard-anodized finish


Battery: 1 x 18650 battery (included)


Weight: 3.04 ounces


Low price

(Powerful Choice)


Check Price
Streamlight 75434 Stinger LED High Lumen Rechargeable Flashlight
Read Review
Lumens: 800
Modes: 3
Best for tactical use with non-slip rubberized grip


Battery: 1 Nonstandard Battery batteries required. (included)


Weight: 2.2 pounds


High price
Things to consider when selecting the best rechargeable flashlight
We came up with the above list of flashlights after considering a number of things. You cannot just wake up and decide that this is the best flashlight. Criteria have to be followed, and below are some of the things that we looked at:
Durability
Not all flashlights are created with the same materials. A good number of them are made of aluminum, but some are not. The best flashlights should be scratch-resistant and corrosion-free. In addition, they should resist impact and, if possible, be water-resistant.
Battery effectiveness
When choosing the best rechargeable flashlight, you need to look at how quickly you can charge the battery, ease of removal, and the cost of the battery. Also, a good rechargeable light should give you the option of using other disposable batteries just in case you are out there in the wild and can't recharge the battery.
Type of Batteries
You can buy a rechargeable battery or a replaceable battery. Rechargeable batteries have some advantages over replaceable batteries.
Brightness
The major role of any flashlight is to provide light. It doesn't matter if it's a penlight, keychain light, or even a handheld light. They should provide sufficient light for the user. Most people prefer flashlights that have higher Lumens but are not heavy or cumbersome to carry. So, depending on the use, a person will go for either a powerful handled flashlight or a powerful searchlight.
Features and modes
What features have the flashlight? Does it regulate the temperature? Can it show the battery level? Or does it have reverse polarity protection? These are some of the features that flashlight user looks for. Such features not only make the flashlight fun to use but also act as safety features. For the light mode, people prefer a flashlight with the 3 usual modes (low, mid, and high) and two special modes (strobe & SOS).
Design
A good flashlight should be easy to operate and handle. Have a closer look at the flashlight's pocket clip, lanyard, anti-roll cap, and grip. The flashlight should be designed in a way such that these features don't become a hindrance during holding or using the light.
Related topic: What is the Best EDC Flashlight?
Ease of use
No person wants a flashlight that takes him or her ages to light it on. That's why a one-handed operation is preferred over a two-handed operation. It should be a small light because the EDC flashlight is easy to carry. The Switch button should be stationed strategically so that you can light on/off the flashlight easily. Also, the mode button should be easy to cycle through so that you can switch on the mode of your choice without hardship.
Accessories
What accessories does the flashlight come with? Additional accessories such as a USB cable, holster, battery, and O-rings are well appreciated by flashlight users.
Brand
The best brands are highly considered as they have some of the best and most reliable products. On top of that, they usually offer warranties and customer support. Check reviews (positive and negative) before buying from any brand.
Top 10 best rechargeable flashlight reviews 2023
A flashlight is one of the most overlooked everyday carry tools. Most of the time, people only remember flashlights when they dearly need them. Why wait until you are in danger or in a blackout to start looking for a flashlight? This should not be the case! Quality tactical Flashlights can save you in the dark or when you are attacked. With so many types of flashlights on offer, pick one that will provide you with a bright light and consistent performance. After looking at different types of flashlights, I consider rechargeable flashlights to be the best. Using personal experience and 100 hours of research, I have selected the top 10 rechargeable flashlights.
Fenix PD35 TAC 1000 Lumen Flashlight (Our Top Picks)
If what you are looking for is a powerful and tactical flashlight then, the pd35 tac tactical edition flashlight will suit you. The PD35 TAC flashlight is not only the best-selling Fenix flashlight but is also loved by many tacticians because of its excellent features. Its exterior is constructed with durable anodized finished aircraft aluminum.
At such a great price, this flashlight is able to compete well with some of the best handheld flashlights on the market. Powered by two rechargeable 18650 batteries, the pd35 light can run for more than 140 hours. It is also the brightest flashlight on this list and has a beam that covers up to 656 feet. Cycle through the different 6 modes or switch to the tactical mode when hunting or chasing an assailant. Use it for outdoor activities or just for general use. It will still deliver. This is the best rechargeable flashlight under 100.
Technical Specifications of the PD35 TAC
| | |
| --- | --- |
| Features | Fenix PD35 TAC Flashlight |
| Maximum Brightness: | 1000 lumens |
| Maximum Run-time: | 140 hours (8 lumens) |
| Minimum Brightness: | 8 Lumens |
| Minimum Run-time: | 1 hour & 10 minutes (1000 lumens) |
| Beam Distance: | 200 Meters |
| Outdoor Modes: | 6 |
| Tactical Modes: | 3 |
| LED: | Cree XP-L (V5) |
| Body: | Aluminum |
| Waterproof standard: | IPX-8 (2 meters for 30 minutes) |
| Length: | 137 mm |
| Weight: | 89 grams |
| Battery Include: | Yes (Two CR123A Lithium) |
Check Price
Pros:
Easy to use the tactical tail switch and side switch
Provides extremely bright light with a max of 1000 Lumens
It comes with Fenix ARB-L 18 3400mAh 18650 batteries
It is waterproof with an IPX8 rating and impact resistant
It offers the user 6 light output modes
Uses the latest and very powerful LED technology in Cree XP-L LED
Lightweight and compact design
Cons:
It lacks an adjustable beam
Streamlight 75434 Stinger LED Light(Best overall)
Streamlight is one of the most famous flashlight brands on the market. Additionally, the Streamlight 75434 stinger flashlight is one of the most reliable flashlight models on the market. Made with a streamlined body, the Streamlight stinger has an easy-to-use interface and firm grip. It uses a NiMH battery that can be recharged more than 1000 times. Furthermore, the flashlight is rated as IPX4 and is drop resistant up to 1 meter. It produces a maximum of 640 Lumens that reaches over 297 meters. With 3 light modes and an anti-roll body, this is a great light for outdoor activities. You can use it in wet conditions or in dusty areas.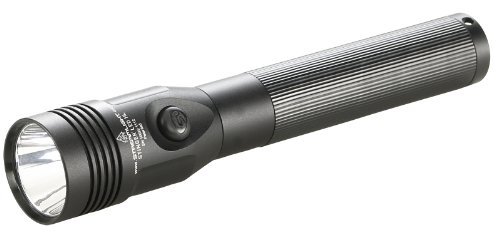 Check Price
Pros:
Sturdy construction from anodized aluminum
It is water-resistant with an IPX4 rating and impact-resistant up to 1 meter.
Powered by NiMH battery that can be rechargeable up to 1000 times
Bright light with a maximum of 640 Lumens that covers 297 meters
It has an anti-roll rubber ring to prevent the flashlight from rolling when it falls
It has three light modes with a maximum run time of 4 hours
Cons:
The light doesn't feature red light for preserving night vision
The flashlight has a shorter battery life
Maglite RL1019 LED Rechargeable Light
Made in the USA, Maglite is one of the most reliable tactical flashlight brands in the world. The Maglite RL1019 rechargeable flashlight is constructed with superior materials. It is anodized both inside and outside in order to resist corrosion. This compact flashlight has a QuickClick mode selector that enables the user to quickly access different light modes. It comes both with a wall and car charger that makes charging the flashlight be easy.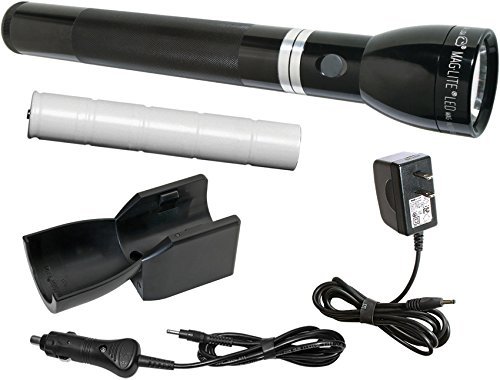 Check Price
In addition, the flashlight is rated as IPX4 waterproof, drop-resistant, and NTOA certified. It can be used for fishing, hunting, camping, or any other outdoor activity. Simply select from one of its four light modes, which are outdoor, general, tactical, and law enforcement. This light is considered one of the best rechargeable flashlights for police. The Maglite RL1019 flashlight's maximum light output is 643 lumens. If we compare this light with the Maglite XL50 flashlight, then no doubt RL1019 is a clear winner.
Pros:
Durable construction for tactile use
Compact and sleek design for easy use
A simple turn of the head will give you a spot or flood beam
Easy to access different modes with the QuickClick mode selector
Anodized finish for resisting corrosion
The ECO mode extends battery life
IPX4 waterproof rating and drop resistant
It comes with a one year warranty
Cons:
It takes longer to recharge the battery
Surefire P1R 600 Lumens Flashlight
This is the most expensive flashlight on our list. But what do you expect of Surefire? Surefire offers some of the best flashlights on the market. To add on, Surefire flashlight prices are usually high when compared to other brands. The Surefire P1R rechargeable LED flashlight provides the user with a dual output. This is the high output level of 600 Lumens and the low output level of 15 Lumens. Also, the flashlight provides a great throw of 600 Lumens with wonderful peripheral light. With its size, slip it in the pocket or backpack easily when not in use. The sturdy construction is built for tactical use, and it is water-resistant, too. Carry this flashlight on your trail as it is small enough to keep in your pocket.

Check Price
Pros:
Sturdily made for longevity
It has a dual output for tactical use
Powered by energy-dense 18650 lithium-ion rechargeable battery
Uses the indestructible LED emitter
It provides a wonderful throw of 600 Lumens
Easy to use and keep
Cons:
It is a bit costly and not ideal for night vision
It has no pocket clip
Klarus Improved XT11S Durable Survival Tool
Klarus is popular among outdoor enthusiasts and law enforcers. This is one of the most sturdy flashlights on the market. The Klarus improved xt11s are durably constructed and can withstand tough conditions. It features a dual tactical tail switch and side switch for easy operation. Moreover, it has three operating modes, which include: hunting mode, conventional tactical mode, and ultimate tactical mode. It has a throw that covers a distance of 330 meters at 1100 Lumens. On top of that, the manufacturer offers a 5-year warranty. With such features, you can rely on this flashlight for all your outdoor and tactical needs.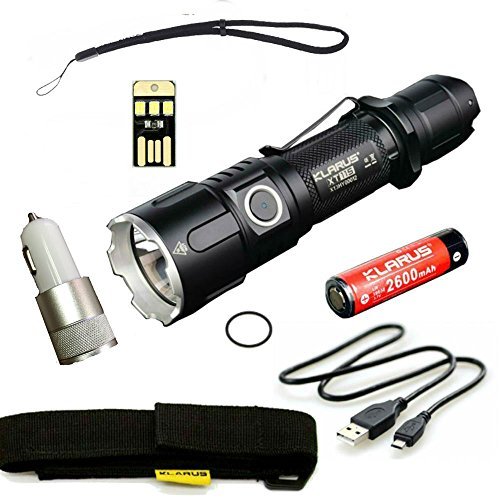 Check Price
Pros:
Has 3 user settings to select from
It has a great throw of 1100 Lumens that covers up to 330 meters
Compact and lightweight design
Easy to use with the one-handed operation
Easy and convenient to recharge via USB port
Anti-roll design to prevent rolling on the surface
Klarus 5-year warranty
Cons:
The user instructions are not very clear
ThruNite TC12 V2 Rechargeable Water Resistance EDC
The ThruNite TC12 V2 rechargeable light is one of the best EDC flashlights on this list. It is not heavy as most flashlights but provides excellent light with a stunning throw of 1100 Lumens. This covers up to 240 meters. So, it is ideal for outdoor as well as for general use. After switching on the light, you can select from one of firefly mode, low mode, mid mode, high mode, or turbo mode. ThruNite flashlight is very easy to recharge by using the micro USB charging port. Also, it features a foldable stand to keep your hands free while working.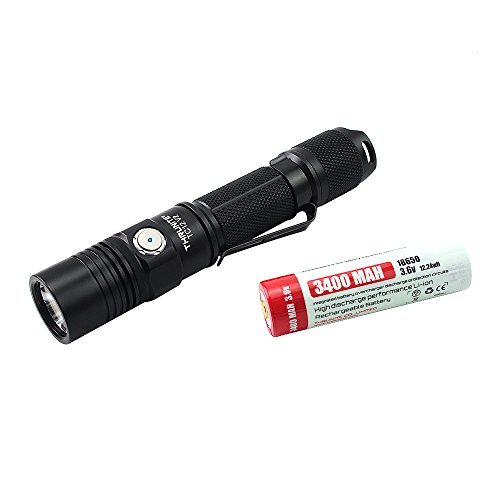 Check Price
Pros:
It provides 6 light modes
It is water-resistant up to 2 meters underwater for 30 minutes
Impact-resistant up to 1 meter
Easy to operate with the tail cap switch and stainless steel side switch
Provides excellent brightness with a maximum of 1100 Lumens
Sleek and compact design for easy handling and storage
Tail stand capability for indoor use
Cons:
It becomes extremely hot when used for long
Nitecore MH25GT 1000 Lumen Tactical Flashlights
Talk of a versatile and feature-packed flashlight – that's what you get from the Nitecore MH25GT rechargeable flashlight. Using the Cree XP-L HI V3 LED technology – this flashlight is able to produce bright light with a maximum of 1000 Lumens. This covers 494 yards, which is equivalent to 4 football grounds. The flashlight has 4 different light modes to choose from and two special modes. The low strobe mode can be used for blinding an assailant. In addition, Nitecore light is waterproof, drop-resistant, and can defy corrosion. Other special features are; reverse polarity protection, anti-roll design, intelligent memory, etc.…

Check Price
Pros:
Best rechargeable flashlights come with a built-in USB charging port for easy and convenient charging.
Great throw with a maximum of 1000L
Anti-roll design to prevent the flashlight from rolling
Different light modes accessed through the rotary switch
Durable aerospace-grade aluminum body
Hard-anodized finish to prevent corrosion
The broad-voltage circuit accepts both rechargeable and non-rechargeable batteries.
Waterproof and impact resistant
Cons:
Some users dislike the rotary switch
Anker Super Bright Handy Device
If you are looking for a simple but reliable day-to-day flashlight, then Anker's super bright LED light is for you. The compact and lightweight flashlight is constructed of a durable aluminum body. It can resist water and impact. Choose from the 5 different light modes when out there in the wild. The flashlight is easy to use and offers super bright LED bulbs with a maximum of 900 Lumens. If you want the cheap and best rechargeable flashlight, then buy these types of lights. The smart design of the flashlight makes it easy to keep after use. Use this flashlight for your daily duties like dog walking, changing your car tire, or even for outdoor activities like hunting or fishing.

Check Price
Pros:
Compact and streamlined design for easy use
Powered by the premium rechargeable 3350mAh battery
It is IP65 waterproof rated and shock-resistance
An extremely bright flashlight with a maximum throw of 900 Lumens
5 light modes
18-month warranty
Cons:
It takes longer to recharge the flashlight
Best Spotlight CVLIFE LED Tactical T6
The CVLIFE tactical rechargeable light is the cheapest on our list. So, if you are on a budget but still want a reliable rechargeable light, this is the flashlight for you. This outdoor torch can provide you with a flood or spotlight. It has 5 light modes with a maximum beam distance of 700 feet. This is just great for its size and price. The T6 rechargeable flashlight is IPX6 waterproof rated and ideal for tactical use. Also, it is easy to operate, and a battery charger is included in the purchase bundle. This light is suitable for camping, hiking, hunting, or even fishing.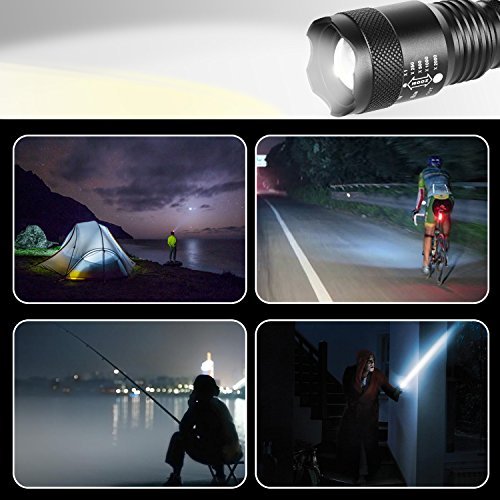 Check Price
Pros:
Durable construction from aluminum alloy
5 light settings for versatile use
Offers flood and spotlight
It has an anti-slip body for easy handling
The built-in protective board to prevent over-charge and over-discharge
IPX6 waterproof rated and impact resistant
Cons:
It takes longer to charge
Supernova Guardian 1300XL Tactical Lights
The Supernova Guardian flashlight is one of the most powerful flashlights on this list. The sturdily built flashlight produces a maximum of 1300 Lumens. This is made possible with its Cree XM-L U2 LED technology. Also, it produces a stunning light that reaches over 300 yards, making it great for hunting, hiking, mountaineering, and for emergency services. With its rugged and slip-resistant design, the flashlight is waterproof and impact resistant. Once the two rechargeable lithium-ion batteries are charged to full, you will have several hours of use. Simply use its remote pressure switch and bright start technology to turn on the light and change the modes.
Pros:
Versatile flashlight with low, mid, high, strobe, and SOS modes
Durable aircraft-grade aluminum construction
Waterproof casing
Anti-slip grip for use in all weather conditions
Uses a high capacity rechargeable lithium-Ion battery or maximum power
Pocket clip for easy storage
5-year manufacturer warranty
Cons:
The user's complained that the flashlight doesn't last
It is not as bright as it is advertised.
Rechargeable Fenix UC35 LED With Anti Roll Design
For those willing to spend to get a mix of quality and convenience, then the Fenix UC35 LED flashlight is for them. As simple and compact as it appears, the UC35 will be there for you when you need it. Its sturdy construction means that you can rely on it in all situations, and it will last for a very long while. The flashlight offers a very bright light as it produces a maximum of 960 Lumens light source and features 6 light modes and a strobe mode. The strobe mode is for disorienting enemies.
The flashlight is as well made with an anti-roll design to prevent it from rolling when it drops on the ground.  When the flashlight gets warm, the overheat protection will come to its aid. Also, the low voltage warning lets you know when the flashlight has to be recharged. With all these features and many more, this is a flashlight that you can count on.
Benefits of Fenix UC35
It has a very convenient charging system
Sturdily built to last long
A compact and lightweight flashlight
It can withstand tough conditions such as bad weather
Produces very bright light
Easy to use with the tactical tail cap switch and side switch
Multiple brightness levels for different uses
Setbacks
Light starts to flicker after sometime
Battery drains quickly
Conclusion
After looking at the best rechargeable flashlight, it is clear that brands like Fenix, Streamlight, Surefire, ThruNite, and Nitecore stand out from the rest. In addition, the flashlight that you pick depends on a number of factors. For instance, what you intend to do with the flashlight. But on this list, most of the flashlights are tactical and will function well despite the tough conditions that they might face. So, whether you are a hunter, hiker, dog walker, or emergency responder, there is a light for you.
FAQ
Question: What features should I look for in a rechargeable flashlight?
Answer: A rechargeable flashlight is an excellent light that will provide you a light for over a long period of time when compared to non-rechargeable lights. Before you buy a rechargeable tactical flashlight, you should look at the type of battery it has – is it a standard battery or a proprietary/built-in battery. Also, the recharging mechanism should be simple such as micro-USB charging. Furthermore, you should consider the battery life and flashlight features. All these play an important role in acquiring a durable and bright flashlight.
Question: Is it a must to charge the rechargeable battery before the first use?
Answer: Absolutely! You need to fully charge the flashlight before using it, and you shouldn't pay attention to the indicator light when charging it for the first time.
Question: How is the rechargeable flashlight better than the normal flashlight?
Answer: The rechargeable unit is very convenient as you don't have to go looking for new batteries every time your flashlight is drained. You simply plug in the charger and charge the light. Also, it is easy to maintain since you will use the battery for around 500 hours before having to purchase a new one. But this varies from one flashlight brand to another.
Still, have a question after reading this best rechargeable flashlight? Comment below.