A flashlight could be your everyday carry item. It's only possible if you buy EDC category lights. For instance, Keychain lights are extremely small and easy to carry, while AA flashlights are brighter but bigger for your pocket. The AAA light brings you the lightness of Keychain lights and the brightness of AA lights. They may not be the smallest nor the brightest, but they fall in between. So, what should you look for in the best AAA flashlight? You should check the flashlight brightness or lumens, modes, compactness, switch option, run-time, beam distance, etc., features.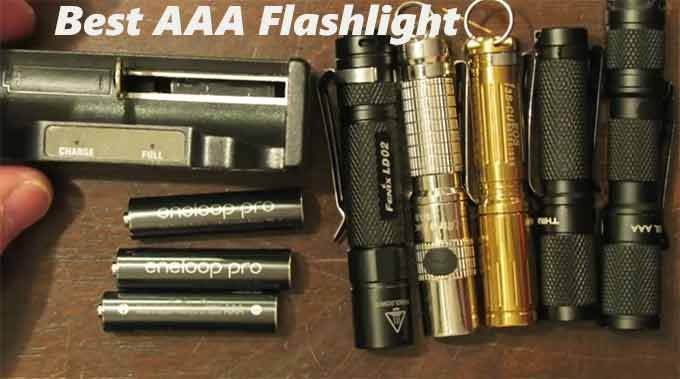 Top Rated Best AAA Flashlights Comparison Table
Image
AAA flashlights
Lumens & Modes
Feature Details

(2023 Editor's Choice)


Check Price
Maglite XL200 LED 3-Cell AAA Flashlight
Read Review
Lumens: 172
Modes: 3
Weight: 3.68 ounces


Battery: 3 AAA batteries required. (included)


Medium price

(Powerful Quality Choice)


Check Price
SureFire Titan Ultra-Compact LED Keychain Light Series
Read Review
Lumens: 75
Modes: 4
Weight: 2.82 ounces


Battery: 1 AAA batteries required. (included)


High price

(Budget Choice)


Check Price
Streamlight MicroStream Ultra-compact Flashlight
Read Review
Lumens: 35
Modes: single
Weight: 1.12 ounces


Battery: 1 AAA batteries required. (included)


Low price
Our top pick AAA Flashlights video review
Why Buy AAA Flashlights?
AAA flashlights are smaller, sturdily made, and provide bright light. There are some models that exhibit more than 100 Lumens. The greatest advantage of AAA flashlights is that their batteries are cheap and very easy to find. You can always find these batteries regardless of the area you are backpacking or camping in. Also, using AAA batteries is easy as it is lighter than other AA batteries.
Similar to AA batteries, there are AAA rechargeable batteries, which is a great option. Today, some people prefer using their smartphones for lighting purposes, but they are not as convenient and reliable as flashlights. This is because the light offered by phones is not very bright, and it drains the phone battery very quickly. In addition, most flashlight apps warm up the phone battery, making it unbearable to hold.
Reviews of the 10 Best AAA Flashlights 2023
With so many AAA flashlights on the market, we decided to conduct research and came up with a list of the 10 outstanding AAA flashlights. All these listed flashlights will provide you with long battery life with extended runtime. These are as follows:
Streamlight 66318 AAA Flashlight
This is a compact AAA light that is easy to operate. The Streamlight micro stream features a push-button tail cap switch for momentary-on or constant-on operation. Also, it has an excellent runtime and brightness for its size. The two-way clip makes it possible to keep the flashlight facing upward or downward. The hard anodized body makes the 66318 flashlights sturdy and able to withstand shock resistance. Also, it is scratch-resistant and has a durable polycarbonate lens. This protects the bulb inside the light. If you want a high-quality best aaa flashlight, then buy this.
Technical Specifications of the Streamlight 66318 Microstream
| | |
| --- | --- |
| Features | Streamlight 66318 |
| Maximum Brightness: | 45 lumens |
| Run-time: | 2.25 hours |
| Beam Distance: | 41 meters |
| LED: | MicroStream |
| Body: | Anodized Aluminum |
| Length: | 3.60 inches (9.14 centimeters) |
| Weight: | 1.12 ounces |
| Battery: | Yes, 1 AA batteries required. (included) |
| Price: | Check Price |
As small as this flashlight is, it produces a beam that covers up to 52 meters. This is on 28 maximum Lumens, which gives you enough brightness to clearly see in a dark area or path. The Streamlight 66318 light offers you a runtime of 2hrs 15 minutes. This is on just a single AAA battery. Combined with the C4 LED technology, this is a nice light for everyday activities.
Pros:
Small and lightweight
Compact design
Very portable
Bright light for its size
Sturdy construction
Scratch-resistant and shockproof
Cons:
Lumintop EDC 110 Lumen Light
With the use of Cree XP-G2 (r5) LED, the Lumintop Ti flashlight is able to exhibit a maximum of 110 Lumens. Also, the user can select from three light modes, which are low (5 Lumen/36 hours), medium (32 Lumens/4 hours), and high modes (110 Lumens/30 Minutes). The precision micro-textured reflector forms a smooth, optimized beam. It is well built to withstand tough conditions as it is made from aircraft-grade aluminum. This material is lightweight, corrosion-resistant, and waterproof.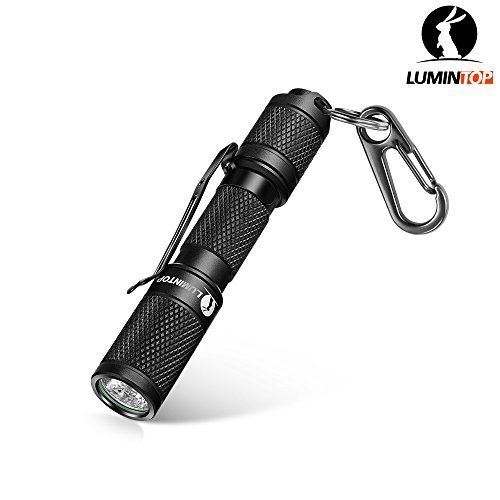 Check Price
The Lumintop EDC light is powered by one AAA battery and has an option for rechargeable batteries. The patented tail switch is very easy to use, and the pocket clip makes keeping the flashlight simple. It has a diamond-knurled body for easy handling. With its size and weight, you don't have to be worried about moving around with it. Use it inside the house or in a camp as it has tail stand capability.
Pros:
Lightweight and portable light
Small and compact for easy use
Pocket clip for easy keeping
Sturdy construction
Offers user 3 light modes
Waterproof up to 2 meters for 30 minutes
Can resist impacting up to 1.5 meter
Shock resistant
Cons:
The switch is a bit cumbersome and tricky to use
ThruNite Ti3 Flashlight For EDC
The ThruNite Ti3 is one of the most loved EDC flashlights on the market. This is because it is very easy to move around with, as you can either attach it to your pocket or belt using the two-way clip. It as well as has a keychain ring. The ThruNite flashlight may be a small flashlight, but it still offers a super bright light. It runs on a single AAA battery and has Cree XP-G2 R5 that produces an excellent cool white beam. The beam reaches over 50 meters, and the flashlight has a maximum runtime of 115 hours. This is the best aaa flashlight for EDC.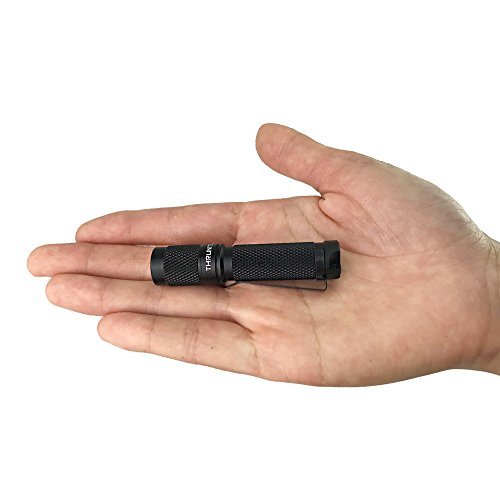 Check Price
Get to choose from the Firefly mode, low mode, high mode, or strobe light mode. If you have been searching for a small outdoor flashlight that you can rely on in all situations, the ThruNite Ti3 might be ideal for you. You can use it to walk your dog in the evening, for hiking, camping, or even for backpacking. But for better power, you can use an upgraded Thrunite TN12 pocket EDC flashlight.
Pros:
It has 3 brightness levels
Sturdy aluminum construction
Lightweight and portable
Pocket for easy storage
Impact-resistant up to 1.2 meters
Knurled body for easy handling
Extremely bright light with a max of 120 Lumens
2 years manufacturer's warranty
Cons:
Poor switch which turns on in the pocket easily.
Maglite XL200 AAA Flashlight(Our Top Pick)
Maglite is one of the most trusted brands in the market. Made in the USA, the Maglite XL200 LED flashlight is built with a durable machined aluminum body with an anodized finish both inside and outside. This light is a favorite among tacticians and outdoor enthusiasts. This is because it is strong, can resist impact, and it's also waterproof. So, you can use it for hunting, wet conditions, or daily home needs.

Check Price
Besides having outstanding features and very bright light, the Maglite comes with 5 light modes: high, strobe, nite lite, signal mode, and SOS mode. In addition, it has high-end rubber seals to prevent water or dust from entering the light. In its brightest mode (173 Lumens), the flashlight can cover a distance of up to 138 meters. It is powered by one AAA battery with a maximum runtime of 218 hours.
Pros:
5 light modes for versatile use
Easy to use the flashlight
Durable construction for longevity
Sleek and compact design for easy use
Compact and lightweight design
Waterproof and impact resistant
Very bright flashlight with a maximum Lumen of 173
Cons:
The flashlight drains batteries very quickly, especially in standby mode.
Coast G20 LED Tactical Flashlight
This is another outstanding AAA-powered flashlight to acquire. Coast uses an indestructible LED bulb to emit a very bright beam that covers up to 22 meters. The Coast G20 Light is sturdily constructed to withstand different conditions. The flashlight is both water and impact-resistant, which makes it ideal for outdoor and general use. In addition, it has a wonderful runtime of 10 hours on two AAA batteries.

Check Price
After using the flashlight, you can attach it to your belt or pocket with the help of the clip. Its firm grip makes the light be easy to handle even in wet environments. Unlike some small flashlights, the inspection beam optic ensures that you get a clear and consistent beam. So, you will be in a position to see clearly without any dark spots. The coast is one of the best brands, and it offers users a lifetime warranty on all of its products.
Pros:
Small and portable
Compact and lightweight design
Knurled design for excellent grip
Pocket clip for simple keeping
Water and impact resistant
The flashlight is rated to ANSI/FL1 standards
Manufacturers lifetime warranty
Cons:
Fenix E05 Keychain Flashlight
If you are looking for a perfect EDC flashlight, the Fenix E05 light is the best choice for you. This flashlight comes with a lanyard for attaching to your keychain. It is small in size but very sturdily constructed. Also, the flashlight offers the user 3 brightness levels with the maximum mode producing 85 Lumens. The knurled body is easy to use and handle in all conditions. Easily twist the head to navigate through the different light modes.

Check Price
Use this flashlight on your camping, hiking, camping, or fishing tour. It is built for outdoor and tactical use as it is both impact and water-resistant. The flashlight is powered by one AAA battery, and the beam reaches over 148 ft. The 2.6-inch body can be easily slipped into your pocket, and it will not even be noticed.
Pros:
3 brightness levels for versatile use
Durable aircraft-grade aluminum construction
Easy to use twist switch
Best aaa flashlights for pocket use
Lanyard hole for easy storage
Lightweight and compact design
Knurled body for easy handling
Impact-resistant and waterproof
Cons:
The switch turns on accidentally
SureFire Titan Plus LED light
The SureFire titan plus is one of the best AAA flashlights. This flashlight is very easy to operate by simply twisting the head counterclockwise and clockwise repeatedly to turn on/off the light and to cycle through light modes. It has 3 light brightness modes: low 15 Lumens, mid 75 Lumens, and high 300 Lumens. Additionally, the flashlight is powered by either one AAA alkaline battery or one AAA NiMH rechargeable battery. It has a pocket clip for easy carry of the light.

Check Price
Despite being small in size, the SureFire Titan Plus is a very powerful light. It comes with an indestructible LED bulb that produces an excellent beam. The beam is smooth and clear, thanks to the proprietary faceted reflector.  Other features of this LED flashlight include durable construction with a nickel and brass body, ultra-compact design, and weather-resistant nature. With this flashlight, you will always be ready even if you are caught in the dark and it starts raining. Use it for hunting, hiking, camping, or general home use.
Pros:
Durable construction
Easy-to-use head switch
Small and lightweight
Compact and portable
Waterproof and impact resistant
Extremely bright light
3 light modes for versatile use
Cons:
The Keychain flashlight is a bit costly when compared to flashlights of its size.
Anker Bolder LC40 LED Flashlight
The Anker Bolder LC40 LED flashlight is a very bright flashlight that uses CREE LED to produce a very powerful beam. The powerful beam covers a distance of up to 180 meters. The flashlight is powered by 3 AAA batteries which are cheap and easily available. The user has 3 light brightness modes or settings to select from, and they are low, high, and strobe modes. Apart from being powered by AAA batteries, the Anker flashlight can as well use one rechargeable 18650 battery. The AAA batteries provide a runtime of 4 hours, while the rechargeable battery offers 6 hours of runtime.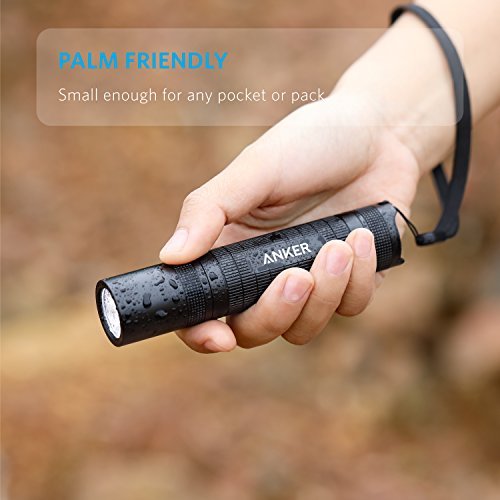 Check Price
In addition, the flashlight is rated as IP65 waterproof, and it is also shock resistant. Its sturdy construction makes it great for outdoor activities. Due to its size, this is a highly portable light that can easily be slipped into a pocket or purse when not in use. The lanyard can be used to wrap it around the hand.
Pros:
3 light modes
Extremely bright light with a maximum of 400 Lumens
Lanyard for easy storage
Compact and lightweight design
Very portable LED light
Water resistance and shockproof
Firm grip for easy handling
Easy to operate with one single button
Cons:
Operating the switch is a bit cumbersome as it is somehow stiff
Maglite Mini LED AAA Flashlight
Maglite has some of the most reliable flashlights on the market, including Maglight KL50 and Maglight Mini. They are recognized for their durability, quality, and reliability. 2 AAA batteries power the Maglite Mini LED flashlight. Furthermore, it has a new MAG-LED technology that produces a maximum of 100 Lumens. This is an excellent flashlight for hunting, hiking, defense, fishing, cycling, backpacking, and general use. The diamond-knurled body makes it easy to handle the light even in wet conditions. If dropped accidentally, it can survive an impact of up to 1 meter.

Check Price
The Maglite AAA flashlight is durably made with lightweight aluminum and has weather-resistant seals to prevent water from entering the light. Also, its sleek and compact design makes it a great EDC light as it is not a burden to carry. Simply twist the head for spot or flood beam.
Pros:
Sturdy construction for longevity
Weather-resistant body
Diamond knurled body for a firm grip
Impact-resistant up to 1 meter
Adjustable beam
A compact and lightweight flashlight
Easy to operate by twisting the switch
Cons:
The light turns off by itself, requiring you to turn it on often. This is a bit disturbing.
Sunlite 51003-SU AAA Tactical Light
The Sunlite 51003 is one of the most sturdy and versatile flashlights on this list. Three AAA batteries power it. It has one of the latest LED bulbs with a lifespan of 110 000 hours. So, you can be guaranteed that this flashlight will serve you for many years to come. It features an anti-roll body, 4 light modes, a textured grip, and an easy-to-use tail cap button. On top of that, the flashlight is durably made of aluminum, which is a lightweight and sturdy material.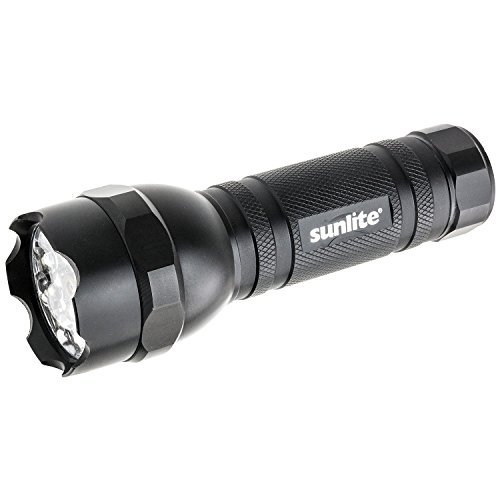 Check Price
The 4 light modes are ten solid bright white LEDs, five bright green LEDs, a powerful laser that reaches up to 450 yards, and ten LED strobe light flashes. Hence, this is a very versatile flashlight. In addition, it is water-resistant and compact in design. This is an amazing flashlight for walking the dog, jogging, hiking, self-defense, or shooting.
Pros:
Durable construction
4 light modes
Powerful LED with 110 000 hours lifespan
Water-resistant
Easy to operate with a rear button
Anti-roll design to prevent rolling after accidental falling
Compact and portable flashlight
Cons:
The lens should be made of durable material and not plastic. You can use Surefire flashlights that are durably made.
Bottom Line
It is vital to always have a flashlight with you. A flashlight should be part of your everyday carry items. But not just any flashlight will fit in this category of EDC lights. Also, choosing the best aaa flashlight isn't easy. If you are afraid of carrying bulky lights, then a small flashlight like the AAA LED light is a great option. These are usually small in size, lightweight, and compact, and their batteries are easily available. When choosing a flashlight, ensure that it meets your demands and has the features that you desire in it. A great flashlight will deliver in all conditions, and it should be able to provide you with light over a long period of time.
I hope our list above has been of great help to you.
FAQ
Question: Why use AAA batteries instead of other batteries?
Answer: There are people who prefer other types of batteries because they offer a longer run time, are brighter, and are also lighter. But standard batteries like AAA are easy to find and usually cheaper. So, if you're going to a remote area, there is a high chance that you will come across a standard battery than you will on any other type of battery.
Question: Where should I keep my batteries, and at what temperatures?
Answer: It is recommended that you keep your AAA batteries in a cool and dry place. The area should not be humid, very wet, or hot. As a matter of fact, a good number of battery manufacturers recommend keeping them around 24 degrees Celsius. Never store the batteries in a freezer or fridge.
Question: Why do some flashlights come with batteries while some do not?
Answer: This is a good question as some people normally wonder – why are batteries not included? Most manufacturers include batteries if the flashlight uses a rechargeable battery. But not all manufacturers do this. For disposable batteries, many manufacturers don't include them in the purchase but still indicate the type of batteries that you should use to power the flashlight.