Lots of people love to use AA battery flashlights. But, Why is the AA flashlight much more popular than others? And how to find the best AA flashlights?
AA battery has a higher capacity than the AAA battery. Thus, the AA flashlight will run for a long, and the brightness is better than AAA. Although, if you need a small everyday carry flashlight, then an AAA flashlight will suit you. But, AA batteries have a big advantage over other types of batteries in their availability. AA batteries can be found in almost every corner of the world.
This is not the case with other types of flashlight batteries. Even sometimes, you find it difficult to get 18650 flashlight batteries, but very easy to find AA batteries. As a matter of fact, AA batteries account for more than 50% of all standard-size batteries sold. If you are looking for the best AA flashlight for the money, then this post is for you.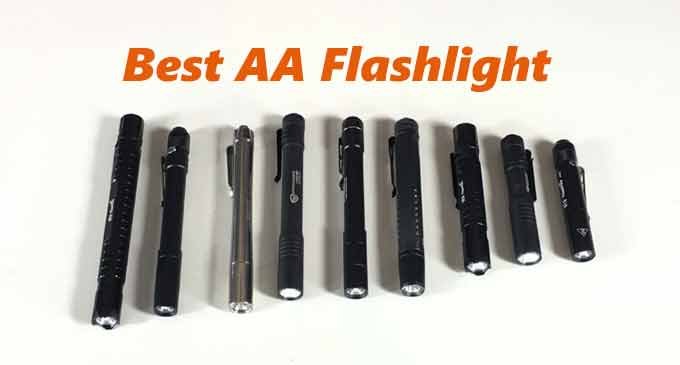 Our Recommend Best AA Flashlights Comparison Table
Image
AA Flashlights
Lumens & Modes
Feature Details

(2023 Editor's Choice)


Check Price
Streamlight 88061 ProTac 1L-1AA Dual Fuel Professional Tactical Light
Read Review
Lumens: 350
Modes: 3
Weight: 4.8 ounces


Battery: 2 CR123A batteries required (included)


Medium price

(Best EDC Choice)


Check Price
Nitecore MT2A LED Flashlight
Read Review
Lumens: 345
Modes: 4
Weight: 2.36 ounces


Battery: 2x AA Batteries (not included)


Low price

(Cheap Choice)


Check Price
ThruNite Archer 1A V3 Reliable AA Flashlight, Cool White
Read Review
Lumens: 200
Modes: 5
Weight: 2.08 ounces


Battery: 1 AA batteries required


Low price
Our Top Pick AA Flashlight Video Review:
AA batteries are easily available and, thus, very convenient for flashlight users. You can find them at gas stations, groceries, or mini-shops. This is not the case with most special batteries like CR123A batteries. In addition, there are some modern AA batteries that are rechargeable. So, the convenience and availability of AA batteries make AA flashlights the best choice for everyday carry lights.
Our Review: Top 10 Best AA Flashlights of 2023
If you are an outdoor enthusiast, law enforcer, military personnel, hiker, camper, cyclist, emergency responder, or backpacker, you need a reliable flashlight at all times. With AA flashlights, you can be certain you will never run out of power as their batteries are all over. In this review, we've selected some of the best AA lights on the market, which are as follows:
Streamlight 88061 Professional Tactical Light (Our Top Pick)
The 88061 previous versions of Streamlight 88061 and 88063 flashlights produce up to 350 Lumens using one CR123A battery or one AA lithium battery, or one AA alkaline battery. It utilizes a 3-watt super high flux LED, resistant to shock, with a lifespan of 20 000 hours. In addition, the flashlight features 3 light modes; these are the low mode with 6.75 continuous hours. The medium mode with 3.5 continuous hours, and a high mode with 1.75 continuous hours. Also, it has a two-way clip for attaching the flashlight in a downward or upward position.
Technical Specifications of the Streamlight 88061:
| | |
| --- | --- |
| Features | Streamlight 88061 |
| Lumens: | 350 lumens |
| Maximum Run-time: | 6.75 continuous hours |
| Minimum Run-time: | 1.75 continuous hours |
| Beam Distance: | 150 Meters |
| Modes: | 3 |
| Measurement System : | Metric |
| LED: | C4 |
| Body: | Aluminum |
| Length: | 4.25 Inches long |
| Weight: | 4.8 ounces |
| Battery: | 2 CR123A batteries are required. (included) |
Check Price
At 2.8 ounces (with battery included), this is a lightweight flashlight that you can use on a daily basis. In the dark, the flashlight beam can cover a distance of up to 160 meters. Operating this flashlight is very easy with the use of one hand. It is also sturdily constructed for long-lastingness. With an IPX7 waterproof rating and 2-meter impact resistance, This is a great tactical flashlight for home use.
Pros:
Sturdy construction from hard-anodized aluminum
Waterproof up to 1 meter for 30 minutes
Impact-resistant up to 2 meters
3 light modes and strobe mode
Compact and lightweight light
Indestructible LED with 20 000 lifespan
Easy to operate with one hand
Cons:
It heats up when used for over a long period of time
ThruNite Archer 1A V3 AA Flashlight
ThruNite is an excellent brand with lots of quality flashlights. The flashlight uses the latest LED technology in the CREE XP-L V6 LED. This bulb is able to produce a maximum of 200 Lumens. It runs on AA batteries which are easily available and convenient for flashlight users. This flashlight is made of an aerospace-grade aluminum body ideal for camping, hunting, law enforcement, self-defense, security, and emergency responders. The hard-anodized finish makes it scratch-resistant and corrosion-free. If you are looking for the best aa flashlight under 50, then buy this.

Check Price
The Archer 1A V3 flashlight has an easy-to-use interface with two buttons. These are the tail switch and side switch. The tail switch is for turning on/off the light, while the side switch is for cycling through the 5 different modes. An orange peel reflector helps distribute the beams' quality in the dark. It also features overheat and reverses polarity protection for better battery performance. When switched to the firefly mode, this flashlight can offer you continuous light for 17 days.
Pros:
Durable aircraft-grade aluminum construction
Impact and water-resistant
It features a push-button switch with various light modes
The light beam covers up to 66 meters
Small and lightweight. Thrunite TN4A is brighter than this model
The flashlight features 5 light modes for versatility
Easy to use with side switch and tail-cap switch
Cons:
It is not very bright as it states to be
Fenix E12 AA LED Flashlight
If you are a lover of quality flashlights, then you will like this Fenix E12 light. The Fenix E12 LED flashlight is powered by a single AA battery and produces a maximum of 130 Lumens. Due to its small and compact design, the Fenix E12 is an excellent EDC light. Thus, it is called the best aa flashlight for EDC use. It is also sturdily built for tough conditions as its body is made up of precision-machined, high-strength aluminum. The Aluminum alloy body made this light fall and shock-resistance. To add on, it is water-resistant. So, you can rely on it in all situations.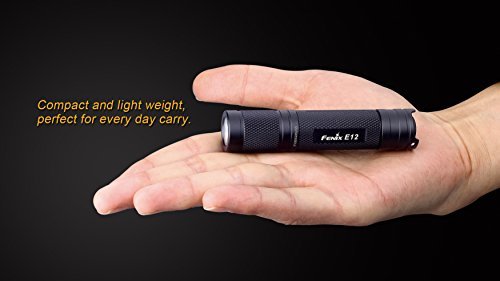 Check Price
The E12 is sleek in appearance and has a nice grip that allows the user to hold it firmly during use. Moreover, it has a slightly recessed switch which avoids accidental activation. The tail stand's capability makes it suitable for camping or for indoor use. For a longer run-time, switch the flashlight to a low mode for 40 hours on 8 lumens or to a medium mode for 6 hours 30 minutes on 50 Lumens. The highest mode utilizes 130 Lumens.
Pros:
Simple and stylish
Compact and portable
Easy to use
Sturdy construction
Extremely bright light
Firm grip
3 light modes
Cons:
Nitecore MT2A 345 Lumens Light
Despite being slim and compact, the Nitecore MT2A flashlight is a powered light with a maximum of 345 Lumens. The light beam reaches up to 240 yards, which is amazing for such a small light. It also runs on two AA batteries which are cheap and easy to find. The indestructible CREE XP-G2 R5 LED bulb provides the user with thousands of hours of use. The Nitecore tactical light switch is somehow recessed to prevent accidental lighting when kept in the pocket. It also has a tail stand.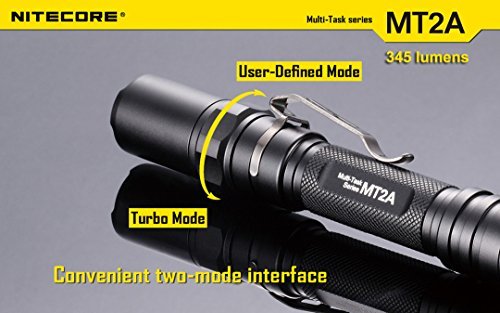 Check Price
This flashlight's excellent features include waterproof with an IPX8 rating, 1.5-meter impact resistance, turbo mode, knurled design, four brightness levels, and a tail cap switch. In low mode, the flashlight can function for 50 hours continuously. Quickly switch between modes by fully tightening or slightly loosening the head for turbo or other modes. Apart from the four normal modes, it also has a strobe and SOS special modes. Attach the light to your hand using a lanyard, or stick it to your belt using a holster or pocket clip.
Pros:
Durable construction for longevity
Water and impact resistance
Excellent runtime for its size
Easy to keep
Very bright light
Easy to operate with a tail cap switch and an adjustable head
Cons:
The flashlight is not very durable
It quickly drains the battery even when not in use
Garber Infinity LED Tactical Light
Powered by one AA battery, the Garber Infinity LED flashlight is a wonderful everyday carry light. It is also made of a sleek design and sturdy construction. The flashlight uses an indestructible LED bulb to provide users with several hours of use.
Related article: Check the Brightness of V1 Pro J5 Tactical Flashlight
Garber takes pride in its products, and this flashlight is made with the best materials that make it survive in tough conditions. It is waterproof up to 10 feet for some minutes. Its simple and compact design makes storing it after use to be seamless. It is one of the cheapest, but best AA flashlight.

Check Price
The Garber Infinity flashlight is also lightweight and has a pocket holder for attaching it to the pocket when not used. With such features, this is an exceptional flashlight for camping or general home use. If you are looking for a defensive light, look elsewhere. Furthermore, Garner provides a lifetime warranty on all of its products.
Pros:
Built to last long
Water-resistant
Easy to use
Compact and lightweight
Powerful LED bulb
Limited lifetime warranty
Cons:
Not built for tactical use
Not very bright
Coast HP1 190 Lumens EDC Flashlight
The Coast is the perfect EDC flashlight. The Coast HP1 uses an LED bulb to produce excellent light. With just a simple pull or push of the head, you will be able to access the flood or spot beam. In addition, the flashlight is powered by standard AA alkaline batteries. Alternatively, you can use rechargeable 14500 lithium batteries or NiMH rechargeable batteries to get better battery life.

Check Price
Built for tactical use, the HP1 LED light, with a maximum output of 190 Lumens, is made of a lightweight aluminum casing. This casing makes it able to resist corrosion, rust, and impact. Moreover, this flashlight can be utilized in wet conditions as it is water-resistant. The brightest mode covers a distance of up to 171 meters, and it has a maximum run time of 1 hour and 15 minutes on a Li-ion battery. Such features make the Coast HP1 suitable for outdoor hunting, camping, and home use.
Pros:
Strongly constructed for longevity
Very bright with a max of 190 Lumen output
Compact and lightweight
Portable and easy to charge as it has a rechargeable battery
Easy to operate
Cons:
It has a short run time and thus is not good for long use
Maglite Mini Incandescent Best AA Flashlight
Maglite creates some of the most stylish and sturdy flashlights on the market. The Maglite Mini incandescent 2-cell AA flashlight is one of the best EDC flashlights. It is made of high-quality craftsmanship with a weather-resistant seal. In addition, the flashlight has a knurled design for easy handling and is anodized to resist corrosion. The powerful beam produced by this light reaches up to 325 ft. Also, the light is compact and lightweight for everyday use and has a 5 hour run time. It is not a high-lumens light, but if you want high-lumens flashlight from the Maglite brand then, XL50 could be a good alternative.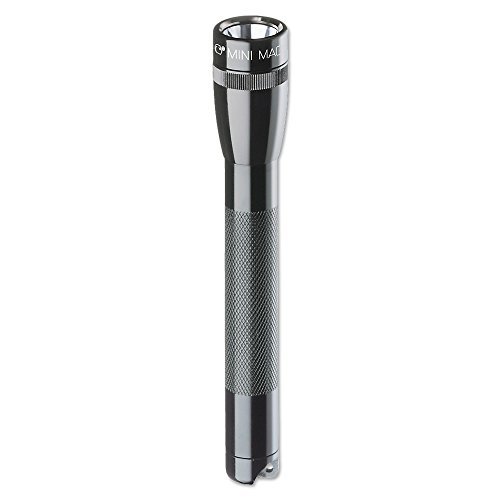 Check Price
If you are going outdoors and want a reliable light, this mini incandescent AA flashlight will greatly help you. This is because it is resistant to water and impact. Another thing is that the flashlight is not a burden to carry as it is compact and lightweight.  Hence, you can carry it in your pocket or purse and use it when the need arises. It has a standing capability which makes it ideal for camping or for indoor use. With such great features and compact nature, this is a wonderful AA light.
Pros:
Sturdily built for everyday use
Waterproof, impact, and corrosion resistant
Compact and lightweight design
Easy to use
Firm grip for easy handling
Cons:
UltraFire 7W LED Lighting Tool.
This might be a very small light, but it is very powerful. The UltraFire 7w uses a Cree LED bulb to produce a maximum of 300 Lumens. It has an adjustable focus that allows the user to zoom in or out of the light. The grip of the flashlight is knurled so that the user can easily handle the light, even in wet conditions. Also, it has a skid-proof and waterproof design for tactical use. The pocket clip enables the user to attach the flashlight to the pocket or belt. Since it has tail stand capability, this is also a great light for indoors.

Check Price
The 7W LED light is powered by one AA alkaline battery, but it can also be powered by either lithium NiMH or 14500 batteries. The Mini Cree LED is very easy to use with one-hand operation, and it's also compact. Simply switch on the tail cap switch and adjust the brightness by pulling the head for a floodlight or spotlight. You can use the flashlight in a very dark area or as a self-defense weapon with its blinding effect.
Pros:
Durable construction
Both water and impact resistance
Extremely bright light with a blinding effect
A compact and lightweight flashlight
Small and portable
Firm grip for excellent handling
Cons:
Not good for big hands
Not good for tactical use
Hausbell 7W LED Tactical Device
The Uniquely designed Hausbell is a wonderful light that can be detected even in the dark. This is because of its luminous ring that produces an easy-to-see glow. In addition, the light has an adjustable focus that enables the user to zoom in or out for different lighting needs. The LED bulb illuminates a maximum of 300 lumens and has 3 light settings. Get to choose from either the dim, bright, or strobe modes. But the highest setting drains the battery power quickly. The Hausbell light runs on one AA battery or one 14500 light.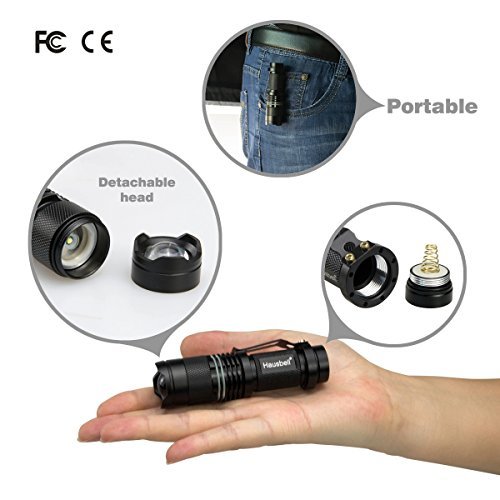 Check Price
Use this flashlight outdoors or indoors as it is both impact and water-resistant. Go with it to cycle, walk the dog, camp, change a car tire, or even hike with it. If there is a blackout, you will have ample time to find it due to its luminous ring. This is a nice light that you can easily keep in your pocket or backpack.
Pros:
Easy to keep
Sturdily built for longevity
Extremely bright light with a max of 300 Lumens
It is waterproof and skid-resistant
Small and very portable
Compact and lightweight
The flashlight comes with 3 light output settings
Cons:
ThorFire TG06S Mini Flashlight For EDC
At such a great price, the ThorFire is a flashlight that you can depend on in your hour of need. The small and compact LED flashlight runs on either one AA battery or one 14500 battery. Additionally, it uses CREE XPG2 –R5 LED to produce an outstanding maximum output of 500 Lumen with a blinding effect. A great feature of this flashlight is its 5 light modes to adjust brightness perfectly. These are high mode (500 Lumen), medium mode (200 Lumen), low mode (50 Lumen), Moonlight mode (1 Lumen), and hidden strobe mode. This light is the cheapest best aa flashlight.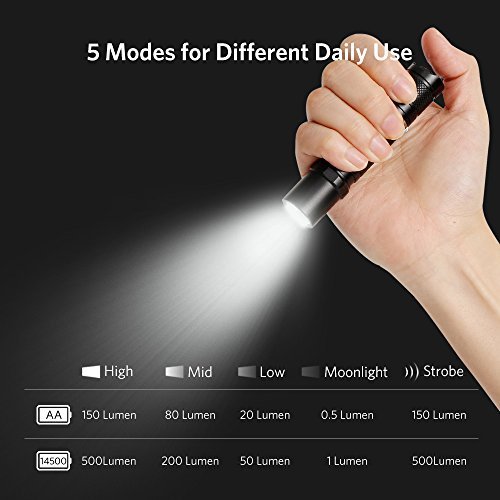 Check Price
On top of that, the manufacturer provides an 18-month warranty on the product. So you can rely on it to deliver. Apart from the exceptional features, it also comes with accessories like a USB charging cable. You can be sure your battery is protected as it has reverse polarity protection, over-charge protection, and short circuit protection.
Pros:
Simple and compact design
Pocket clip for easy storage
Lightweight and portable
Sturdy construction
Easy to use the light switch
Very bright light with a max of 500 Lumens
Cons:
Cycling through different light modes is challenging as the process is rapid.
Final Thoughts
One of the major factors that determine the type of flashlight a person chooses is the type of battery. Thus, if you need an AA flashlight with quality features, then select from the above list.
Compared to other types of flashlights, AA flashlights may not be the strongest, most portable, brightest, or even run long; but it is available in all places.
Using an AA flashlight will ensure that you will never run out of batteries, as they are easily available. The ten best AA flashlights that we've just discussed above are some of the best with outstanding features.
But if you want a bigger rechargeable flashlight, then look for CR123A batteries. While for those who want small, everyday carry lights, AAA flashlights will suit them. No matter the flashlight you choose, ensure that it is sturdily built and bright enough for your needs. Also, consider buying from well-known brands, which you will not have to regret later.
FAQs
Is it okay if the flashlight becomes hot after using it for some time?
If you use the flashlight in its brightest or highest mode, it is bound to become hot when used for an extended period of time. This is because, in the brightest mode, the flashlight has to generate more power than when it is in normal mode. Therefore, it is recommended that you don't run the flashlight in the highest mode for extended periods but run it in less than 10 minutes and keep it in low or medium modes. You can use Thrunite lights as it features an ultra-clear tempered glass lens with an anti-reflective coating that keeps the flashlight cool in a high mode.
How long should my flashlight stay underwater?
This depends on the flashlight's waterproof rating. Different ratings have different periods. IP8 is the most common in many flashlights, including Fenix, SureFire, and Streamlight. Flashlights with this rating can last up to 30 minutes, as deep as 2 meters. Another common rating is IP65. Always check the rating on the flashlight before using it in rainfall or immersing it in water.
What are the advantages of AA batteries?
A flashlight that uses AA batteries has lots of advantages. First of all, AA batteries are cheaper when compared to other types of batteries. Also, they can be easily accessed in remote areas where other types of batteries, like CR123A batteries, are hard to find.
I hope our best AA flashlight reviews will help you choose the right one for your needs. But if you are still confused, you can comment below.